First of all, 'what are brogues?'
Put simply, brogues are shoes with holes punched into the upper. That's it! Originally it was a functional innovation to allow shoes to drain quickly when walking through shallow water and swamps. They're thought to have originated in either Ireland or Scotland, with both countries having a long tradition of making brogues. More recently, brogue shoes have evolved into a less functional, but more decorative pattern with the open holes being lined underneath with fabric or leather. They are more commonly associated with men's shoes and boots. That said, you'll find brogue patterns on many ladies' shoes and ankle boots too.
The first classical English brogues came into vogue with the advent of Goodyear welted shoe production in the early 19th century.  Evenly spaced rows of circular holes 4mm or 5mm in diameter is the defining characteristic of the modern English brogues. This combined with two smaller "pepper pot" holes between each larger hole completes the effect. The image below demonstrates this distinctive pattern.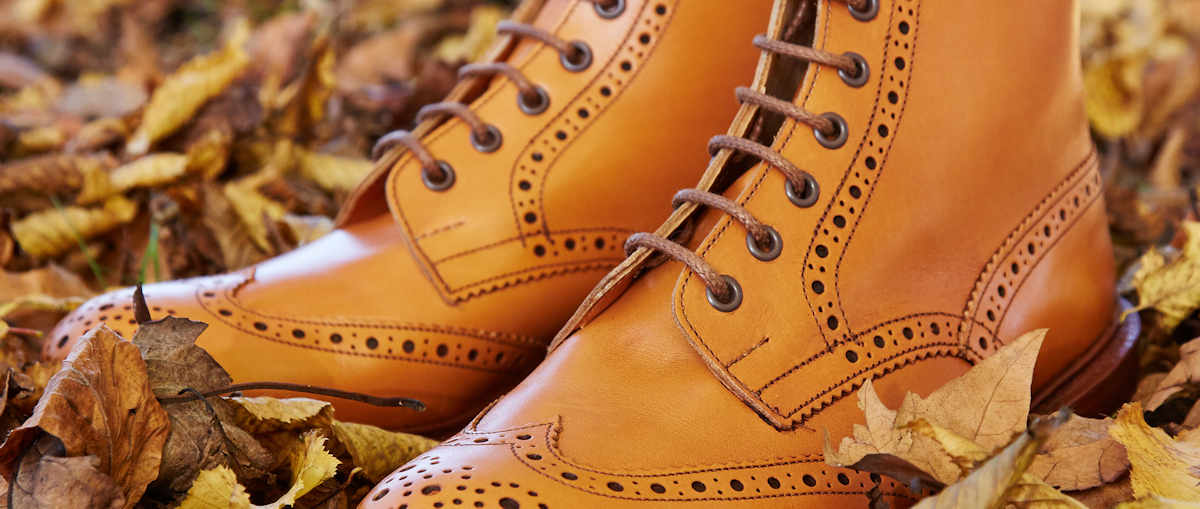 To accompany the classical brogue punching, two parallel rows of stitching one above and one below the row of holes define the strip. Typically, lines of brogue punching are located at the edge of the pieces of leather that make the upper. This edge can be straight and raw, folded or gimped. Gimped brogues have a triangular saw-tooth edge as you can see above.
Then you have the toe 'flower' or 'floral' punch' design which vary enormously in size, layout and complexity. More on that later…
What style and type of clothing complements brogues the best?
With a basic understanding of what a brogue is, it's time to look at how they're used in various footwear designs.
Oxford Brogues
The full Wingcap Oxford brogue (also known as Wingtip or Swallowtail Oxford brogue) is commonly regarded as the most classic English shoe within the footwear industry. The refined and lightly brogued black Oxford is best paired with a formal outfit, most likely a three-piece suit. As the punching becomes larger or 'heavier' the perception is the shoe becomes less formal and more country casual. The image below is of our best selling Wingcap Black Oxford Leather Sole Chapman Shoes: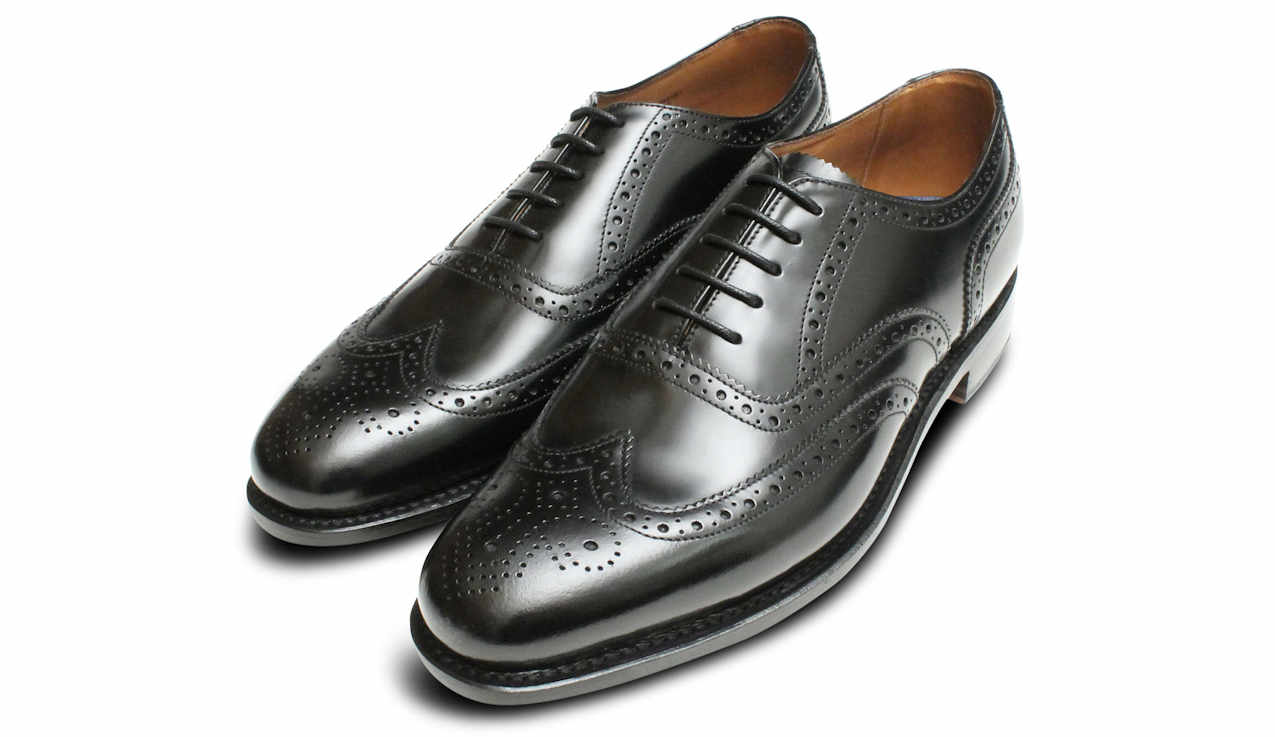 Introducing some colour to the Oxford brogue is becoming increasingly popular. Chestnut browns, light tans and dark brown leathers pair nicely with this style. Many luxury designer brands burnish or stain the toe and heel area of the shoe to create a unique look of elegance. Pairing a matching leather belt with Oxford brogues gives you more versatility on the colour of suit you decide to wear. Brown shoes and dark navy fabric is a favourite colour combination if you want to stay sophisticated.
Thinking of Jeans and chinos with an Oxford brogue? Maybe think again as these are not a natural choice with Oxford brogues and generally considered to be a clash between formal and casual style.
Derby Brogues
If denim is your choice of clothing, why not try a Derby (also known as Gibson) brogue? We won't go into detail as to what a Derby is exactly. However, in a nutshell, the Derby facings are where the laces come together to open out, rather than come to a 'V' point like that in an Oxford lace up. English tan is the number 1 bestselling colour option for the Gibson brogue this season. See how a subtle change in the upper design lends itself to a more relaxed outfit?
The hand antiquing and burnishing adds a fantastic patina to the leather and draws the eye to that area of the shoe. As a result, when paired with blue chinos, the combination looks world-class, adding a degree of grandeur that is rarely surpassed. Pair this with a crisp, plain white shirt with a couple buttons unfastened and you've got the sexy Italian vibe going with ease!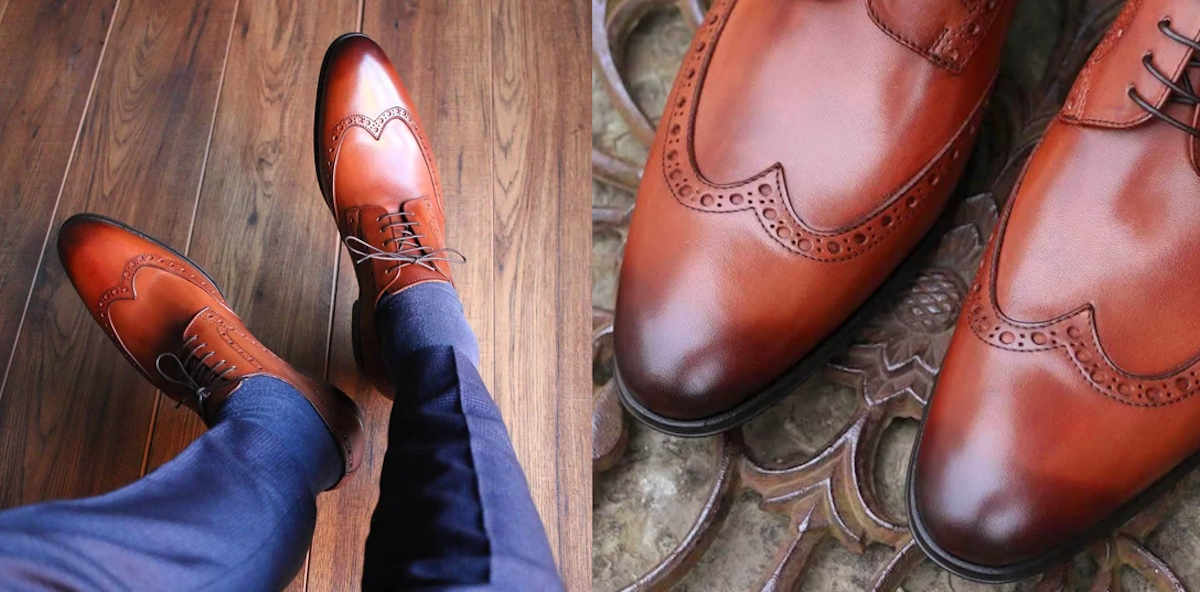 Country Brogues
For country brogue lovers, the rugged nature of these shoes make them an ideal match with tweed jackets and corduroy trousers. The 'English country gentleman' look is definitely trending in rural and city locations around the world. Bold punching and a storm welt on a double weight leather sole gives importance and presence when worn with country attire. Let's not forget boots too which look superb with waxed jackets, and offer the practical benefits of being warm and protective around the ankle. Match brogue lace up boots with a Tattersall check shirt and a felt waistcoat and tweed tie.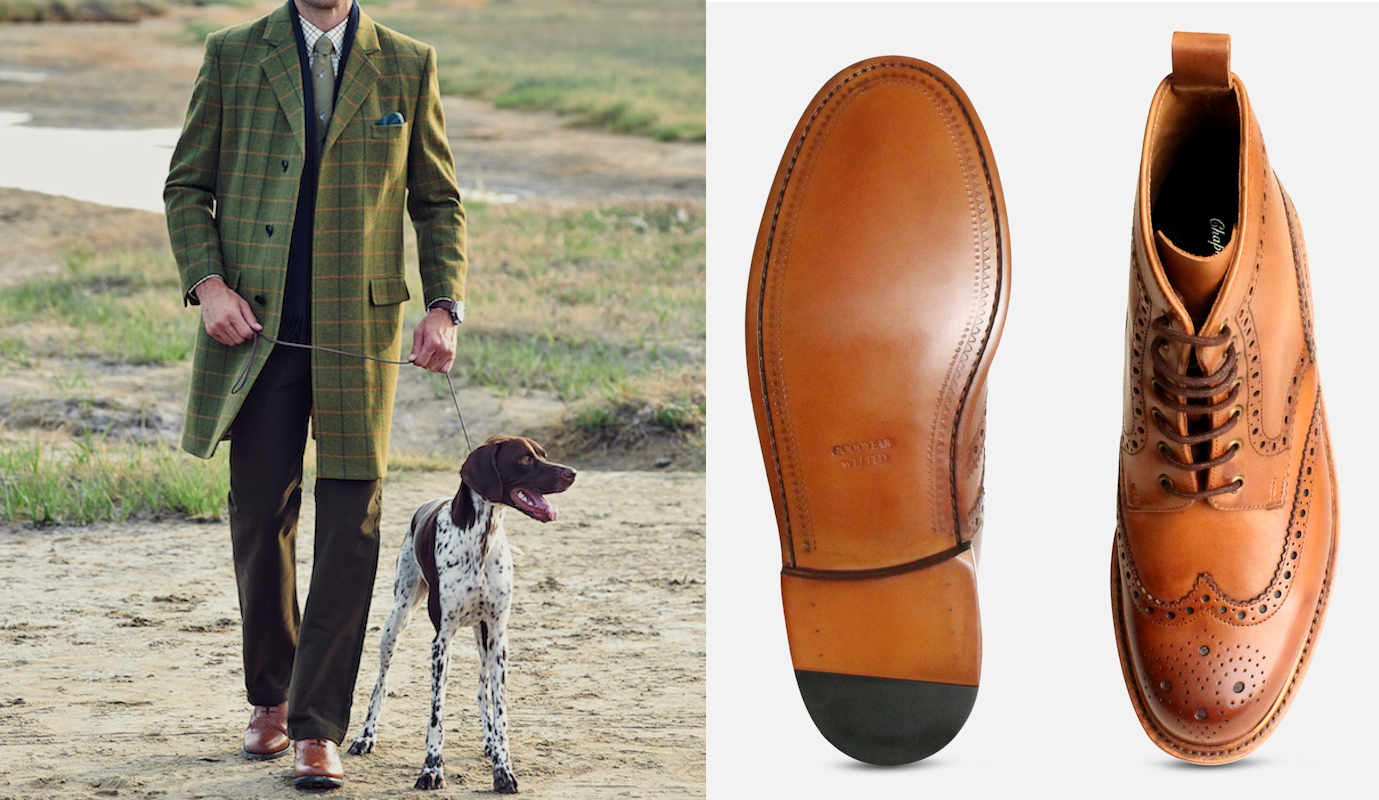 Floral Designs
We mentioned the floral punch design earlier, let's take a look at that in more detail and the way it influences how to wear brogues. There are literally thousands of new designs on the market which come out each and every year, and they continue to evolve in a variety of unique ways.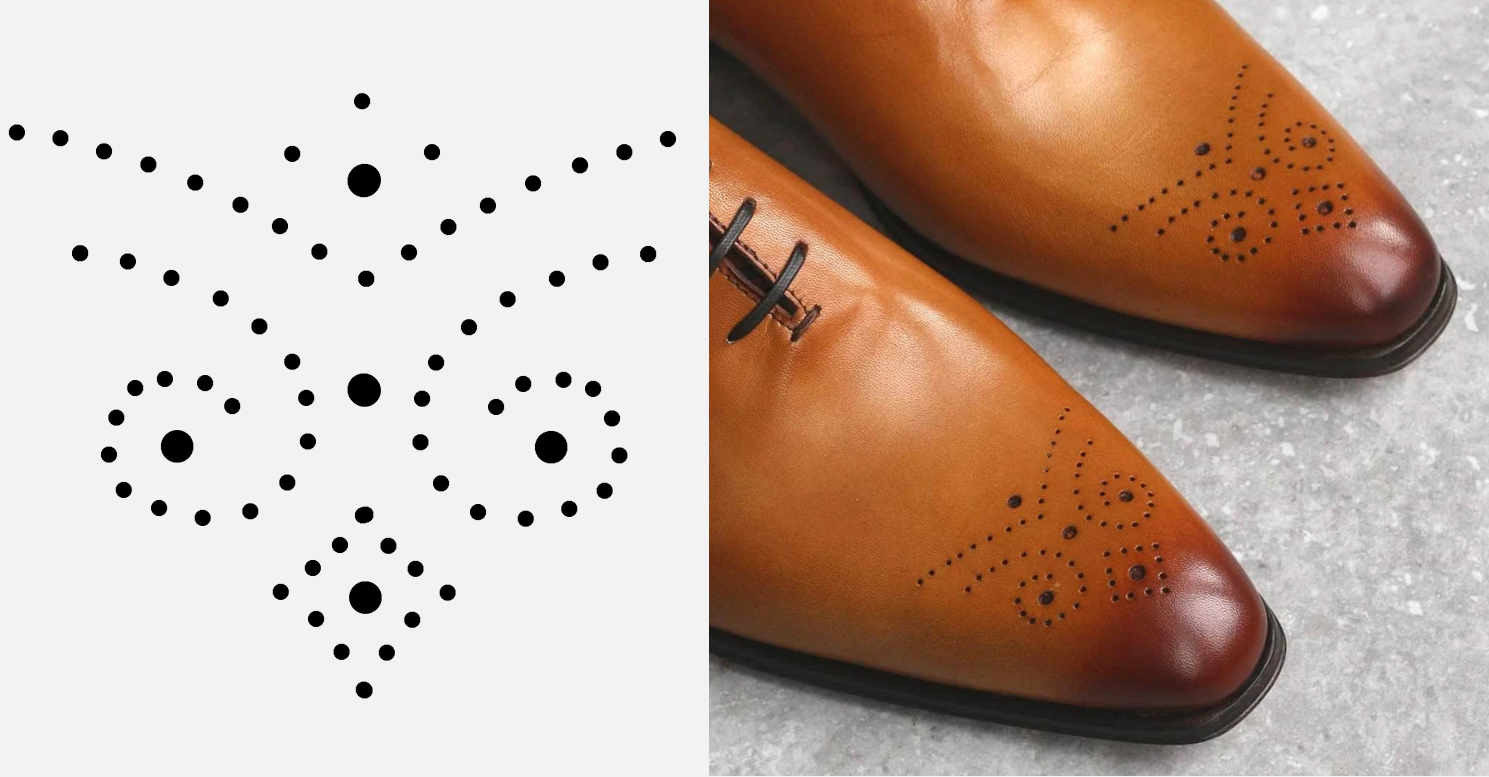 The Jeffery West diamond shaped punched brogue is considered to be one of the most influential pattern innovation in recent years. It's a simple yet distinctive effect which Jeffery West have made their own. Edgy and innovative dress brogues like these look great with skinny formal trousers, a tight fitting dark coloured shirt and a thin red tie.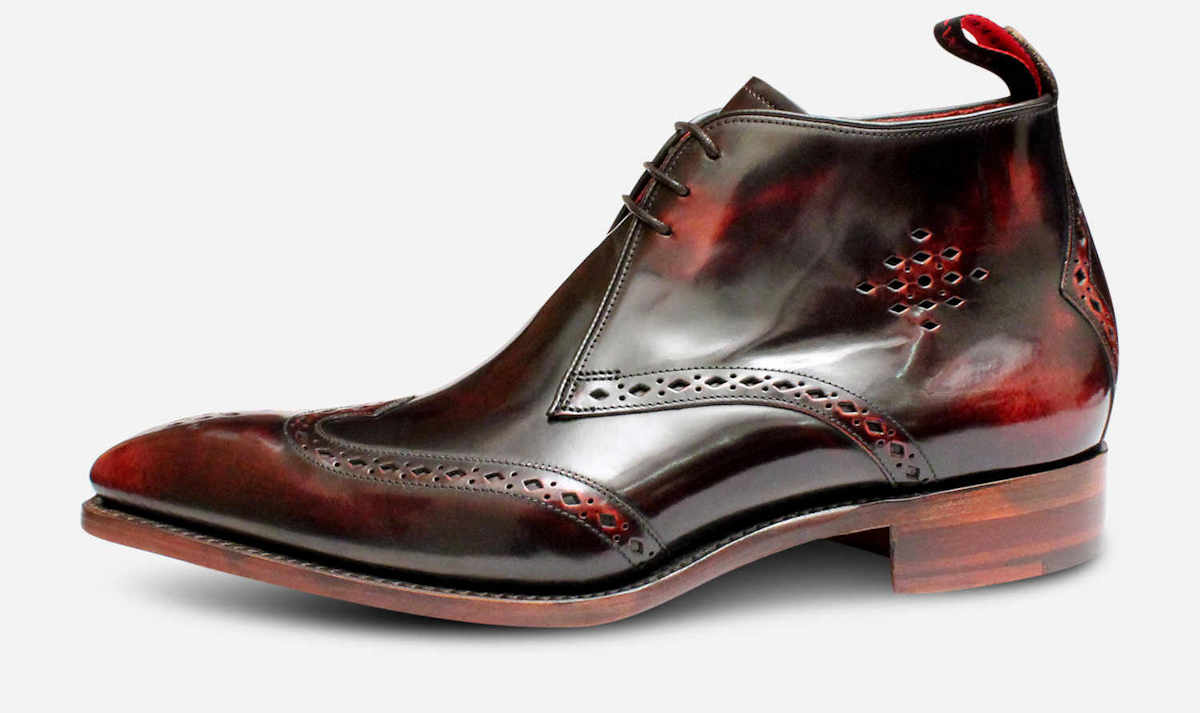 Summary
To summarise, the best way to wear brogue shoes is very much a personal choice. There are no 'rules' as such. However, if you stick to these tried and tested ideas, you'll look and feel absolutely great about yourself, whether it's in the countryside or the big city streets. More and more young people are wearing branded trainers and sneakers to formal events and functions. It's refreshing to know that the men's and ladies' brogue is something (which so far at least!), is reserved for those with class, sophistication and style.