Mephisto Helen Sandals Review
What is the Mephisto 'Helen' sandal?
'Helen' is the name given to best selling women's sandal pattern by French designer brand, 'Mephisto'. It's a flat slip-on ladies shoe with an antomically contoured, *genuine cork* footbed with toe-post construction. Helen is available in a multitude of different colours and leathers as well as mixed combinations. The latest addition to the Helen range is the 'flower' sandal which features an attractive hand cut leather floral pattern on the instep of the foot. Every pair features a brushed suede leather footbed, responsibly sourced rubber sole and patented 'soft-air' comfort technology built in.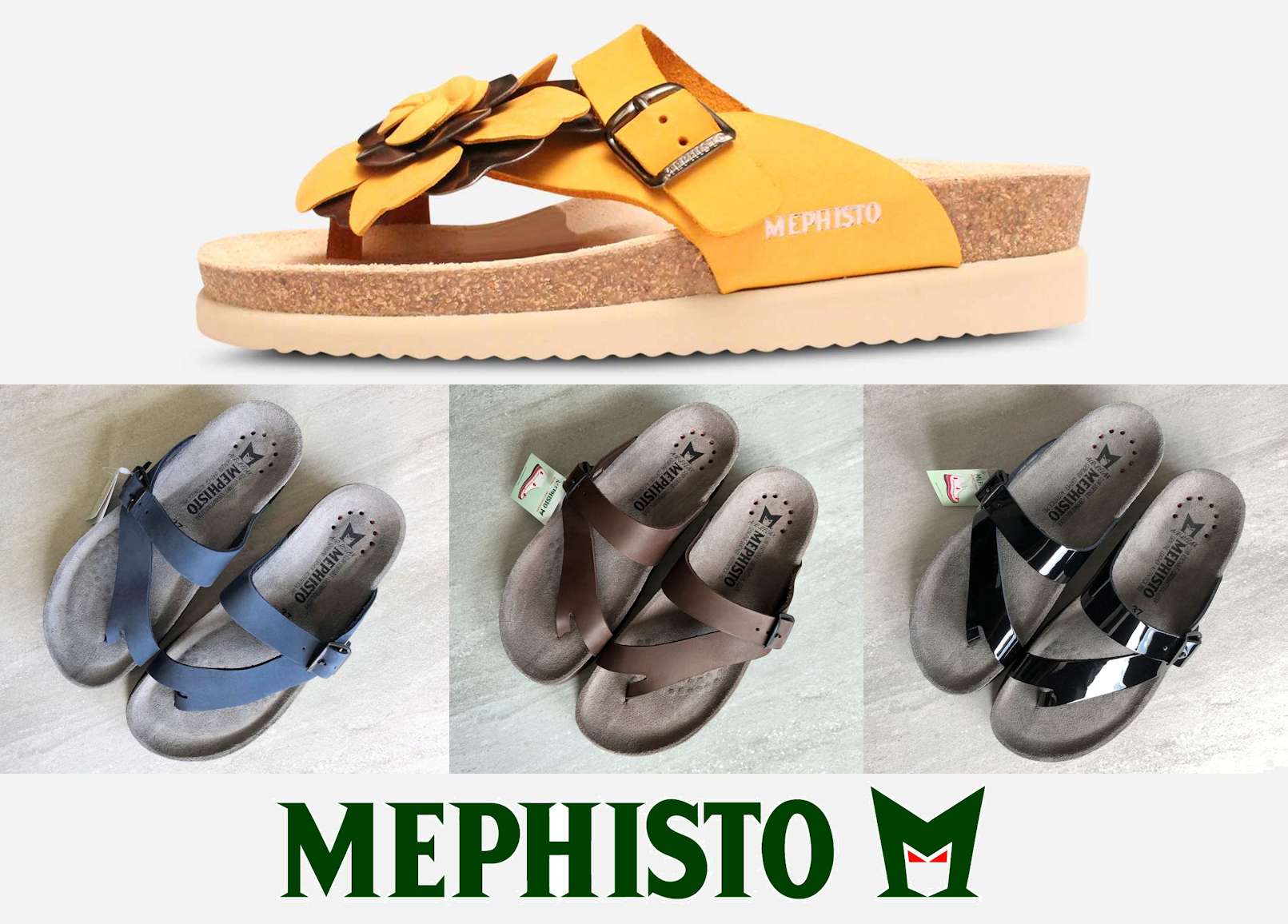 What makes Mephisto Helen so popular?
1. Comfort
The supple yet supportive nature of the contoured anatomic footbed means these sandals are super comfy straight out of the the box. They all feature an adjustable strap for the perfect fit over the instep. Mephisto only use full grain leather (not split grain or bonded leather which is a mix of real and fake leather) in all their shoes so they'll naturally breath and absorb moisture. The toe-post design holds the sandal securely to the foot so you'll avoid any unwanted rubbing which can result in painful blisters. The shaped footbed 'cups' the foot so they'll feel snug and supportive during wear.
2. Style
Mephisto have perfected the design of this shoe. The sandal is simple and elegant if you choose one of the 'quieter' leather options like Helen in brown nubuck or Helen in smooth black leather. If you want to stand out a little more, choose something more bright and cheerful like the new Helen Red Flower design. There are subtle touches that distinguish this model from cheaper alternatives, like embossed Mephisto side branding and bespoke metal side buckles. They've gone the extra mile by offering a variety of sole colours to best compliment the tone of the leather uppers. We've found Helen to be a summer sandal that doesn't look particularly special off the foot, but when on the foot, it transforms into a beautiful item of footwear.
Technology
More on this soon!
4. Durability
All Mephisto sandals are made using genuine rubber outsoles which offer superb grip and high levels of durability. They also only select 1st grade full grain leather uppers. This means they won't stretch and loosen with wear which can be a problem with lightweight sandals. One of the benefits of using real cork in the midsole is that it maintains its shape after thousands of flexes and remains supportive in even the highest outdoor temperatures.
5. Versatility
The vast range of colour and leather options mean you can pair them up with an endless variety of outfits. They're super convenient too as they're a simple slip-on design. They're the perfect ladies shoe for holidays and vacations in warm climates. We've seen ladies wear brighter colours variants alongside the beach during the day and change to black patent Helen for evenings in the town.
6. Value for Money
Over the decades, Mephisto have invested millions of dollars into research and development to create some of the worlds most comfortable shoes. It's true there are many cheaper alternatives that 'look' similar in the marketplace, but they won't offer the same longevity, comfort and support found in the Helen style. Combine this with the top grade European leathers used in the contstruction and the genuine cork midsole, they represent superb value for money.
Mephisto Shoe Review on YouTube:
How to choose your Mephisto shoe size?
Mephisto is a French brand and therefore graded in European EU sizes. The only other size visible on the box end label is the corresponding U.S. size. The feedback we have received from our customers around the world is that they are fitting true to size, so there's no need to grade up or down from your normal size. Just for our UK customers, we convert as follows: EU 36 = UK 3, EU 37 = UK 4, EU 38 = UK 5, EU 39 = UK 6, EU 40 = UK 7 and EU 41 = UK 8.
What are the pros?
1. Helen looks gorgeous on the foot and is available in a wide array of colours and leather options.
2. They're super comfortable in warm climates because of Mephisto's patented comfort technology.
3. Every pair can be dressed up or down depending on the style selected.
4. They're lightweight, durable and reliable sandal, trusted by hundreds of thousands of customers around the world.
5. Mephisto Helen is an entry level designer sandal made by one of the most revered European footwear brands.
...and the Cons?
1. Let's face it, they're not the cheapest sandal in this sector.
2. Some lighter coloured footbeds change colour with wear as they absorb the natural sweat from the foot. Ideally you would change them each season (or two at most) to ensure they look and feel fresh.
3. We only stock Helen in sizes EU 36 (US 6) to EU 41 (US 11) so if you have particularly small or large feet, sadly this sandal is not for you.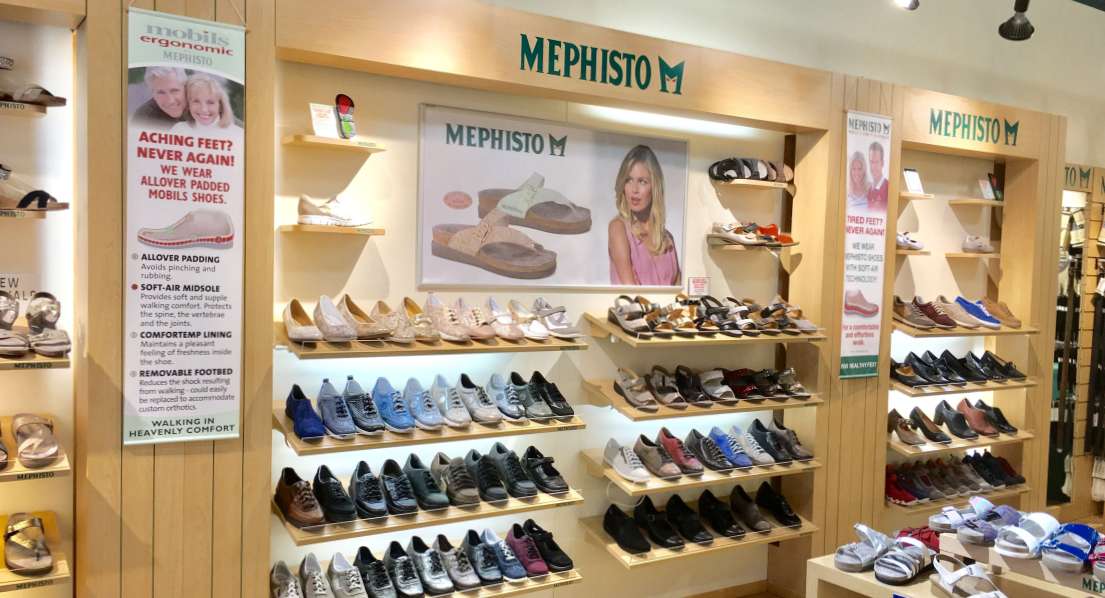 Who are Mephisto? - A brief history of the prestigious French brand
In 1965, Frenchman Martin Michaeli, opened his own shoe factory in Sarrebourg France, near the German border and settled on the name Mephisto after finding inspiration for the name from a character called Mephisto in the book Faust by the German Author Goethe.
Michaeli had studied at Pirmasens in Germany which is famous for its shoe and footwear technology. With a degree from there went to the United States for six years, working in shoe factories in Maine before coming back to found his own factory. Today his two children Marc and Stephanie continue to run the business.
During the 1960's Mephisto enjoyed rapid growth expanding sales in many countries. Specialising in ladies' moccasins to begin with, the company had a fantastic reputation for style, comfort and quality.
In the early 1970's responding to the growth in sneakers and outdoor shoes, he invented a new concept combining the sport shoe and the city shoe with a new fast lacing system. Called "Raglers" he filed for a patent covering the new moccasin with a rubber latex sole and a revolutionary six ring lacing system. (This is now synonymous with the world-famous style Rainbow for men and women made in a myriad of colours and materials). Thus the Mephisto leisure shoe was born.
From this, several other concepts were developed creating the "Trampolins" range in 1978 which had the same quick lacing system but incorporated improvements to the sole with a cushioned heel that stored energy on impact and helped propel the foot forwards during movement. At the same time soft-air technology was incorporated into the shoes reducing shocks when walking or hiking.

During the 1980's the company continued to expand and launched more constructions like the heavy-duty Norwegian seam, being much sturdier than the Tramplins and called them "Sherpas" with more rugged and cleated soles. To compliment the outdoor Norwegian construction, Mephisto also launched a Goodyear Welted shoe for the City.
Mephisto always a company that excels in technical research, moved into the growing trekking market launching a new range with Gore-Tex waterproof breathable linings and padded collars in soft nappa leather.
By the end of the 1990's Mephisto had launched several new branded collections under new brand names, Mobils, Allrounder and Sano. They were focused on comfort during walking and running always incorporated the latest technology to achieve this goal.
Along the way Mephisto developed a range of sandals - dedicated to comfort with elegance, the iconic style "Helen" sandal is quite simply a phenomenon as you will have read above. It incorporates Soft Air Technology, and has the best original rubber and cork anatomical footbed. Every year this timeless style is offered in new colours and prints and continues to be a world leader in its category.
Arthur Knight are proud official stockists of Mephisto here in the UK. We hope you enjoyed reading this blog post on Mephisto footwear. If you have any questions or queries, please get in touch with a sales representative at Arthur Knight Shoes. Thank you.
You can view our full range of Mephisto footwear by clicking on either of the below options: