Mephisto
Helen Dark Brown Waxy Leather Sandals Mephisto Shoes
Warm out? Don't allow yourself to get all hot and bothered in the gorgeous summer sunshine.
Versatile, trendy and sturdy, this hardwearing sandal will help you get where you need to go without worrying about flimsy materials or rubbed toes. Thanks to the unique craftsmanship offered by Mephisto Shoes, you can enjoy all day long comfort.
This sandal features nubuck brown leather and 'Air Relax' shock reducing technology, as well as an adjustable buckle strap and cushioned insole.
Click here for a short YouTube video of Mephisto Helen Sandals.
This item is unavailable for sale in the United States of America.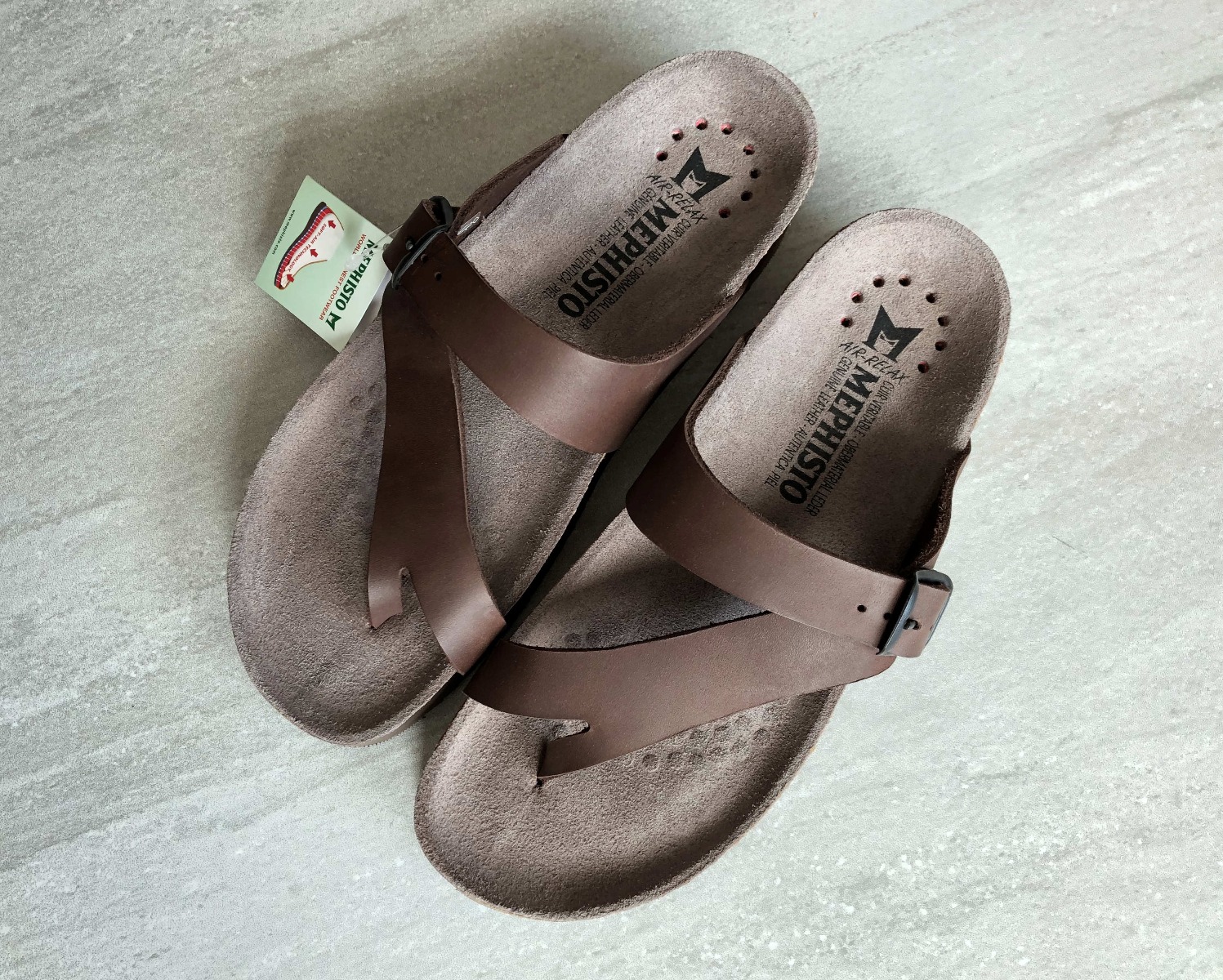 Additional description
Comfortable, stylish and hardwearing. What more could you want from a ladies sandal? Nowadays, it is not uncommon to be stuck with plastic-feeling, hardened sandals which ironically crack or fall apart after just a few wears. That's why we are thrilled to be able to offer you the Helen dark brown waxy leather sandal by Mephisto. Due to its amazing nubuck leather, this soft yet strong sandal will support your foot without rubbing. Also, as leather is such as classic and classy material, it'll match with a wide variety of outfits and help you to look stylish and chic no matter what. 
Mephisto has been crafting the finest walking shoes since 1965, when Martin Michaeli of France set up his company and opened his first factory with a desire to bring unparalleled comfort and fashion to the public. In 1973, Michaeli was granted his first patent and in 1975, the shoes were selling like hotcakes throughout Europe, and expanded into the American market in 1985. 
Mephisto's latest walking sandal, "Helen" is sure to be a favourite among the ladies during the warmer months. This lightweight, open-toed, comfort-oriented walking sandal will have you on your feet all day. The bottom of the shoe is made from cork, which has several unique properties making it a firm favourite among shoe manufacturers -- these properties include thermoregulation, water-resistance and grip. The soles are made from cushioned leather, for even greater comfort, and the adjustable buckle strap allows you maximum flexibility and make the shoe easy to put on and take off at the end of the day.
Pair with anything you like! If you're going for a long walk whilst on holiday, you could wear lightweight linen trousers in a cream or stone shade, a thin tank top and lightweight jacket or cardigan. You can also pair it with a leather satchel or handbag to match with the nubuck leather in the sandal.