Mephisto
Helen Toe Post Navy Blue Nubuck Ladies Mephisto Sandals
This ladies sandal in matte nubuck leather is a must for your summer wardrobe. This shoe is the classic Helen style, with a toe post, deep navy blue leather straps, and an adjustable buckle.
The cushioned leather insole features the patented Mephisto Soft-Air shock reducing technology, making this the most comfortable sandal you'll ever wear. The full midsole is genuine cork. The rubber sole is durable and non-slip.
Available in several colours for every outfit.
Click here for a short YouTube video of Mephisto Helen Sandals.
This item is unavailable for sale in the United States of America.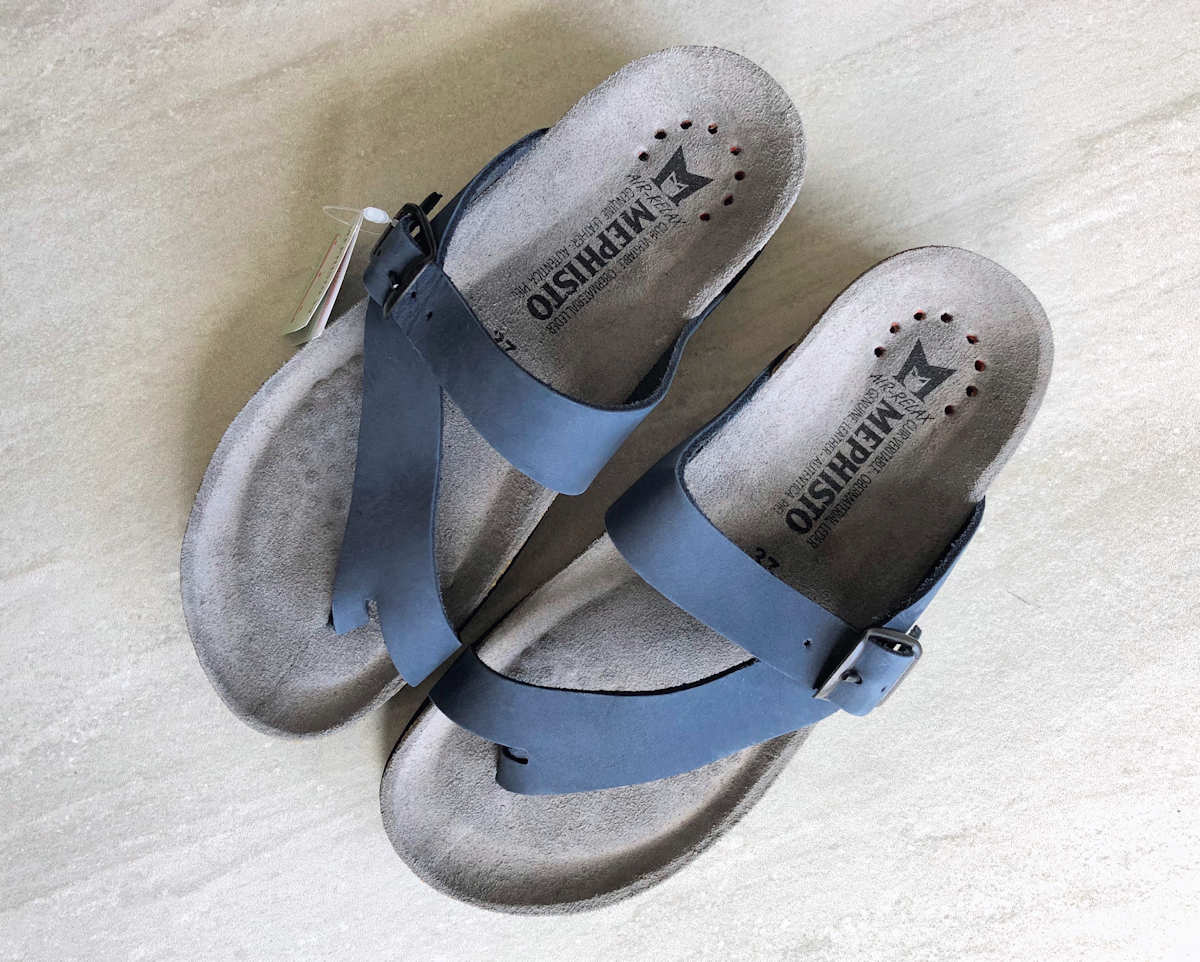 Additional description
A classy sandal is essential to your wardrobe, and this Helen toe post sandal is one of the best options. Every piece of this shoe is of the highest quality, from the leather straps and insole, to the metal buckle, to the cork midsole and rubber sole. The navy blue of the matte nubuck leather coordinates with most clothing and can bring subtle colour to an otherwise neutral outfit.
This sandal features Mephisto's patented Soft-Air technology. The cork midsole is designed to be flexible and elastic for its entire lifespan. The incredibly soft material absorbs the impact caused by walking. This relieves most of the shock that normally goes to your joints and spine, giving you the most comfortable shoe you will likely ever wear. The Soft-Air technology also provides a breathable environment, keeping your feet at a pleasant temperature and providing constant airflow.
Sandals are one of the oldest style of shoe available. You can look to almost any point in history and find several civilizations that relied on the sandal as footwear. As the years have gone on, sandals have evolved and branched off into hundreds of styles. Some of the most popular styles feature the toe post, as it provides a comfortable, open shoe while still offering some support. Sandals have traditionally been worn in warm climates or during the summer, as a shoe that has good airflow while still giving protection from terrain.
This shoe is best paired with casual or smart casual outfits, though you can make them work in business casual as well. Try them with your favourite pair of skinny jeans or denim shorts. The colour of khaki goes nicely with navy blue as well. A relaxed maxi skirt offers a breezy and comfortable outfit with this shoe.