Anatomic
Anatomic Comfort Slip On Brogue Ankle Boot in Brown Leather
A new style for this season, this slip on Chelsea boot by Anatomic & Co is available in hand antiqued brown leather for Arthur Knight Shoes. It features a full wingtip brogue design with '2 & 1' punched elastic detail.
The twin elastic gussets and rear pull tab complement the leather in dark brown. It is fully lined with sheepskin. The stitched rubber comfort sole and durable rubber heel are Anatomic & Co patented.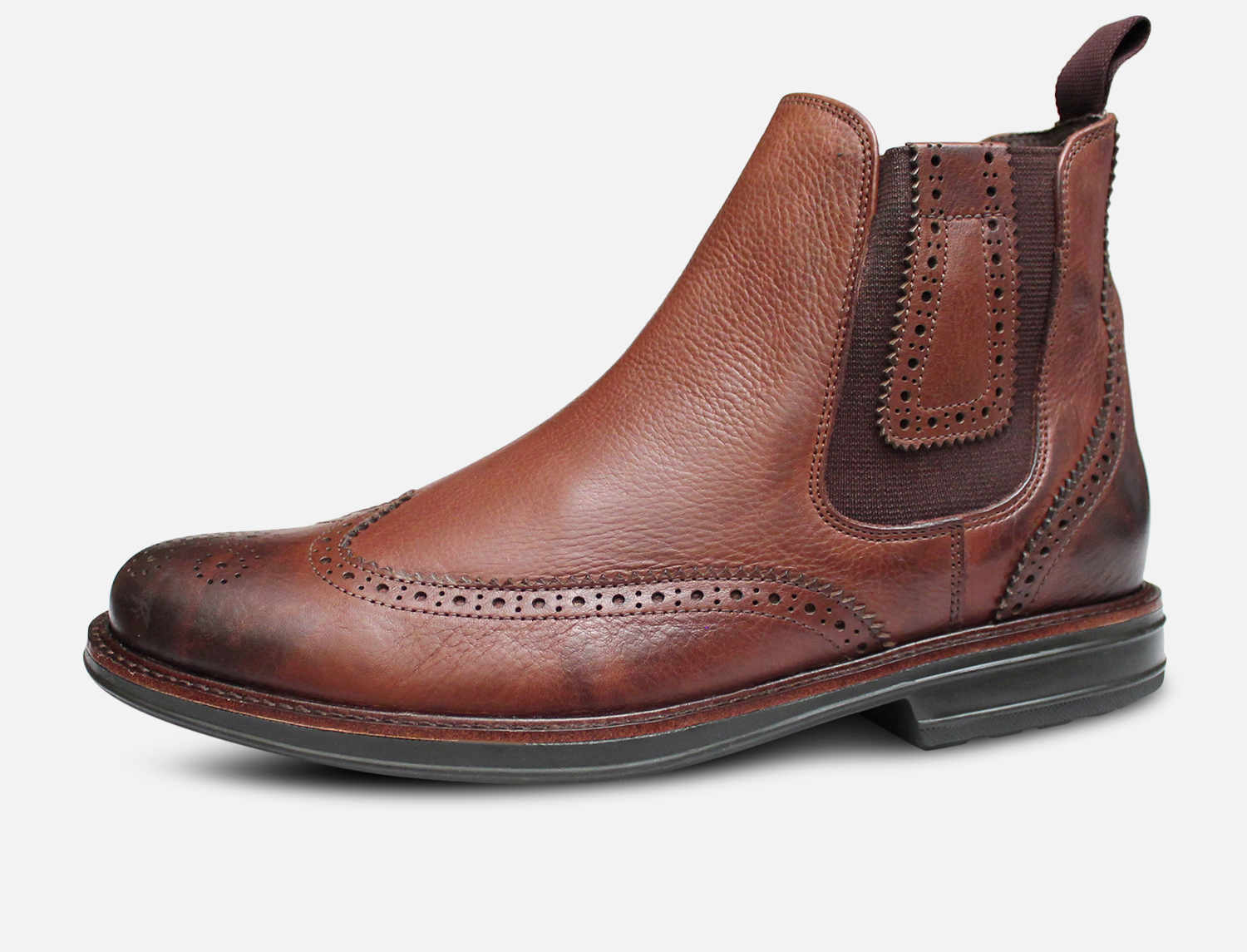 Additional description
With its roots in Victorian royal history, it is easy to see why the Chelsea boot is still popular today. When combined with a brogue pattern, the resulting boot is often exquisite and this boot by Anatomic & Co is no exception. Made in hand antiqued brown leather, this slip on brogue ankle boot exudes luxury. With a full wingtip design, the brogue pattern is even seen on a leather panel included in the elastic gusset, a design feature that truly sets this boot apart from others.
Brogues used to be thought of as outdoor or sturdy shoes, but the brogue pattern of multiple piece leather uppers and decorative perforations has crept into dress shoes and even trainers and high heels. It's easy to see why the brogue is still popular today, as it offers versatility in dressing and selecting the right brogue can offer a shoe or boot that lends itself to both casual and smarter wear.
With a full sheepskin lining, this boot will keep your foot moisture free and comfortable throughout day. The complementary rear pull tab and twin elastic gussets allow the boot to be pulled on and off quickly, and the durable rubber heel will ensure years of wear. The rubber comfort sole makes this boot ideal for longer walks and busy days spent on your feet.
With its hand antiqued brown leather, this brogue ankle boot suits both jeans and chinos. To dress for more formal occasions, team your trousers with a crisp shirt and a smart jumper. For weekends beside an open pub fire, take a more relaxed approach with the boot and pair with blue denim jeans and a checked shirt or chunky cable knit jumper. The versatility of this boot will have your reaching for it again and again.