Arthur Knight Shoes
Antiqued Navy Blue Mens Chelsea Boots
If you're looking for a striking boot that draws compliments, then the Chelsea Boot in antique navy blue is for you. Made in Italy, this hand burnished boot features a simple side gusset, a stitched part leather part rubber sole and clean strip of leather that extends from the toe to the top giving the Chelsea a minimalist, sophisticated appearance. 

It is ideal for a smart casual weekend look, or for an evening out in the city.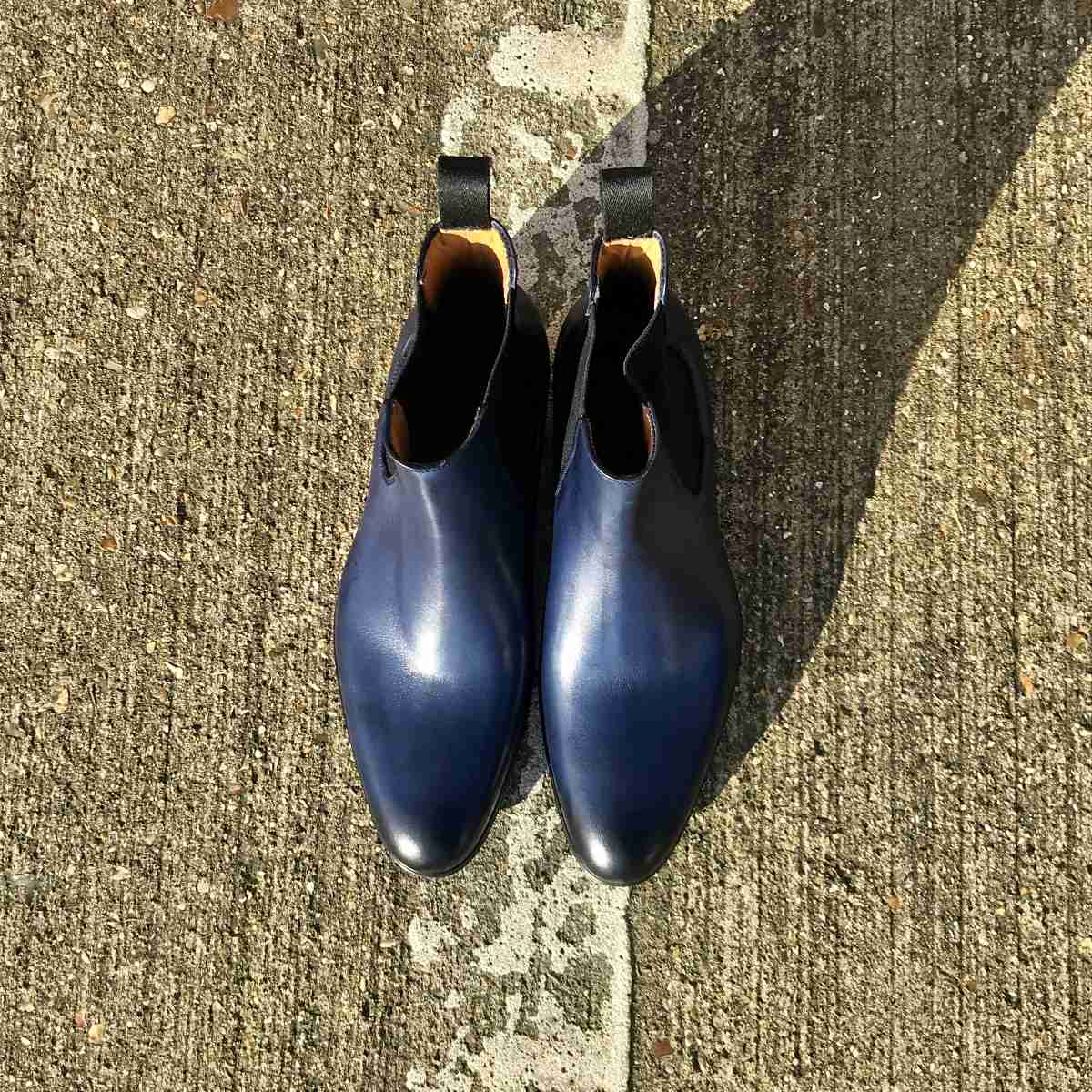 Additional description
The antiqued navy blue Chelsea Boot (also known as dealer boots) is ideal for gentlemen that like to be noticed for all the right reasons.
With a smooth, clean leather presentation, this hand burnished boot features a striking navy blue colour, meaning you'll be sure to stand out from the crowd at any event or occasion. The Chelsea Boot has transcended the centuries and still remains popular and sought-after today. With its roots in British royalty, it's not hard to see why this men's boot has remained a firm favourite among gentlemen of class and distinction throughout the ages.
The stylish cut allows for a seamless look, and includes a simple side elastic gusset with plain pull tabs giving it distinguished detail. The tabs are highly convenient, and allow for the foot to easily enter and exit the boot without hassle. The stitched part leather, part rubber sole offers both grip and durability, so you can be sure that this boot will stand the test of time, no matter how much you love to wear it. As you would expect from a Chelsea of this quality, it contains a full leather lining with full padded leather insole for maximum comfort and longevity.
We recommend wearing blue Chelsea boots to smart casual functions, such as a social dinner or even a work function. For social occasions, pair this smart boot with a pair of brown moleskin trousers, preferably pulled up somewhat to reveal the full boot, as well as a checked button up shirt. Alternatively, you could try a smart pair of slim fit jeans that tuck nicely around the top of the boot, with a matching navy belt and casual stone shirt.
This boot isn't out of place in the office. Given its seamless, laceless appearance, it matches well with a well cut business suit in brown or grey.