Barbour Shoes
Barbour Mens Lace Up Ouse Country Brogue Shoes in Tan
This exquisite round toe full wingtip brogue by Barbour Shoes is available in antique tan. Made of a high-quality tumble grain leather upper, it features a commando style durable rubber sole.
Subtle Barbour branding on the heel and a breathable tartan fabric lining mark this brogue as a luxury item. Its padded leather insole and double weight sole make this a superb everyday brogue that you won't want to miss out on.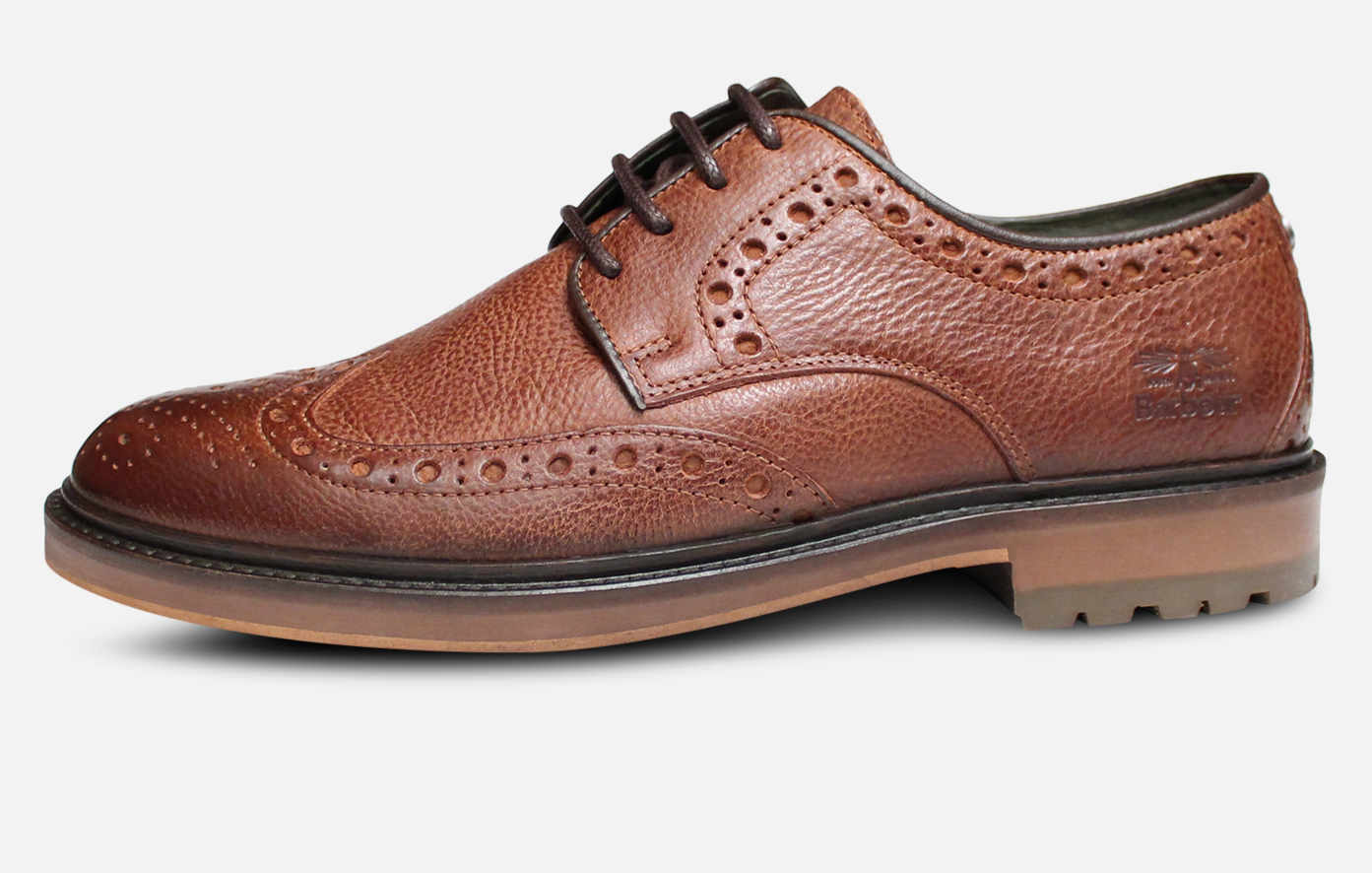 Additional description
The brogue is an essential for any gentleman's wardrobe, and this round toe full wingtip brogue by Barbour Shoes is no exception. Available in antique tan, it is made of high-quality tumble grain leather. The brogue pattern is attractive, and the neat, round laces ooze luxury. The discrete Barbour branding to the heel and sole show that this shoe is made to the highest standards. 
The brogue was once considered to be an item of outdoor or 'country footwear', but is now considered appropriate in most settings, including with formal business attire. The brogue is characterised by having a multiple-piece leather upper and decorative patterns of dots or perforations known as broguing. Barbour is a well-known British brand, respected for manufacturing high end country clothing. Many people will recognise the green or brown waxed jackets, which have become so iconic of Barbour that they are often known as a 'Barbour Jacket'. Barbour footwear is just as revered. 
A breathable, green tartan fabric lines the shoe, making it comfortable for all day wear. The padded leather insole makes the shoe an ideal choice for walking through the city. The flash of racing green perfectly complements the antique tan and is a delight for the eyes on putting on and removing the shoe. Once you own this shoe, you won't know how you ever managed without it. 
This is an everyday brogue that you will want to show off. The shoe can be dressed up with chinos and a shirt and tie for work or dressed down at the weekend with your favourite jeans and a knitted jumper. The Barbour Country Brogue Shoe is a versatile item of footwear that you'll be reaching for again and again.