Barbour Shoes
Barbour Waxy Brown Tobacco Suede Side Zip Ankle Boots
The new style of this bestselling Barbour side zip boot is now available exclusively for Arthur Knight Shoes in hand waxed tobacco brown suede leather.
With a round toe design and quilted rear quarter stitching, it features a bronze coloured Barbour branded zip and 4cm western inspired Cuban heel.
The sole is made of durable non-slip rubber, and the padded leather insole ensures optimal comfort. It is available in two other exclusive colour options.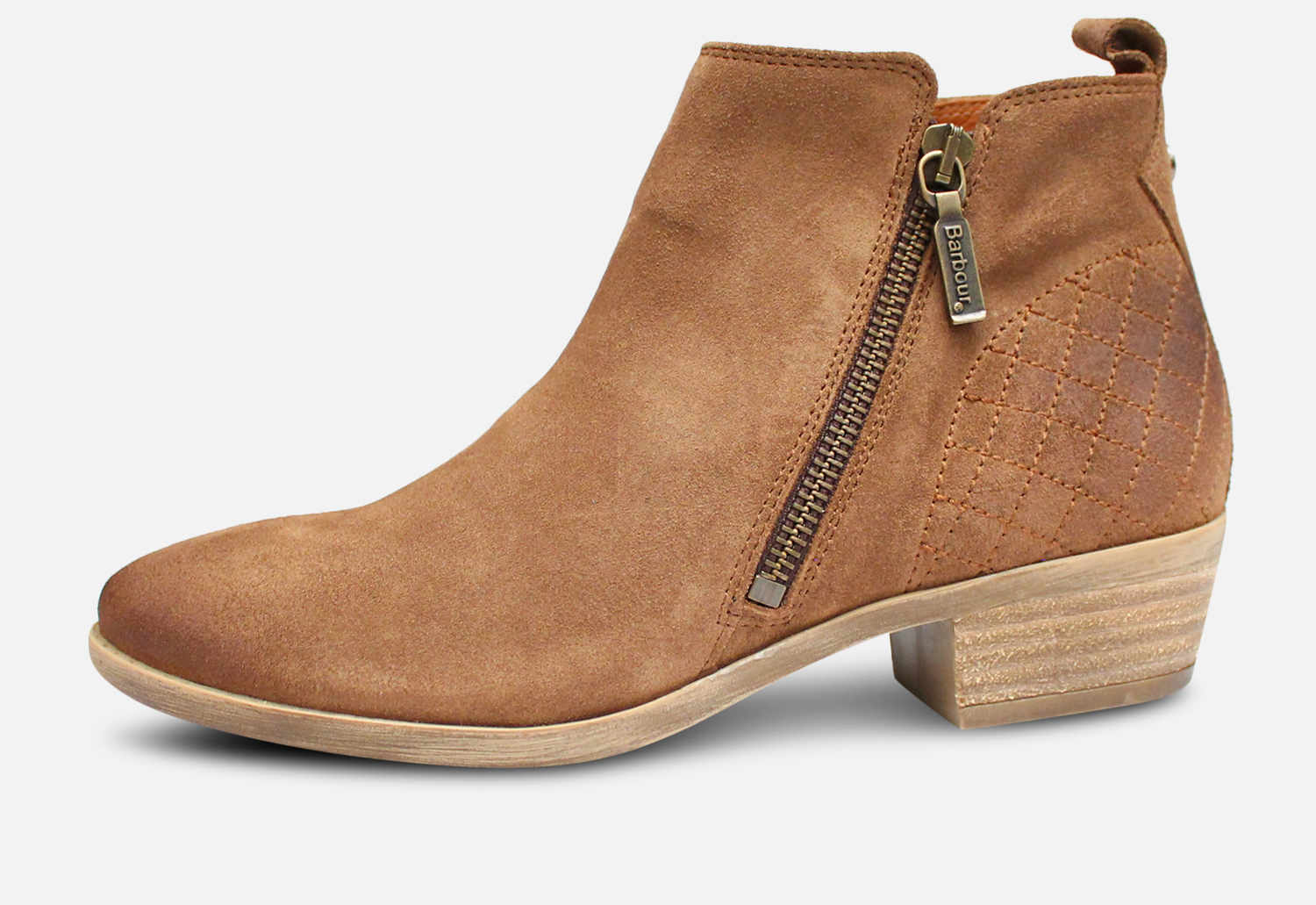 Additional description
With beautifully soft suede leather and radiating elegance, it is easy to see why this gorgeous ladies Barbour ankle boot has been a bestseller. This latest boot in hand waxed tobacco brown suede leather makes a fine addition to any wardrobe. Its round toe design and quilted rear quarter stitching ooze sophistication, whilst the western inspired Cuban heel adds a touch of the exotic. With two other exclusive colour options available, this boot is one to suit endless occasions.
Barbour is a brand known for manufacturing to the highest standards and the bronze coloured Barbour branded side zip marks this boot out as a statement piece. Combining style with function, the sole is made of durable rubber that is non-slip, making it ideal for unexpected changes in the great British weather. The suede leather also makes the boot a lighter choice for warmer periods.  With a padded leather insole, your comfort is ensured even on the busiest of days.
Cuban heels can be traced back to the 9th century when they were worn by Mongolian horsemen. In more recent history the Beatles famously wore Cuban heels during their performances, and the heel featured heavily in the mod movement. With a Royal Warrant of Appointment to supply waterproof and protective clothing to members of the Royal Family, Barbour is a highly respected and celebrated British brand. This boot showcases the quality that is expected with Barbour.
The versatility of the boot means that it can be styled easily with your existing wardrobe. Skinny jeans allow the side zip and quilting to be flaunted, and the tobacco brown suede leather effortlessly complements t shirts, over shirts and knitwear. The stylish suede ensures the boot works just as well with eveningwear, when the boots can be smartened further with trousers or a dress.