Arthur Knight Shoes
Luxury Black & Khaki Crocodile Print Urban Trekking Boots
The exclusive luxury Arthur Knight crocodile printed lace up boot is available in full grain black leather with burnished dark khaki green collar and overlay strap.
A limited edition for this season only, the boot is entirely handmade in Italy on a triple stitched lightweight dark blue rubber sole and features full leather lining throughout.
This urban trekking style boot comes in lace up style with a side zip, exuding real substance and presence.
Special Price
$210.00
Regular Price
$330.00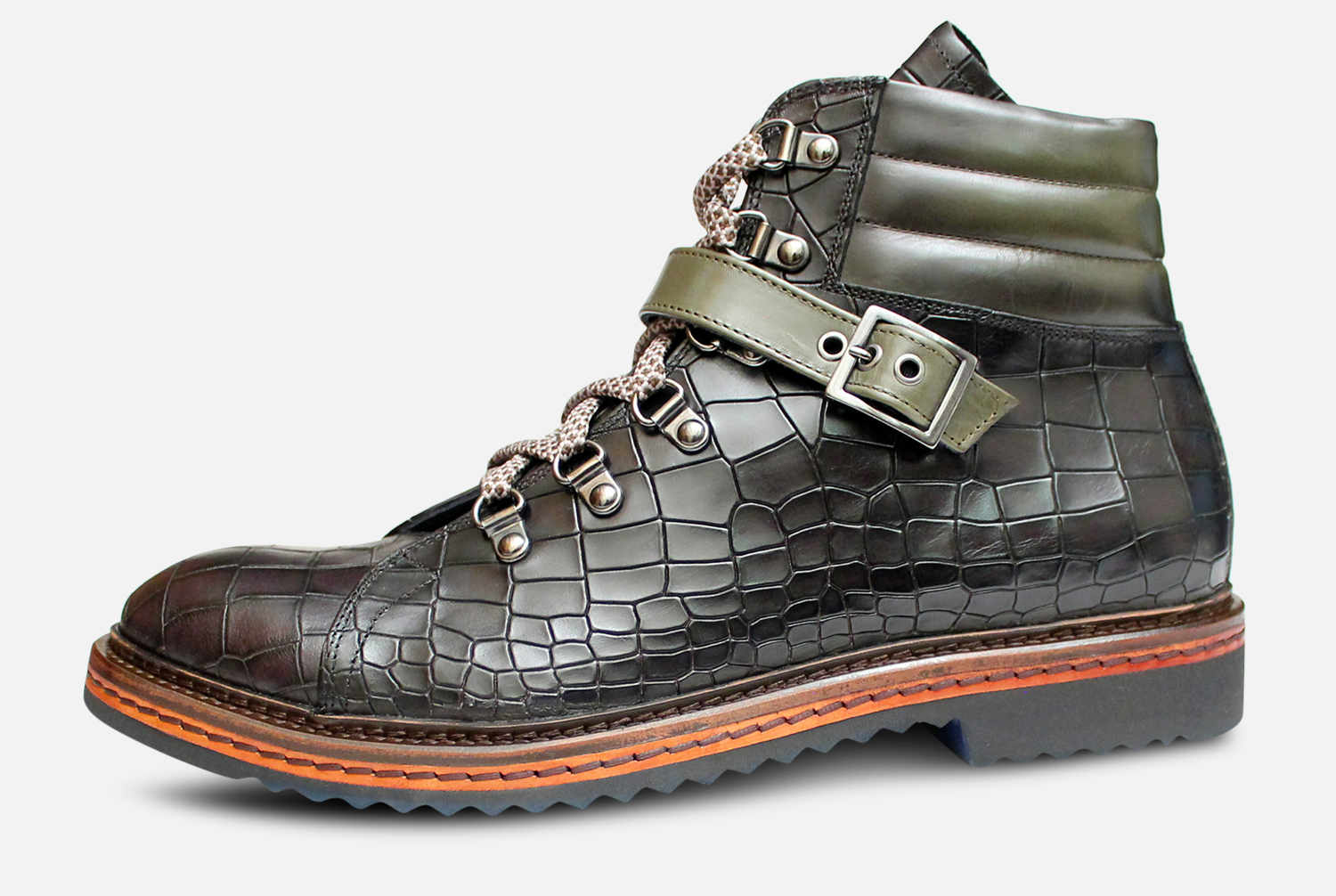 Additional description
Urban trekking boots are fast becoming the essential wardrobe choice. Slotting seamlessly into your lifestyle, the Crocodile Print Urban Trekking Boot is a perfect example of function meeting performance. Ideal for cooler months, the boot blends the best of the urban lifestyle with the thrill of mountain walking. With its striking crocodile print and statement laces, the boot exudes luxury. The accents of khaki green on the collar and overlay strap complement the black leather flawlessly.
Urban trekking boots are finding popularity both on the catwalk and in everyday fashion. No longer an item reserved for the countryside, they are as practical for walking through the city as they are for a weekend in the Highlands. In a period when many are moving away from fast fashion, the urban trekking boot is a timeless accessory to be worn for years to come, especially with its ability to handle the great British weather.
Entirely handmade in Italy for Arthur Knight, this boot is a statement in style. The dark blue rubber sole adds a touch of colour to the boot, complementing the black and khaki perfectly. The lightweight sole and full leather lining make it an ideal choice for ensuring indulgent comfort, whether you're at a busy work event or taking a rural walk. The discreet side zip guarantees that the boot can be put on or taken off quickly, whilst the lace up style and overlay strap make this boot a smart, classy choice.
The beauty of this boot is that it can be styled effortlessly with your own wardrobe. It radiates its presence and pairing it with denim, flannel or knitwear gives a stylish, sophisticated twist on a classic look. Suitable for both daytime and evening events, you'll wonder what you ever did without it.