IGI Gore Tex
Gore Tex Black Leather Waterproof Fur Lined Winter Womens
This classic round toe ankle boot features a side zip and full Gore Tex® waterproof lining making it an ideal choice in any weather. The boot is made in high quality full grain black leather with a durable, non-slip rubber sole.
It features an imitation fur lined fold down collar, and a padded leather insole for all day comfort. The boot is made entirely in Italy exclusively for Arthur Knight Shoes.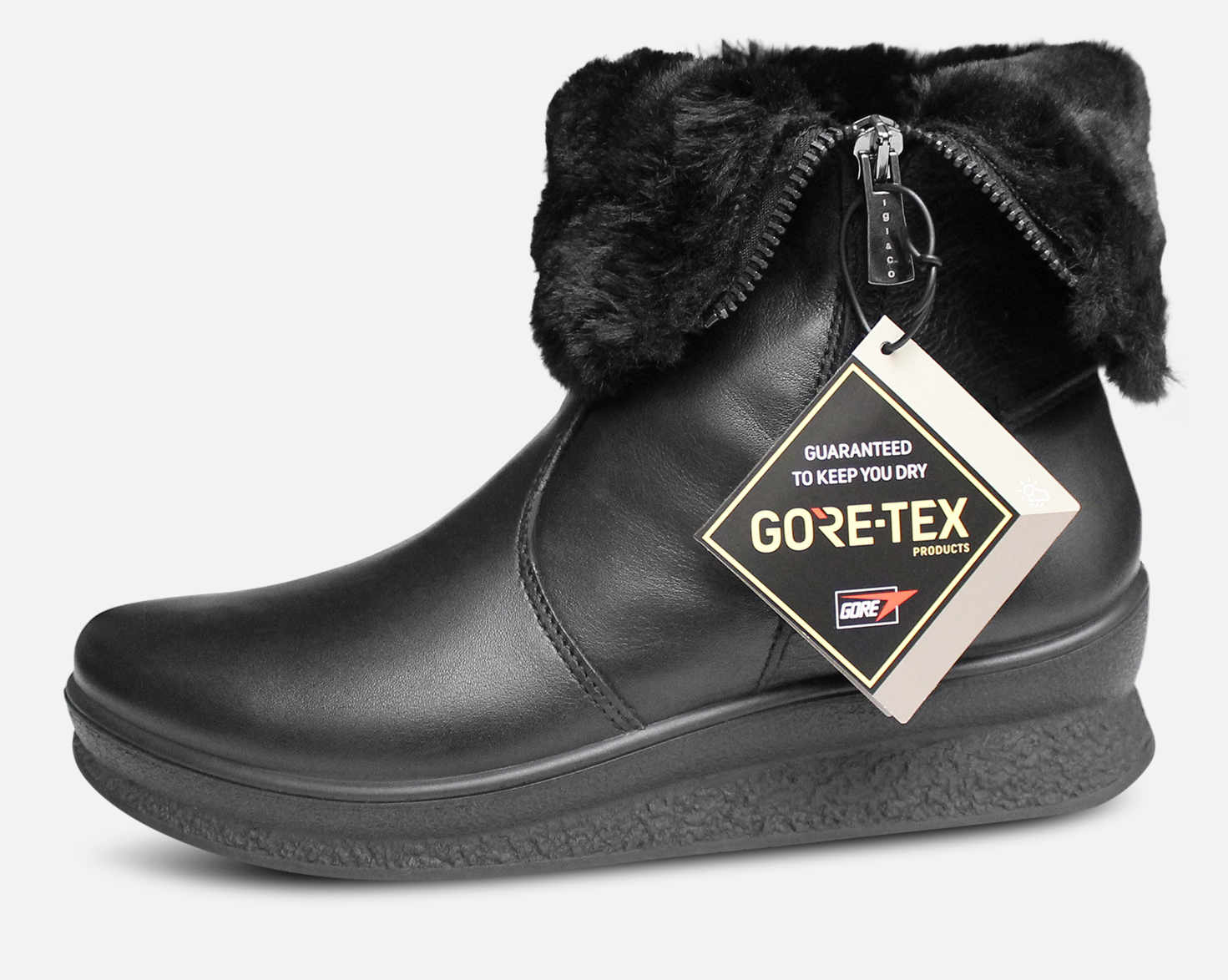 Additional description
For a boot that you can wear in any weather this season, look no further than this Gore Tex® women's boot. Combining style with comfort and guaranteed to keep you dry, this boot is the perfect addition to your wardrobe. It features a round toe design and a side zip, making it easy to put on and take off. Made entirely in Italy with high quality full grain black leather, the quality within this boot is clear.
One of the earliest forms of footwear, the boot dates back to at least 12,000 BC based on cave paintings found in Spain. In the ancient world, boots represented power and military might, and were of significance when most of the population went barefoot. Over time, boots have been adapted to meet the needs of the wearer; whether that means personal protection with steel caps during manual labour, or a boot that offers support and waterproofing whilst trekking. This Gore Tex® boot is the perfect blend of both style and practicality.
The boot features a durable, non-slip rubber sole making it ideal for rainy days and slippery surfaces underfoot. The Gore Tex® waterproof lining means that you do not need to worry about sudden changes in the great British weather, whilst the padded leather insole ensures you remain comfortable even on the busiest of days. The boot has a fold down collar lined with imitation fur, adding an extra, softer dimension to the boot.
In the classic black colour, this boot can be worn with jeans, tights and dresses or leggings. Choose a colour of trouser or tight that complements the black leather and imitation fur for a more striking look, or choose dark blue or black clothing to allow the boot to blend effortlessly with your outfit.