CAT Footwear
Iconic Caterpillar Designer Intruder Trainer in Star White
Part of the updated "Re-Powered" CAT range, this is a brand-new take on the original "off-road terrain" chunky trainer. This rare Intruder model is available in star white and yellow, with a contrast black rubber sole. It has a high specification nubuck leather and mesh upper combination.
It boasts a fully contoured anatomic insole and arch support, and a padded topline to ensure supreme comfort during wear. Limited stock availability for this season only.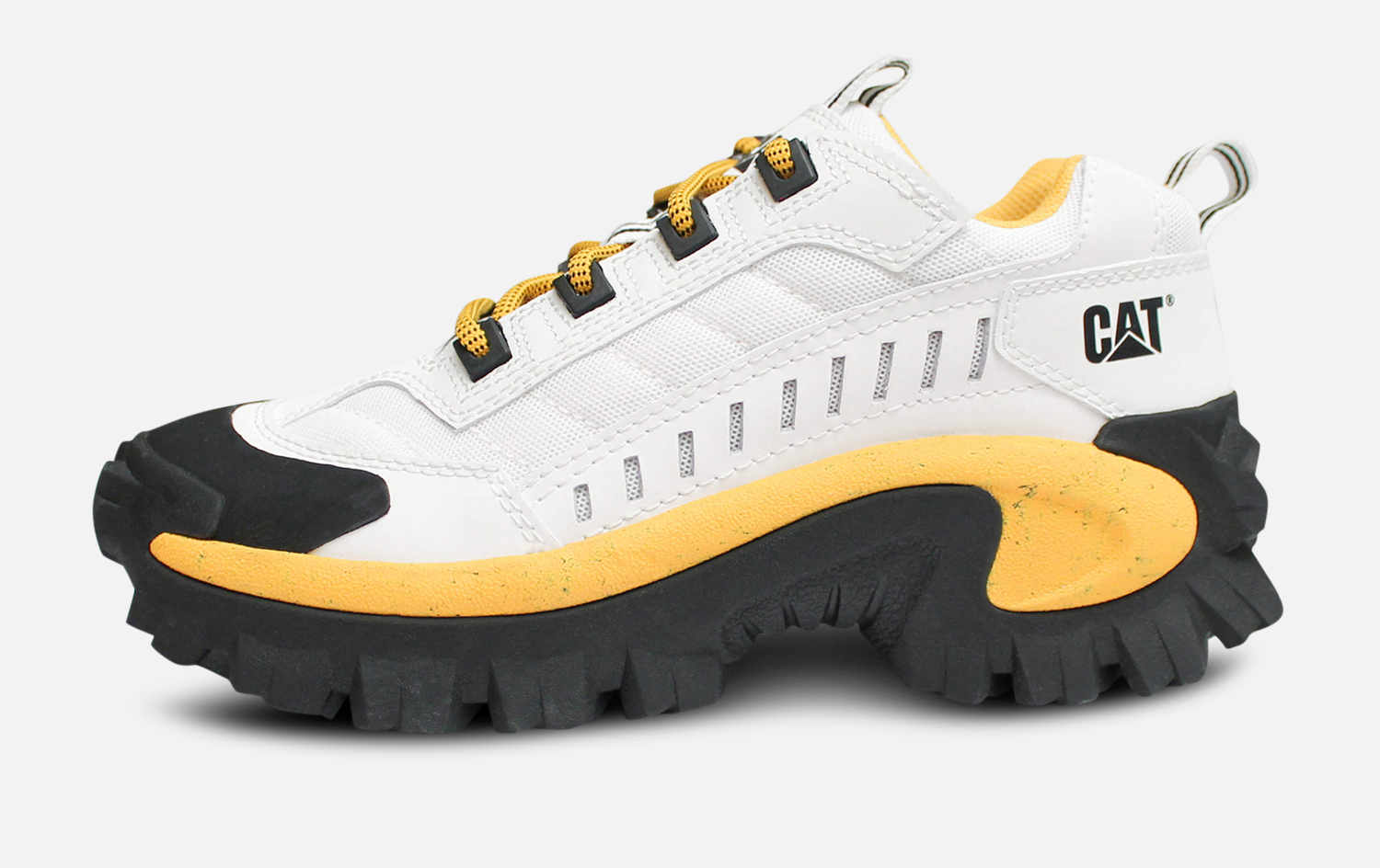 Additional description
This iconic Caterpillar trainer is everything you'd expect an item of CAT footwear to be. This brand-new Intruder trainer in star white features chunky features from the thick, contrast black sole to the luxuriously padded topline. Immediately reminiscent of earlier Caterpillar attire, this trainer is an updated version for the modern man. 
Caterpillar was known for creating iconic boots and shoes in the '90s and it is clear that this trainer from their "Re-Powered" collection is built with durability in mind. Reminiscent of the popular CAT footwear from up to three decades ago, it is obvious why this style is still popular today. Urban, overbuilt footwear provides protection from the elements and excellent grip underfoot without compromising on style. A hybrid between a fashion trainer and a walking shoe, the Intruder offers the best of both worlds when you need your trainer to perform under all conditions. 
With high specification nubuck leather and mesh upper combination, it marks itself out as an indulgent item of footwear. Inside, the anatomic insole with arch support ensures comfort even on the days spent entirely on your feet. The rubber black sole ensures a good grip, making the Intruder ideal for all terrains. This "off-road terrain" trainer is ideal for city breaks and walks in the countryside alike. 
Just as it did in the 90s, the Intruder will slot effortlessly into your existing wardrobe. Ideal paired with faded denim jeans and a checked flannel shirt, the trainer can be worn all day. With the return of the tube sock, try wearing with your jeans rolled up and your socks pulled high for a fashionable, retro look that also guarantees comfort and warmth.