Barbour Shoes
Classic Tartan Barbour Ladies Fleece Lined Slippers
A cosy, warm slipper is a must-have during the winter, and you can do no better than the classic tartan slipper by Barbour. Chic and comfortable, this gorgeous design features wool lining throughout, ensuring your foot is lovely and toasty even on the coldest of evenings. There's also a stunning fabric bow across the toe which adds charm and femininity to the slipper, as well as a lightweight yet robust sole for guaranteed longevity. 

Available in two other colour schemes.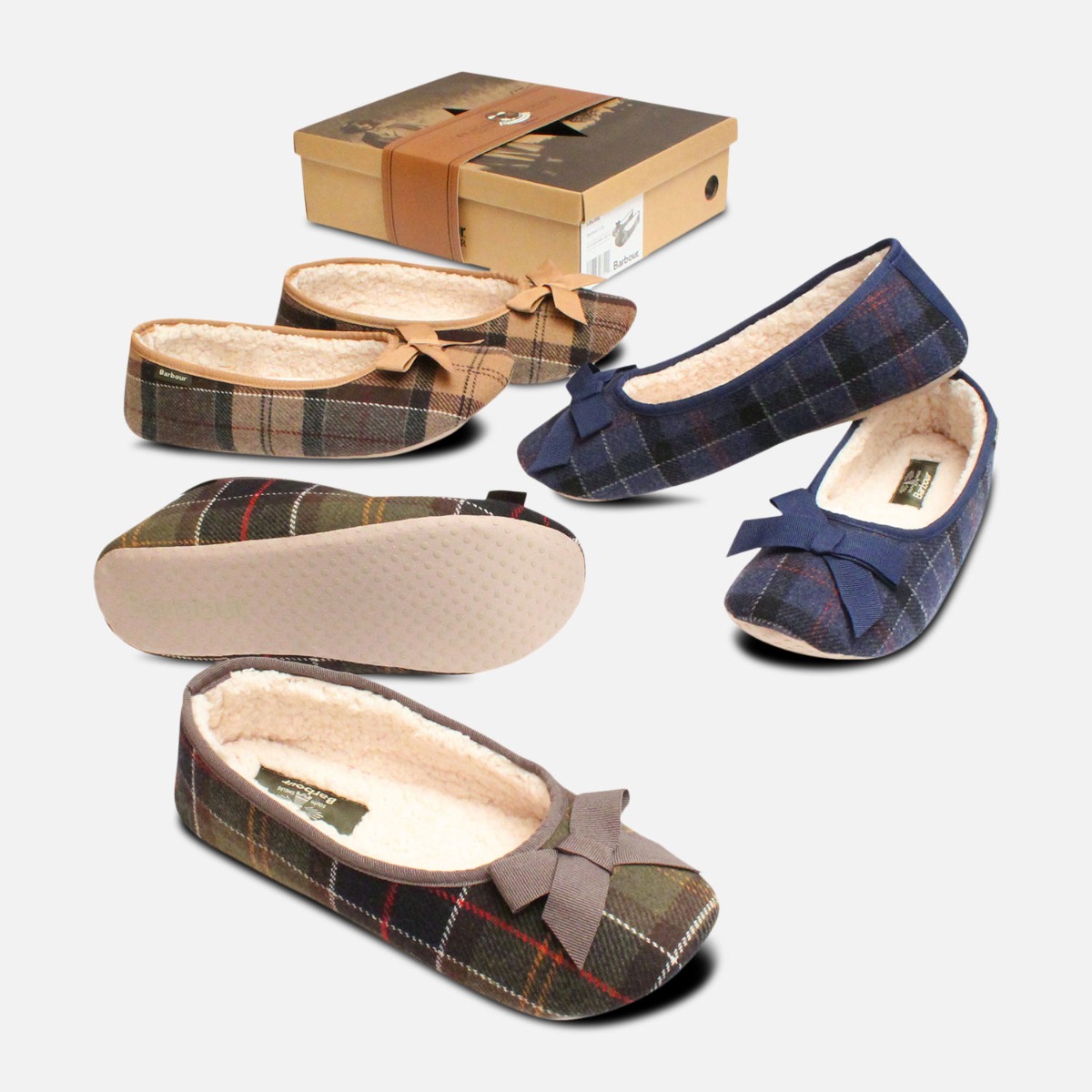 Additional description
Warm yourself a mug of milk and climb into this snug tartan Barbour slipper at the end of a long day. Made from high quality tartan fabric with wool lining, this gorgeous slipper is perfect for winter evenings and nippy early mornings. Barbour are a well established brand with over a hundred years of shoe making experience. This makes them experts in their trade, always committed to producing quality footwear for men and women. Using their signature tartan branding, Barbour embody all-things-British, drawing inspiration from country living.
The slipper itself has a fascinating history that dates back to the 12th century and is thought to originate in Asia (namely Vietnam and Japan). House staff wore slippers when inside the home so that they could slip them off before stepping on expensive rugs. Similarly, poorer folk wore slippers all day long and would remove them before entering a wealthier home than their own.
The concept then spread to the West around 1470, and slippers were adopted by wealthy men as a luxury indoor shoe. Women followed in trend shortly after. The delightful classic tartan slipper by Barbour features luxuriously soft fleece wool lining which is not only cosy, but breathable enough that your foot won't get clammy. The sole is lightweight, yet durable enough that, unlike cheaper slippers, they won't fall apart or gain unsightly holes. Finally, it features a charming fabric bow across the front, adding an air of femininity to the slipper.
It's important to note that this slipper comes in a beautiful gift box, so it makes a perfect birthday or Christmas gift. If you're purchasing it for yourself, pair this ladies Barbour slipper with a matching tartan dressing gown and your most relaxed cashmere pyjamas. Due to the interior material, this slipper is best suited to cold seasons. Available in two other colour combinations.