Thomas Partridge
Thomas Partidge Cranwell II Chelsea boot in Tobacco Suede
This military inspired Chelsea boot is available in a new colour – tobacco suede. An exquisite design, this round-toe shoe is covered in full grain brown leather suede, with contrasting navy-blue elastic on both sides.
The rear pull tab is the iconic red, white, and blue. The sole is high quality, durable, and non-slip resin featuring a brass pinned top-piece. The subtle but elegant Thomas Partridge branding is embossed on the lower heel.
Only limited stock available for this season.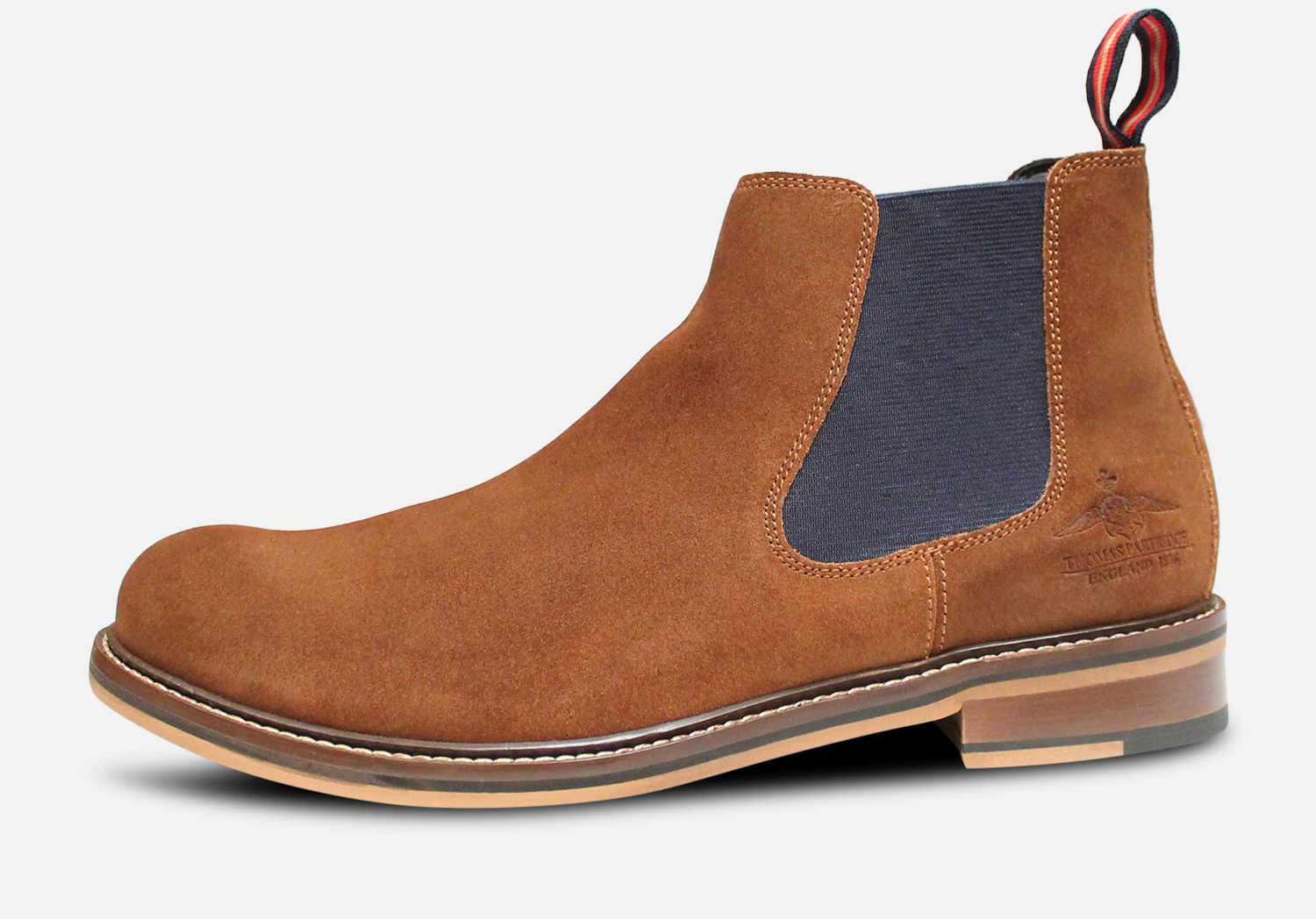 Additional description
Bring some classic elegance into your wardrobe with this tobacco suede Chelsea boot. The soft, carefully crafted suede is lightweight yet durable. The matching elastic side panels, key to the design of the Chelsea boot, are a deep navy blue that contrasts perfectly with the tobacco suede. The rear pull tab that makes this shoe so easy to slip on and off is an iconic red, white, and blue striped design.
The handcrafted suede of this boot offers a look slightly more relaxed than that of polished leather, while still being high class. With suede being so lightweight, this unique boot is ideal for many hours of everyday smart wear. The sole is thick and durable resin that will last you years. It's non-slip as well, making it perfect for any environment, indoors or out.
The Chelsea dates all the way back to the Victorian era, when Queen Victoria's shoemaker designed the boot for her. Popularity quickly spread among both men and women, and they were worn for walking and horse riding. The style persisted throughout the decades but came back onto the fashion scene in the 1950s and 1960s. They were a huge part of the mod style, and The Beatles famously wore them with their tailored suits.
Chelsea boots are versatile, pairing well with almost any type of outfit. This tobacco suede boot gives off a more laid-back feel. Wear them with your favourite casual or smart casual looks. Skinny jeans, a plain t-shirt, and your favourite overshirt will make for a put together every day outfit. For more of a smart casual look, try them with a classic sweater or double-breasted coat. Dare to stand out by wearing them with your business casual clothing or even semi-formal attire. To truly show off this classy shoe, make sure that the leg of your trousers or jeans sit just over the top of the boot.