Calvin Klein
Black & Silver Calvin Klein Eliza Wellington Boots
New designer displaced logo Eliza boots by Calvin Klein.

Add a touch of class to your outdoor attire with the Eliza Wellington boot for women. Brought to you by Calvin Klein, this chic black Wellington measures at 40cm high and features a prominent offset Calvin Klein logo in pewter silver. The sole is also silver, creating a stunning contrast against the shiny black upper. 

Perfect for outdoor gals that are fed up with drab footwear. Limited stock availability so act fast!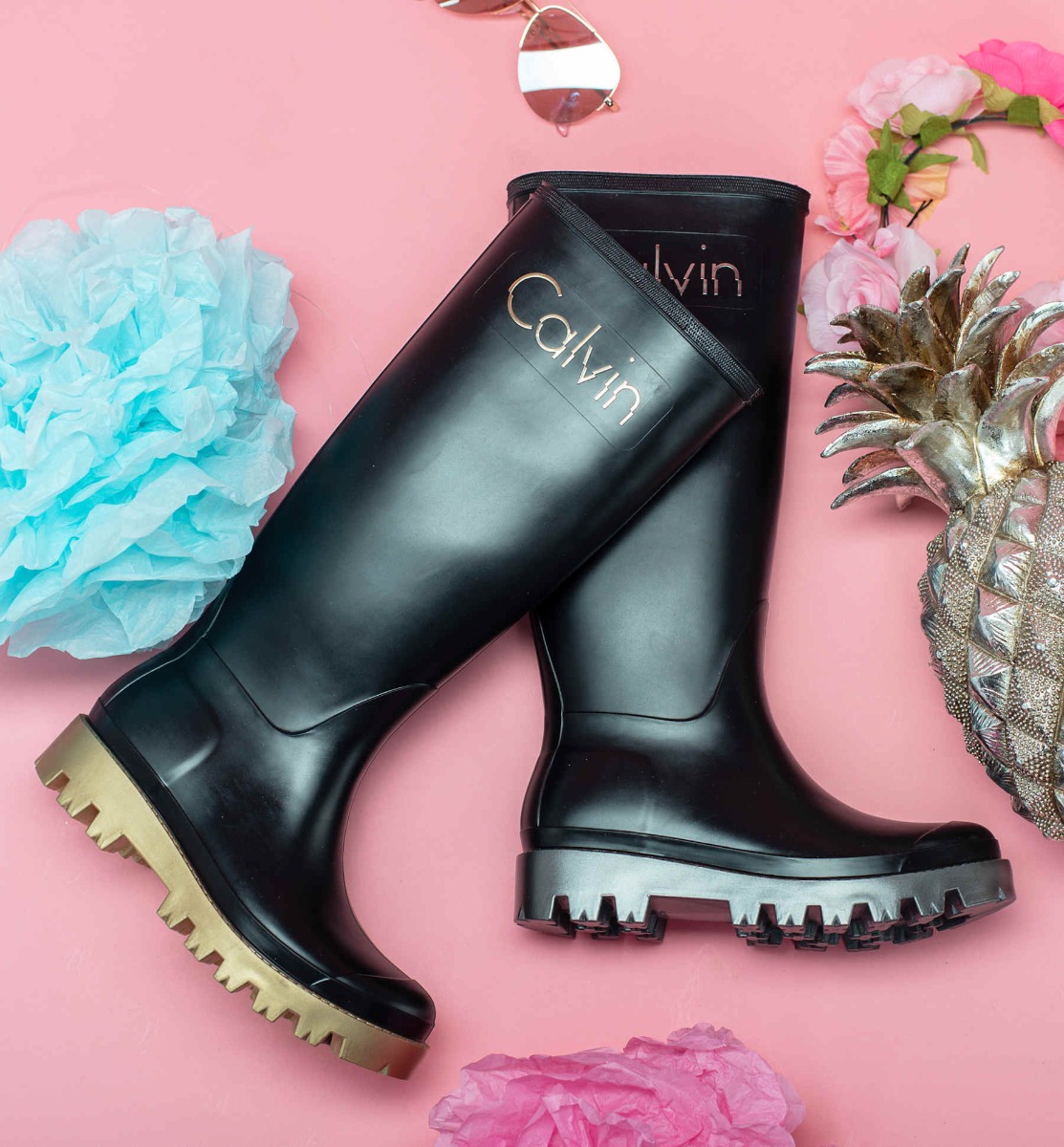 Additional description
Why should you be forced to compromise on style just because you're a bit outdoorsy? Whether you're heading to a festival, harvesting crops or simply require protective wellies for a good old stomp in the mud, there's no reason you should look any less than your best. That's why we are pleased to offer you the Eliza Wellington boot by Calvin Klein. With its chic black colour and minimalist exterior, this welly is ideal for pairing with a range of outfits and will never let you down.
It measures at 40cm in height, which is fantastic for keeping rain and dirt away from your feet in turbulent seasons. There's also a silver cleated sole which gives you support while walking through uneven terrain whilst also providing a stylish contrast against the black upper. To compliment the colour of the sole and lend extra sophistication to the Wellington, there's also a pewter silver offset logo that's visible yet understated.
It's incredibly easy to slip this boot on and off, with no buckles or fastenings to fiddle with. Plus, it's straight forward to wipe clean after exposure to water or mud. As you would expect from any Calvin Klein boot, it's built to last. You'll still be wearing this timeless ladies welly for years to come.
Team it up with a pair of denim jeans, a long khaki jumper and bobble hat for cooler days. We recommend selecting slim fit or skinny jeans because they are easier to fit the welly over the top of and create a more slender look.  Please note that there's extremely limited stock availability for this season due to the boots popularity. In fact, Calvin Klein sold out of the available production of this line in just a matter of weeks, so act fast to receive your pair!