Arthur Knight Shoes
Italian Ladies Ankle Boot Brogue in Brown by Arthur Knight
Back in stock with improved specification and quality, the chestnut brown Chelsea boot brogue by Arthur Knight has a classic round toe design, wingtip brogue pattern and twin elastic sides.
Using full grain leathers and leather lining throughout, it features a rear tab for easy wear, and a black rubber studded sole and heel.
This boot is handmade in a luxury Italian shoe factory that manufactures for other famous labels retailing footwear at over £400.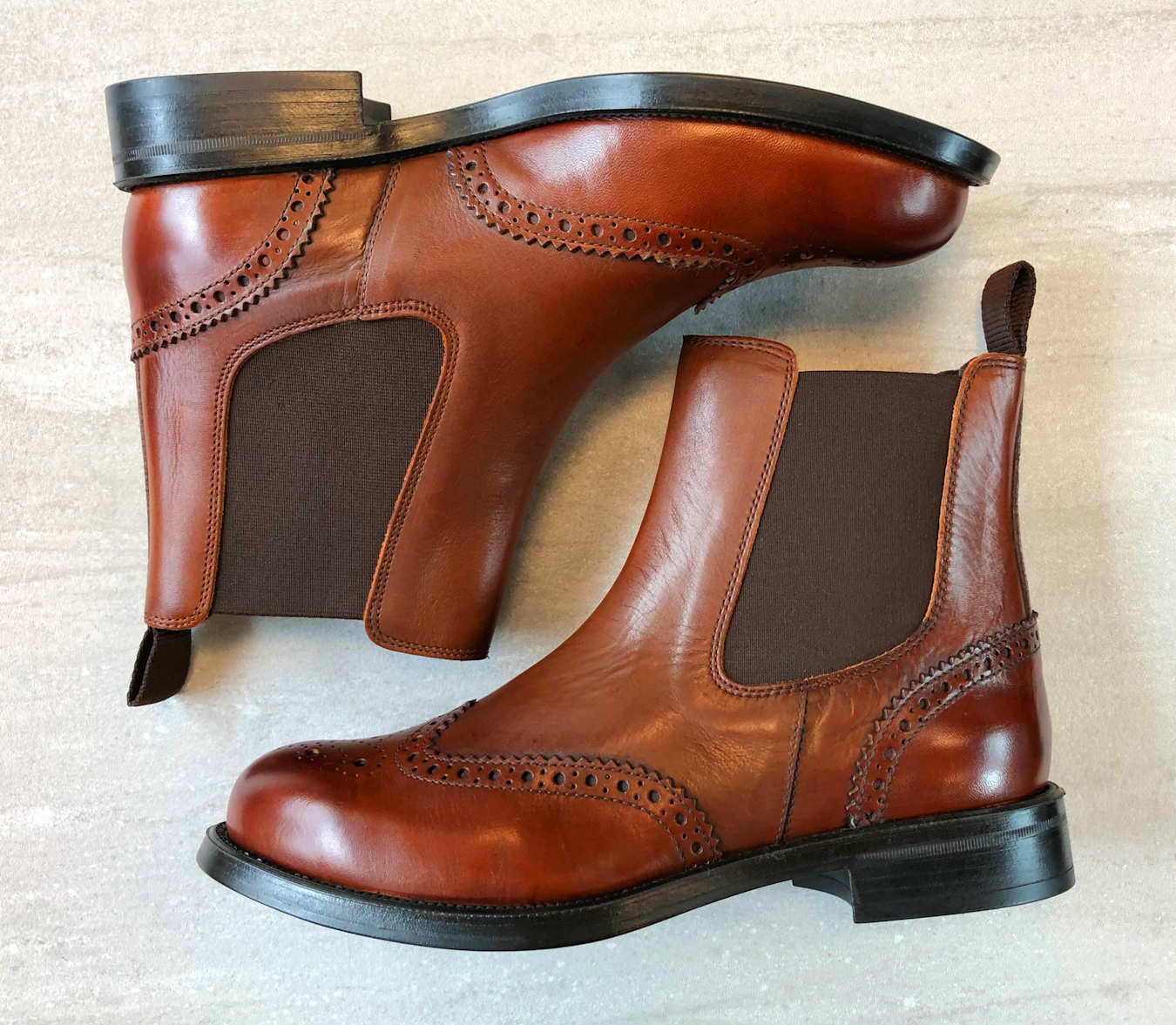 Additional description
The Chelsea boot is an essential for all modern wardrobes. Finally back in stock, the Italian Ladies Brown Boot Brogue is available in chestnut brown full grain leather with improved quality. It has a classic round toe design with exquisite wingtip brogue pattern that accentuates the full-bodied colour of the leather. The shaped twin elastic sides are highlighted in a deeper brown, bringing effortless class to the boot. The overall boot height is approximately 17cm, with a 28mm heel.
Entirely handmade in Italy, the boot is pure luxury with leather lining throughout. To ensure it is easy to put on and take off, a rear pull tab features in dark brown, the colour balancing with the side panels whilst complementing the chestnut brown leather. The black rubber studded sole and heel ensure maximum comfort without compromising on style.
The Chelsea boot is credited to the Shoemaker for Queen Victoria, and he claimed that she walked in them every day. They became popular with men and women, for both walking and horse riding. The 1950s and 1960s saw a resurgence of the Chelsea boot, and they were famously worn by The Beatles and the Rolling Stones. Adding sophistication even to casual outfits, it is easy to see why the Chelsea boot has remained a classy choice.
The twin elastic slip on boot is renowned for its adaptability in styling. The indulgent leather allows the boot to be paired with smarter items, including boho dresses, blouses and business casual attire. Additionally, the style of the boot enables it to lift more laid back outfits including skinny jeans, fitted t-shirts and over shirts for a smart casual look. The versatility of this boot will have you reaching for it time and again for years to come.