Jeffery West Shoes
Jeffery West Brown Rhum Suede Luxury Tassel Loafer Shoes
This Jeffery West slip-on loafer in brown rhum suede has been produced exclusively for Arthur Knight, only for a limited run. The classic loafer pairs with most anything and features dark brown tassels and genuine moccasin construction.
The sole is stamped with the famous quote, "Without music, life would be a mistake," above the 8mm brass pinned rubber heel. The red leather lining and sole adds a bit of excitement to this otherwise practical shoe.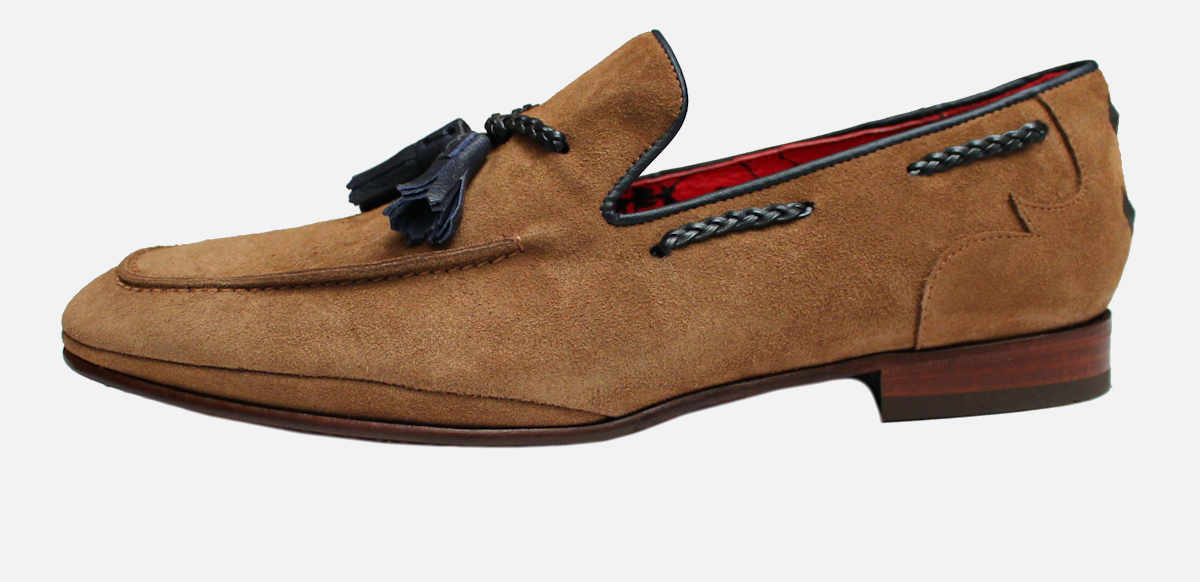 Additional description
This brown rhum suede loafer is one of the most versatile pieces you can have in your wardrobe. The colour of this exclusive shoe is inspired by the rich cane juice rum only distilled in the Caribbean – rhum agricole. This loafer reflects that exoticism and exclusivity. The complementing dark brown tassels brings forth a bit of playfulness.
The Jeffery West brand brings a good deal of its signature features to this loafer. The vivid red leather lining is inspired by the military, and the diamond punched heel was influenced by Gothic architecture. The whole brand exudes a rock and roll aesthetic mixed with Victorian influences. However, you won't find this shoe among the rest of their Muse line. It was crafted exclusively for Arthur Knight.   
The genuine moccasin construction of this tasselled loafer reflects centuries of craftsmanship. It is thought that the moccasin may be the oldest example of shoe construction, but it remains a fashionable and durable choice to this day. It takes a great amount of dedication from a master craftsman to create moccasin style shoes, but it results in a shoe that will mould to your unique foot shape, providing ultimate comfort for years to come.
The loafer was first popularised in Norway at the beginning of the 20th century and was widely worn as a casual shoe. They gradually grew in renown and were soon seen as a more formal shoe. The tasselled variation appeared in the 1950s, and has remained the most popular version to date. With the different cuts, materials, and colours, the tasselled loafer can now be worn with almost any outfit, from casual to formal.
Suede tassel loafers fit into a nice niche between casual and formal – they're great for smart casual, business casual, and semi-formal attire. Wear them with your favourite cotton suit, or with a pair of slim chinos.