Jeffery West Shoes
Jeffery West Premium Jailbreak Cuban Heel Zip Boots in Black
Stand out and be noticed in this incredible Jeffery West men's black zip boot with a Cuban heel. Perfect for men with bags of personality, this full grain black leather boot features a unique 50mm Cuban style heel, a sturdy double weight Goodyear welter leather sole, a harness strap and an antique silver ring.
There's also interesting contrast red leather lining on the boot's interior, giving you an individual, characterful look no matter what outfit you wear.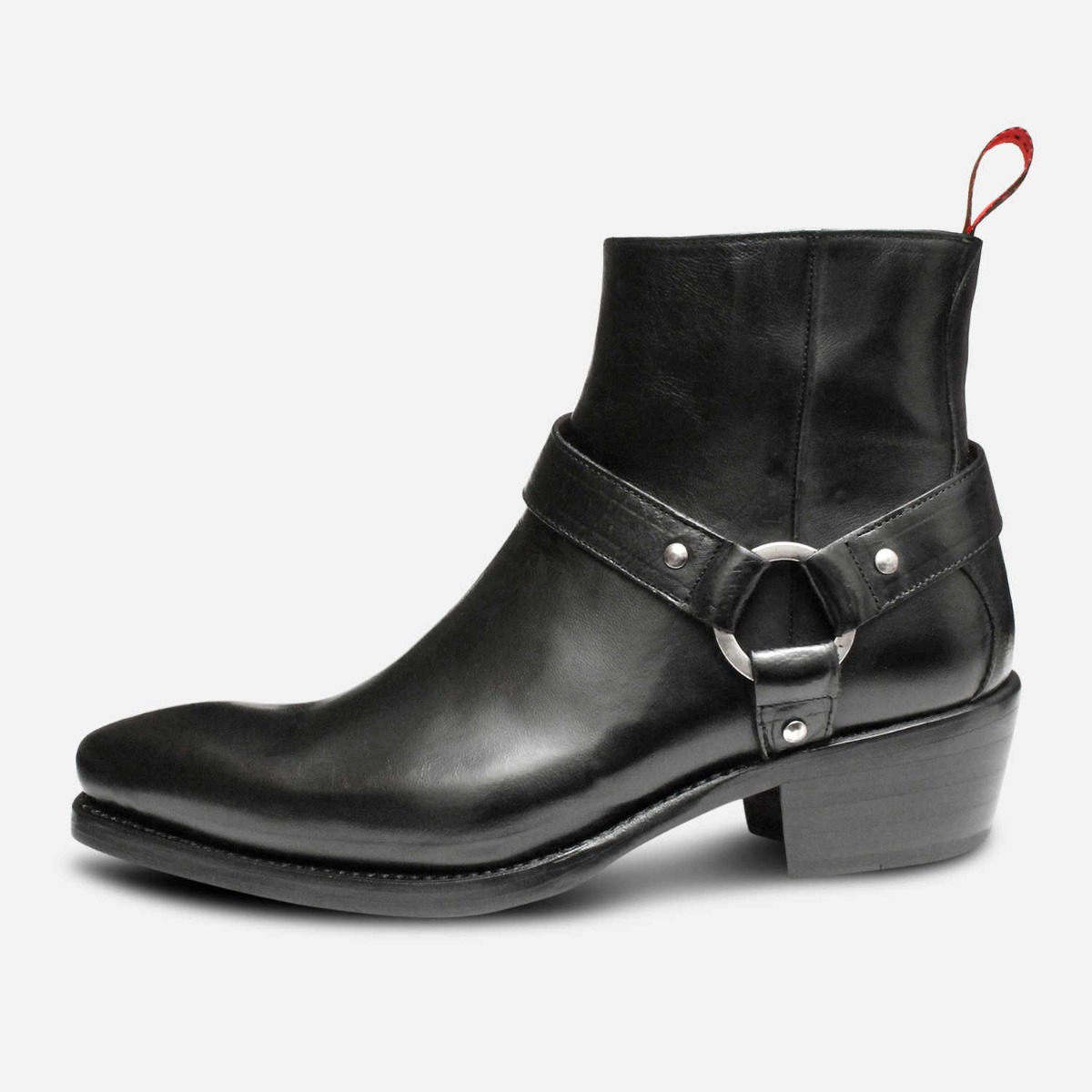 Additional description
Make a statement with this stunning black leather boot by Jeffery West with a side zip. Made from high quality full grain black leather, this simple, sophisticated and characterful men's ankle boot looks fantastic with a huge range of smart casual and formal outfits.
If you're looking for a men's footwear manufacturer that cares about your individuality, Jeffery West are for you. By combining the highest quality craftsmanship with a depth of innovation and creativity, Jeffery West are able to provide high fashion men's shoes and boots that draw out any personality.
The black Cuban heel zip boot by Jeffery West is bound to impress. It features an interesting 50mm Cuban heel, as well as a black leather harness strap and an antique silver ring. As you would expect from a boot of this calibre, there's also a Goodyear welted leather sole.
Contrasting beautifully with the boot's exterior is iconic red inner leather lining, as well as a red sole design with the Jeffery West logo and branding. Removing this men's boot is easy due to the subtle side zip and rear pull tab.
Given this boot's incredible character, we recommend giving it the limelight at special occasions like weddings, birthday parties or work events. It has such a smooth exterior that it can be paired with patterned outfits and will look smart with almost any outfit. For a truly bold look, we recommend matching it with contrast red chinos and a black shirt. This is because the punches of red in the boot will match the red within your outfit, giving you a complete look. You can also pair it with a plain business suit for work or with a pair of smart jeans when venturing out on the town.
This truly versatile boot is also available in brown.