Jeffery West Shoes
Jeffery West Wingtip Chelsea Boot Brogues in Honey Brown
The latest Jeffery West full wingtip brogue Chelsea boot is available in honey brown leather. Featuring twin elastic side panels and a Jeffery West branded pull tab for convenience, this slip on style fits the foot perfectly.
The heel is rubber studded. With the famous "Scarface" toe shape and "Without Music Life Would Be a Mistake" on the brass pinned leather sole, the boot is leather lined with a padded leather insole for unrivalled dress shoe comfort.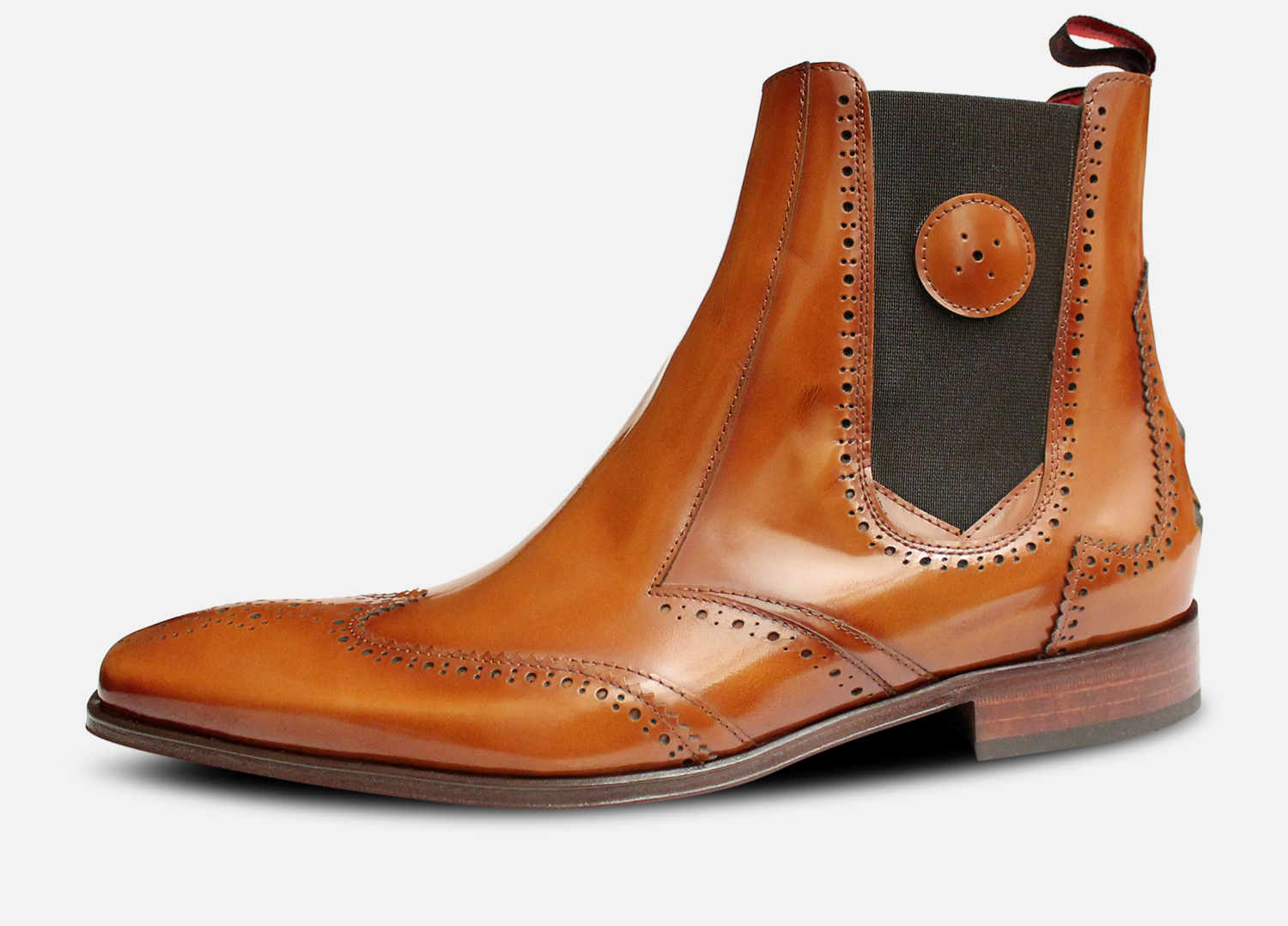 Additional description
The Chelsea boot has become a menswear essential, and the latest Jeffery West full wingtip brogue boot in honey brown polished leather is a statement piece that you'll want to add to your collection this season. The brogue pattern accentuates the full bodied colour of the leather, and the red full leather lining exudes opulence. With twin elastic panels and branded pull tabs, this is a luxurious twist on the classic Chelsea boot. 
The Shoemaker for Queen Victoria is credited with designing the Chelsea boot; he claimed that she wore them every day. Much like today, they were worn by both men and women in the Victorian era. Chelsea boots are iconic of the mod scene in 1960s Britain, when they were made famous by The Beatles. It is easy to see why the boot is still a popular style choice today, adding sophistication to any outfit. 
The fully padded leather insole ensures all day comfort, and the rear tab means it is easy to pull the boot on and off. Embossed on the brass pinned leather sole, Nietzsche's quote "Without Music Life Would Be a Mistake" means that this boot stands out for all the right reasons.  Every aspect of this Chelsea boot is luxurious, including the leather detail to the elastic side panels and the diamond pattern to the rear. 
Styling with this boot is incredibly easy, as it will slot into your existing wardrobe. From black skinny jeans to navy denim turned up at the ankle, this boot will make a statement. Add a dress shirt to get this boot ready for an evening out, or style with a t shirt or button down shirt for a more casual look during the daytime. The versatility of this boot means it is one not to be missed.