John White
John White Formal Derby Brogue Shoes in Tan Leather
This formal round toe brogue by John White is new this season for Arthur Knight Shoes. It features a brogue punched toe with five eyelet lace up design, available in hand antiqued tan polished leather.
The inside has a luxurious leather lining and padded leather insole. It is made on a durable rubber sole with a 2.8cm heel. Part of the "John White London" collection, it is also available in black polished leather.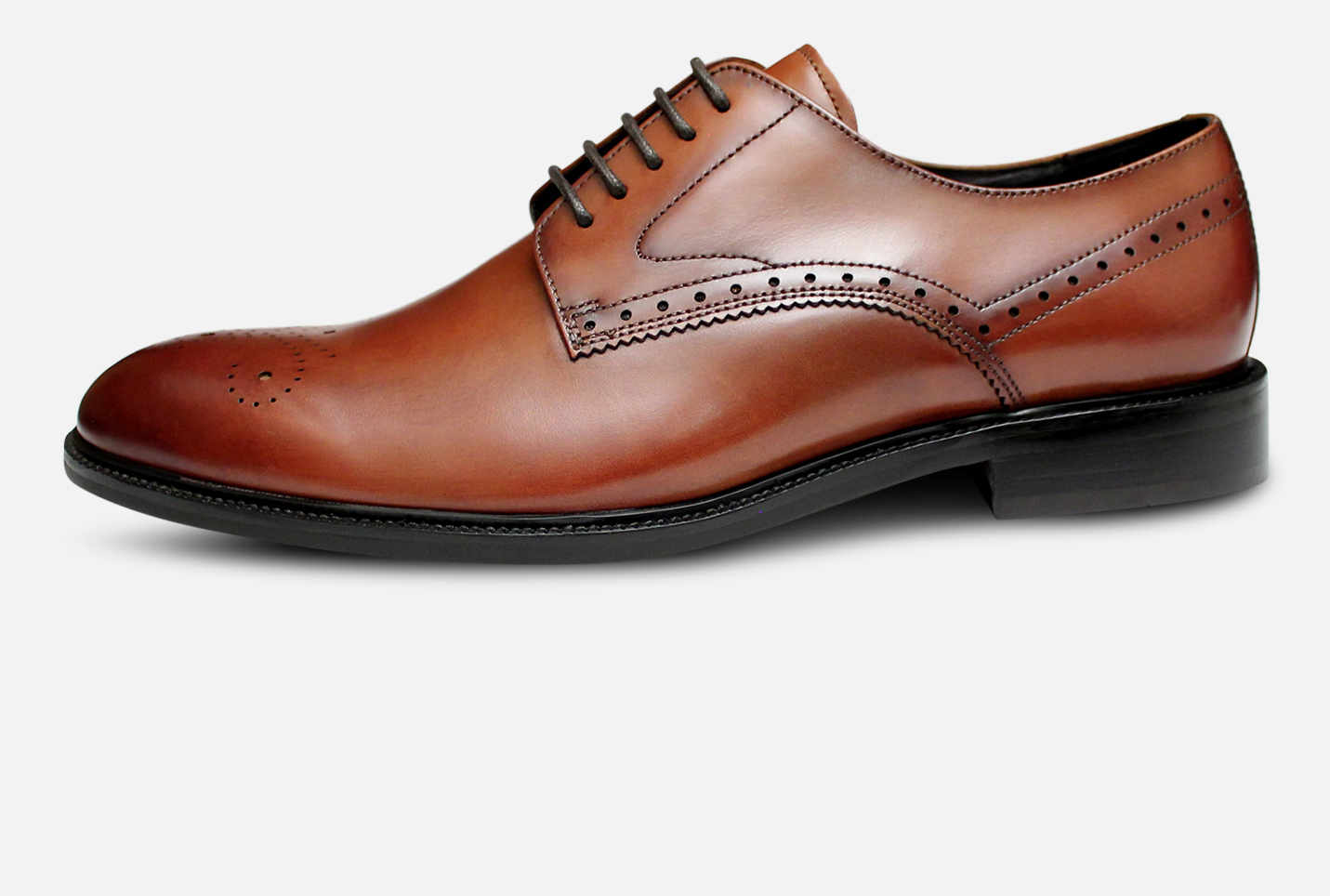 Additional description
Choosing a new brogue shoe is bound to complement any gentleman's wardrobe, and this formal brogue by John White is one of the finest. New for this season, it features the classic round toe shape with an exquisite brogue punched pattern. The 2.8cm heel is the perfect height to complement the style of the shoe, and the sole is made of durable rubber making this a shoe that will last you for years. Available in antiqued polished leather, you'll want to wear this statement shoe again and again.
The word brogue is derived from Irish Gaelic and Scottish, and unsurprisingly used to be worn in Ireland and the Scottish Highlands. It was considered to be a sturdy, outdoor shoe made of untanned leather, but is today a smart shoe that can be worn with almost all smart and smart-casual outfits. Traditionally the upper of a brogue was made of multiple pieces of leather with serrated edges, and featured decorative perforations known as broguing.
This Derby brogue is fully lined in luxurious leather and features a padded leather insole for optimum comfort during wear. The laces are a chocolate brown colour, adding to the indulgent look of this shoe. The John White branding can be seen on the insole and on the sole of the shoe.
You will not struggle to style with this shoe. Its hand antiqued tan polished leather will slot effortlessly into your existing wardrobe, making it an ideal addition. A tan brogue pairs effortlessly with navy blue suits for work, and also works well with pale grey suits. The versatility of this brogue means that it can also be worn in the evenings to restaurants, bars or social events when styled with your smartest denim jeans or trousers.