Karl Largerfeld
Karl Largerfeld Designer Womens Kapri Sneakers in Black
This limited edition new round toe sneaker by legendary designer Karl Lagerfeld is available at Arthur Knight Shoes for this season only.
A luxurious lace up in full grain black leather, the shoe features the mini Karl logo design with black sunglasses, and white branding on the heel.
The interior is leather lined, and the shoe is made on the ultra-lightweight black rubber flatform sole, with a full padded leather insole for supreme comfort.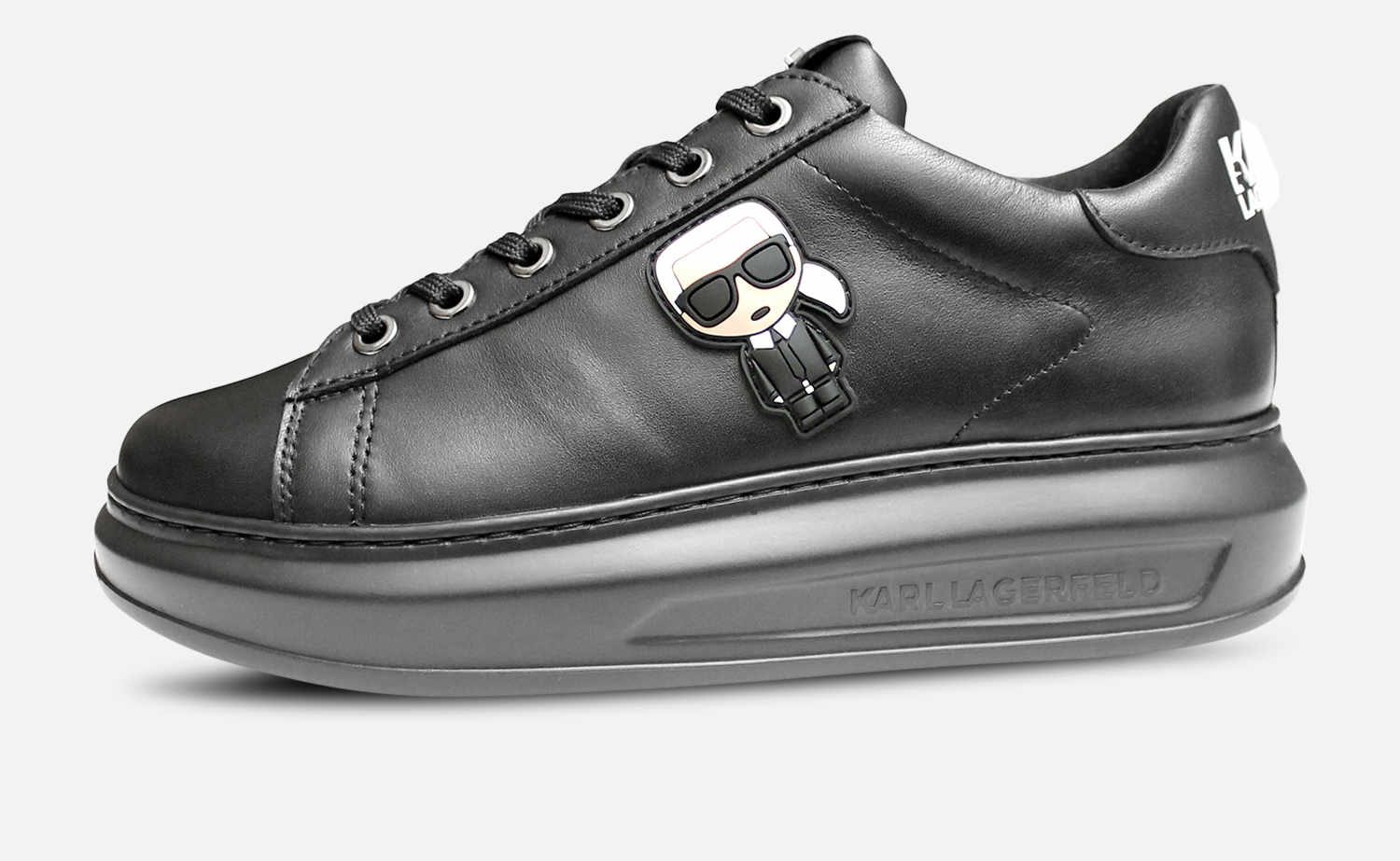 Additional description
A statement in luxury, this sneaker from Karl Lagerfeld is sure to impress. In full grain leather with laces and a round toe, the quality of craftsmanship is clear from first glance. Beautifully manufactured, the sneaker features the iconic mini Karl logo with his famous black sunglasses on the side of the shoe. The white branding to the rear stands out against the black leather, and additional branding is included to the sole, outsole and tongue. 
During the first half of the 20th century, sneakers were worn only for sports, but then became fashion statements in their own right. From daytime events to evenings out, the sneaker has found a new home on the high street and is no longer confined to sports fields. The perfect combination of comfort and style, the sneaker is now an item of footwear you can't live without.  A German creative director, Lagerfeld was a well respected designer who created fashion lines for his own label and those of others, including Chanel. He was recognised for his signature white hair and black sunglasses. 
Made on the ultra-lightweight black rubber flatform sole, the shoe is ideal for ensuring comfort during long days on your feet. Further reassurance of this can be found in the fully padded leather insole and full leather lining.  Being light on your feet also means the shoe is suitable for long days walking across the city, or nights of dancing, with no concerns about discomfort. 
This sneaker by the legendary Lagerfeld will slide effortlessly into your wardrobe. Perfect with jeans, shorts or skirts, the sneaker lends itself equally to daytime or evening events. Try wearing with or without statement socks for two different looks, or pair with tights and your favourite dress for the perfect night out.