Anatomic
Londrina Black Chukka Boots by Anatomic Shoes
The Londrina black chukka boot by Anatomic & Co is a distinguished yet versatile men's shoe that compliments a wide range of outfits. It features a two eyelet lacing system, plain contemporary toe, a robust sole and interior sheep leather lining for optimal comfort. 

You can pair this men's chukka with suit trousers and a shirt for the workplace, or dress it down with slim fit jeans at the weekend. Also available in brown.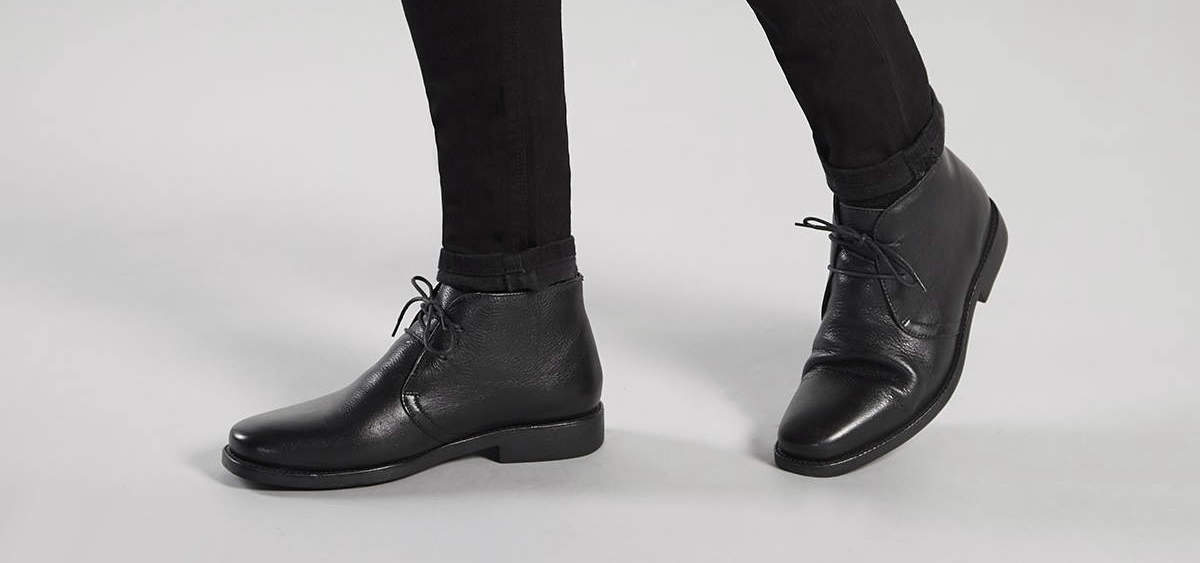 Additional description
Smarten up your casual wardrobe with this sophisticated black chukka boot by Anatomic & Co. Not only is it incredibly comfortable thanks to Anatomic's patented gel technology, but it's robust and hardwearing too.
Anatomic & Co were founded in Brazil, which is also where this stylish boot is manufactured. The owners came to the UK fifteen years ago only to find that British men were given two main options when purchasing shoes – excessively expensive, or cheap and flimsy. So, they came up with a range of men's footwear that is not only excellent quality, but affordable too.
This black chukka is a staple piece for any man's wardrobe. Its simplicity and modern minimalism mean you can pair it with a range of outfits and wear it to a large variety of social, casual or formal settings. The two eyelet lacing system is particularly distinguished, as is the plain black leather design and absence of buckles or zips. It has a contemporary toe which lends a sense of elegance to the shoe, as well as a flexible stitched rubber sole that guarantees longevity. For maximum comfort you'll find interior sheep skin leather lining and a padded footbed.
You can wear this men's chukka with a number of outfits. To dress up for a more formal event, you might pair it with black or brown suit trousers, a button up blue shirt and eye catching wrist watch. For casual social occasions, you can wear this men's chukka with slim fit jeans, a long or short sleeved shirt and black leather belt. It is up to you what type of sock you match with the shoe. A black sock will blend nicely and won't distract from the shoe itself, but you might prefer a coloured sock in order to enjoy some contrast. Also available in brown.