Oliver Sweeney
Luxury Oliver Sweeney Designer Cognac Laine Trainers
The cognac Laine trainer by Oliver Sweeney is elegant, distinctive and incredibly diverse. Made from the finest hand antiqued cognac brown leather, this men's smart trainer is perfect for weekends and can be worn throughout the seasons. 

It features chocolate brown hand waxed laces supported by a 7 eyelet lacing system, as well as subtle Oliver Sweeney branding on the sole and tongue. As you'd expect from a high quality shoe, there's also a strong sole and soft inner lining.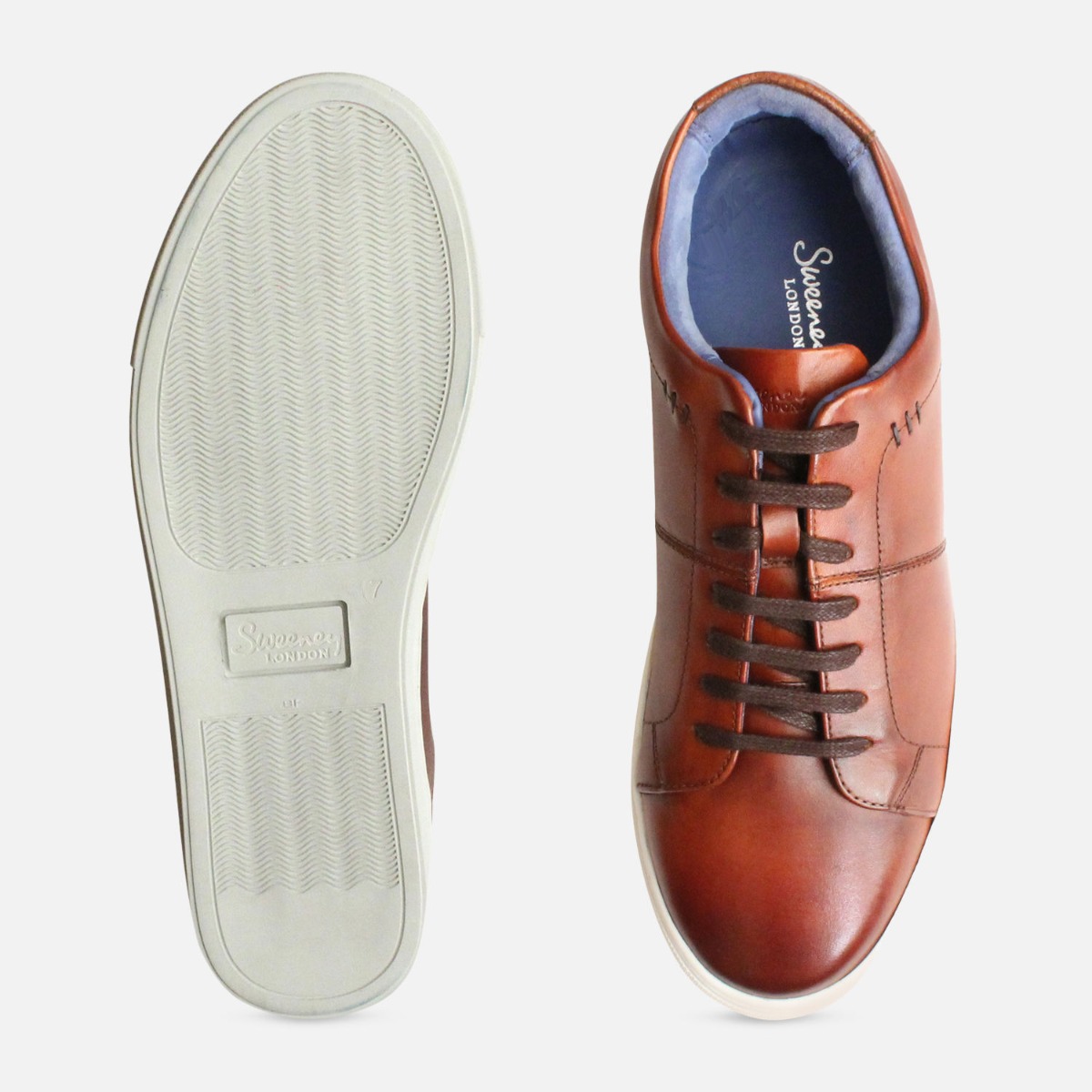 Additional description
We think it's important that you never compromise on style, even during your downtime. That's why we are pleased to present you with the Laine trainer by Oliver Sweeney. Perfect for weekends and casual occasions, this smart and elegant men's lace up trainer is sure to turn heads where ever you go.
Oliver Sweeney have been creating men's shoes for almost two decades, and in that time have gained international recognition and a well deserved reputation for coming up with quality, innovative designs. According to their ethos, they are not only in the business of making shoes but are totally obsessed with all aspects of them, which shines through with every shoe they make.
The Laine trainer is no exception. Made from the highest grade full grain Italian leather, this rich and striking cognac trainer features a 7 eyelet lacing system and hand waxed chocolate laces, a branded Oliver Sweeney tongue and a subtle exterior shine. What also makes this trainer unique is its cupsole design. The white sole contrasts neatly with the cognac leather upper, and has a genuine stitched side wall. For optimal comfort, there's also a padded leather insole and breathable fabric lining. This shoe combines traditional excellence with contemporary trends, and thanks to their robust structure, it'll last you for years to come.
In cooler seasons, this smart casual men's trainer looks fantastic with a pair of your best chinos, a button up casual shirt and cosy lambswool knitted waistcoat. You might also want to create some flow throughout your outfit by incorporating a cognac leather belt or leather gloves. In warmer seasons, you can team this cupsole trainer up with slim fitting or straight legged denim jeans, a plain white t shirt and lightweight summer jacket.