Mens Driving Shoes
Mens Black Suede Italian Driving Shoe Moccasins
Add a touch of dark elegance to your summer attire with this black suede Italian driving moccasin. Hand crafted in Italy exclusively for Arthur Knight Shoes, this soft, comfortable men's moccasin features a hand stitched apron upper with laced topline, as well as a removable padded leather footbed for optimal comfort. 

Wear this driving moccasin with stylish, turn-up chinos in any colour for maximum impact. Also available in 19 other colours.
Special Price
$100.80
Regular Price
$144.00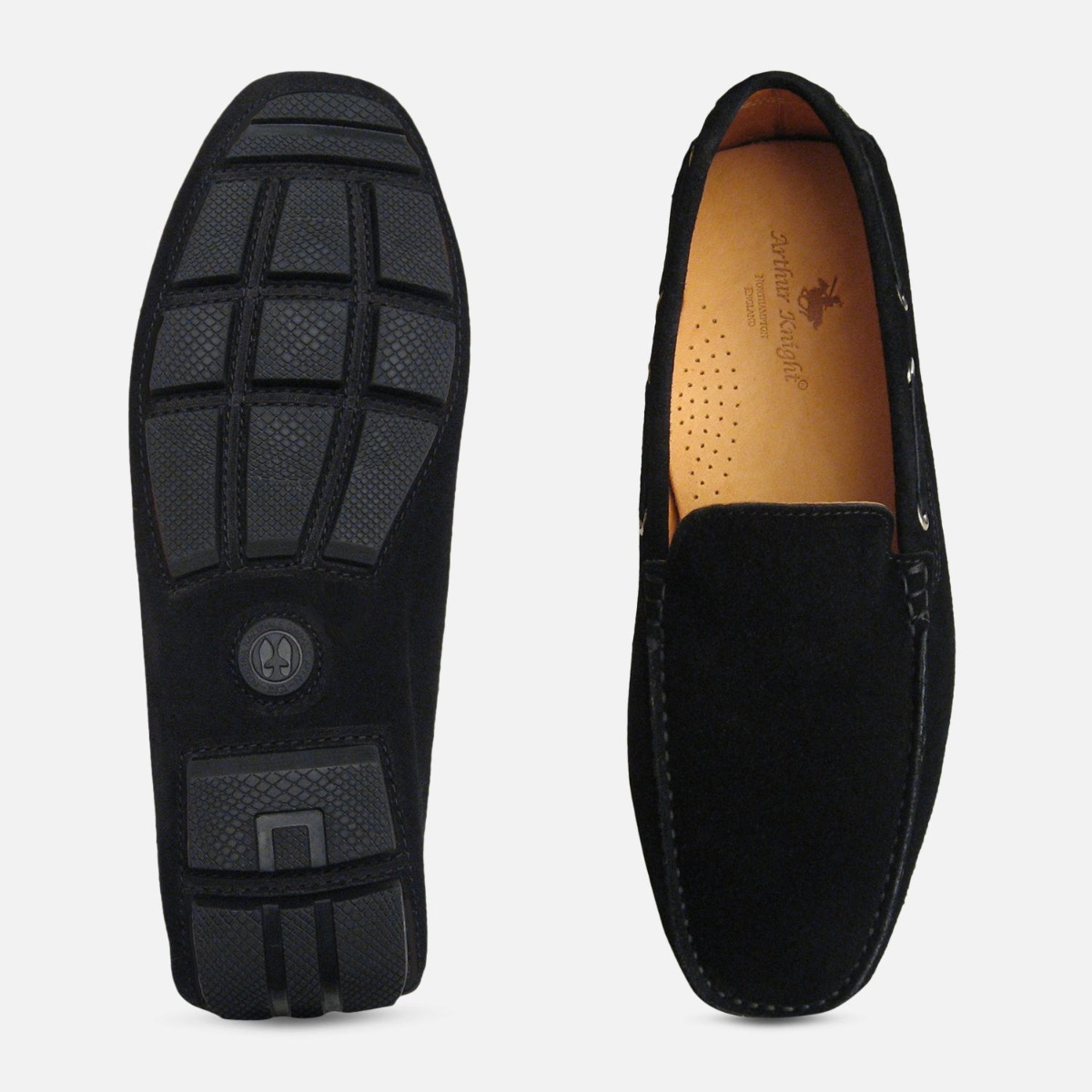 Additional description
The men's black suede driving moccasin is ideal for any man about town. It features soft yet hardwearing black suede material which gives the shoe a smooth, sophisticated appearance and can compliment a number of looks.
The hand stitched apron upper and laced topline add an eye catching bit of detail to the men's moccasin, while the depth of colour is sure to jazz up any outfit you choose to wear. Of course, the whole point of moccasins is that they're comfortable, and that's exactly what this shoe guarantees.
Moccasins have their roots in Native American history, where inhabitants of the Plains would wear a slip-on moccasin that helped them to travel long distances and over various terrains. The driving moccasin is an evolved version of this, and first hit the fashion scene in the 1960s. It has little firm nodules embedded into the sole of the moccasin so that it is possible to achieve a firm grip while driving.
What also makes this particular moccasin extra cosy is its full leather lining, as well as the removable padded leather footbed. With a soft shoe like this, there's always the worry that it won't be long lasting. We can reassure you that thanks to the rubber outsole and shaped heel, this driving shoe is not only going to stand the test of time but will hold its shape too.
We recommend wearing a pair of black suede driving moccasins with summer chinos with a button up loose fitting shirt and a pair of black sunglasses. The colour of the chinos doesn't matter, as black will usually match anything. Don't forget to turn the chinos up at the bottom to really draw attention to the moccasin side detail.
If you like, you can also browse the other 19 colours available in this style.