Arthur Knight Shoes
Metallic Purple & Dark Brown Designer Italian Boots
Consider yourself to be a trend setter? Love to look unique and stand out from the crowd? Look no further than the Metallic purple and dark brown Italian ladies boot.
This extraordinarily original and head-turning crocodile print wingcap boot features a lace up design, metallic purple crocodile print exterior with antiqued 'worn look' dark brown leather vamp and a rear zip for convenient wear.
100% hand made in Italy and available in several other original colours and styles.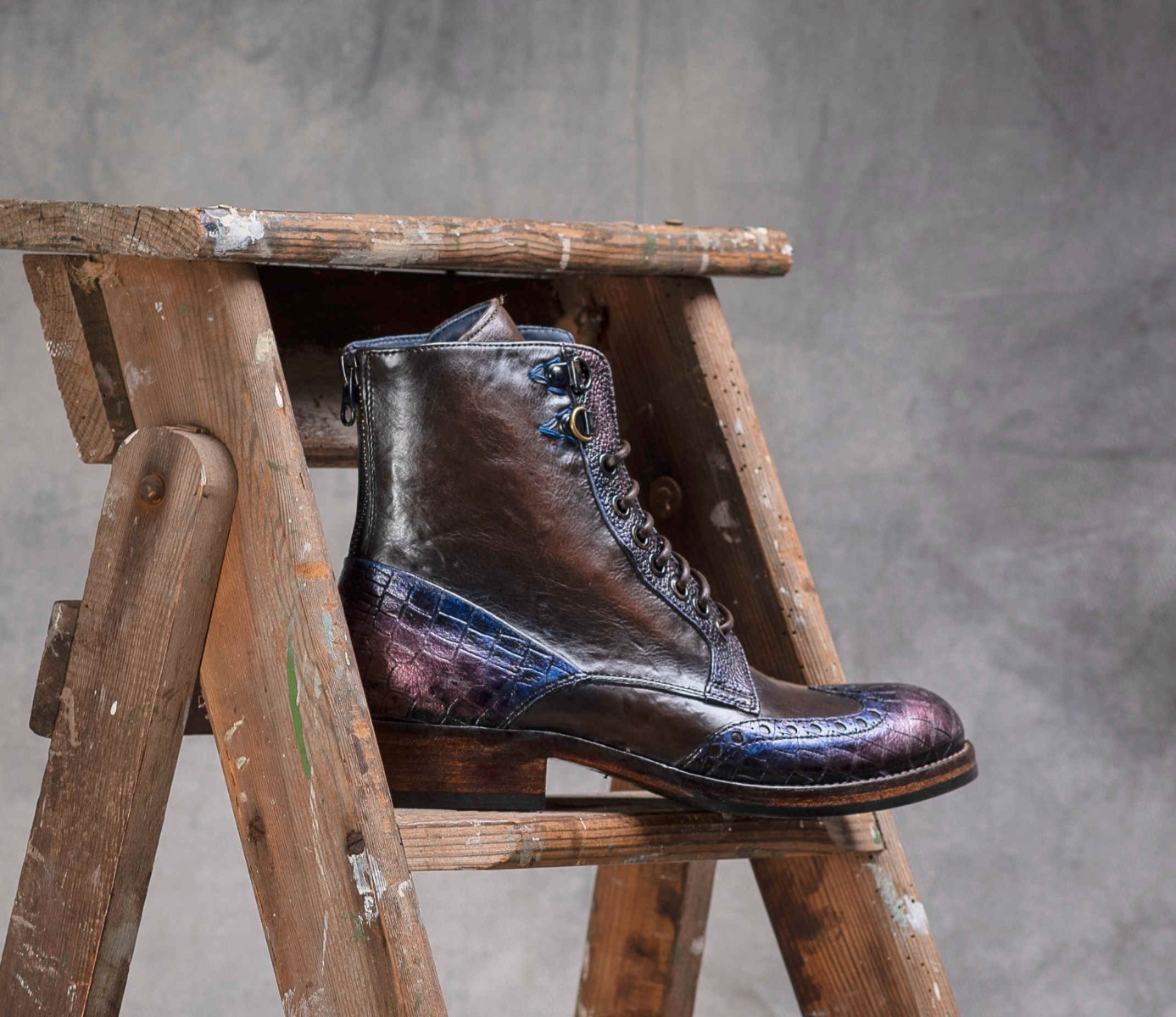 Additional description
If you have problems finding designer boots that fully amplify your individual personality, or look inside your wardrobe only to discover a row of dreary, tired shoes that lack in character, you're in luck. Introducing the stunning metallic purple and dark brown designer Italian boots in crocodile print leather. This stylish and exotic ladies ankle boot is sturdy, comfortable and very supportive, but also offers eye-catching detail and colouring that is sure to attract attention and make you stand out from the crowd.
As well as being incredibly mesmerising to look at, this ladies ankle boot has practical features that make it strong and reliable, including a rear zip for easy removal, full leather lining and a padded leather insole. There's also a blake stitched rubber sole that guarantees longevity and endurance in all weather. This ladies metallic boot also has a 7 eyelet lacing system supporting hand waxed strong laces and a thick tongue offering extra comfort. The 30mm heel is small enough to walk long distances without any problems, but high enough to offer the boot a touch of femininity.
It goes without saying that due to the incredible aesthetics this boot offers, it should be on proud display no matter the outfit or occasion. Thanks to its structure, it's perfect for cooler seasons, and pairs well with slim fit trousers or jeans that fit into the top of the boot. You can also add hints of purple or metal into your outfit. Reach further into your imagination by including metal bracelets, belts, chains and earrings into your look to compliment the boot's shiny exterior. A dark purple jumper will also draw more attention to the boot and give you a completed look.
This ladies ankle boot is also available in several others styles and colours, so check out the full range!