Bugatti Mens Shoes
Bugatti Designer Navy Blue Trainers with Tan Suede
Grant your feet comfort and style by getting yourself this trendy Bugatti designer navy blue trainer for men.
Made from navy blue leather with white detail, these men's trainers feature a suede rear, meshed sides for added comfort and a 6 eyelet lacing system with slip on functionality.
A white padded midsole ensures that your heel rests on a clean and soft surface while the metal Bugatti side trim provides subtle designer branding.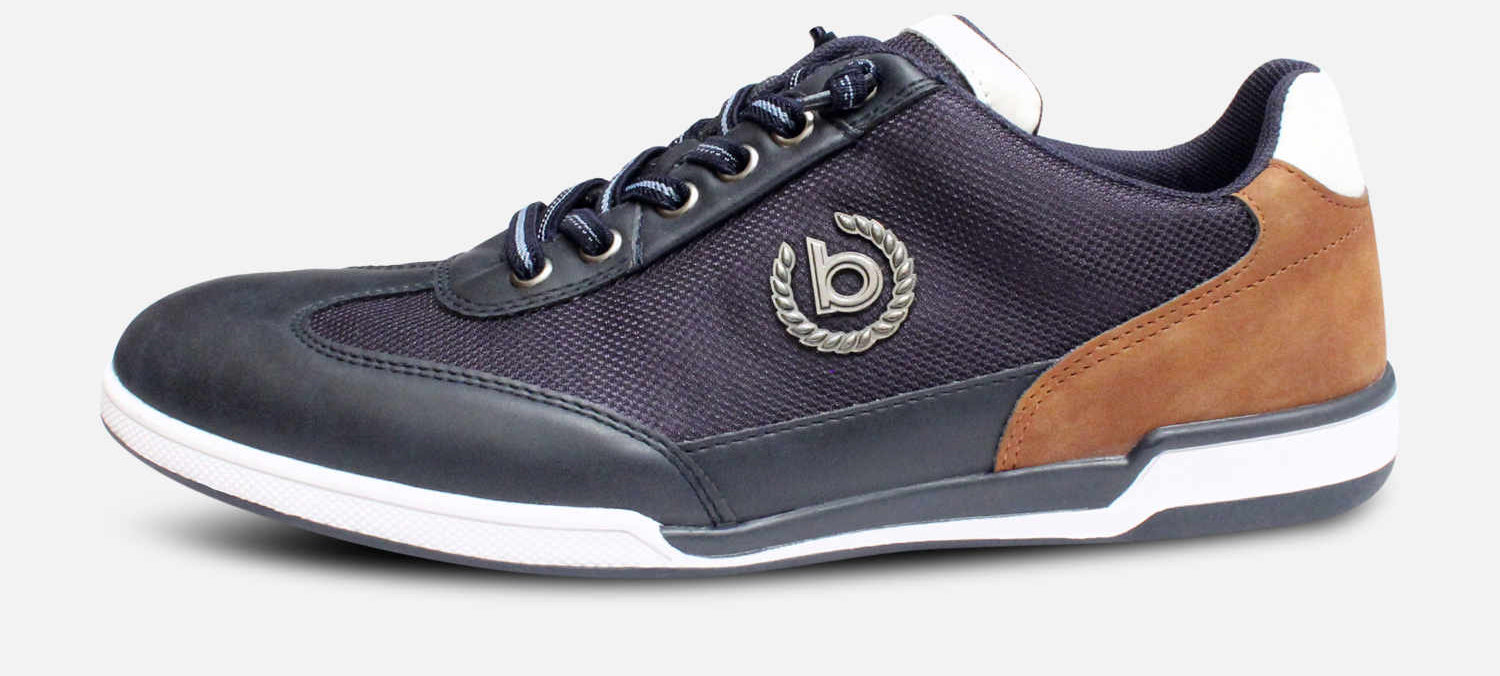 Additional description
The navy blue Bugatti designer trainer for men are an excellent choice for any man who is looking for something trendy and comfortable. Featuring blue leather and suede exterior, white detail and interesting white and blue blend laces, this stunning men's trainer is unique, comfortable and certainly eye-catching.
The Bugatti brand has been in existence since 1928, with Johann Muller, a German shoemaker, spearheading the crafting of its stylish yet strong men's footwear. Since then, the shoe has stuck to the traditional shoemaking European roots.
Just like all other Bugatti trainer products, this designer navy blue trainer with tan suede is designed to make a statement. The sides are breathable, thanks to the mesh, while the suede rear ensures durability and style. Its elastic lacing design also ensures that the shoe is slip on, so that even on busy days, all you need to do is slip into the shoe and shoot to wherever you are headed, without having to worry about your footwear slowing you down.
The trainer is also lightweight, so easy to wear all day long. The breathability of this trainer allows proper air circulation, and you do not need to worry about your foot sweating and the shoe smelling. Additionally, the shoe is flexible and can take the shape of your feet as you walk. The padded insole also feels great and protects your feet from any shock.
Thanks to the design, you can pair this trainers with any casual outfit, including jeans, chinos, joggers and much more, as well as a huge range of colours and textures. Due to its design, we recommend this men's trainer by Bugatti is worn in a casual setting, such as a social event in the park or around the town on a day out.