Arthur Knight Shoes
Velvet Fur Italian Backless Loafers in Navy Blue
The exclusive backless loafer in navy blue by Arthur Knight is not only comfortable and supportive, but incredibly stylish and sophisticated too. Featuring navy blue velvet suede leather hand crafted in Italy, this classy and distinctive ladies slipper comes with a gold trim and imitation grey fur around the topline, as well as a gold overlay apron.

The sole is made from sturdy leather for long lasting support. Also available in three other colours.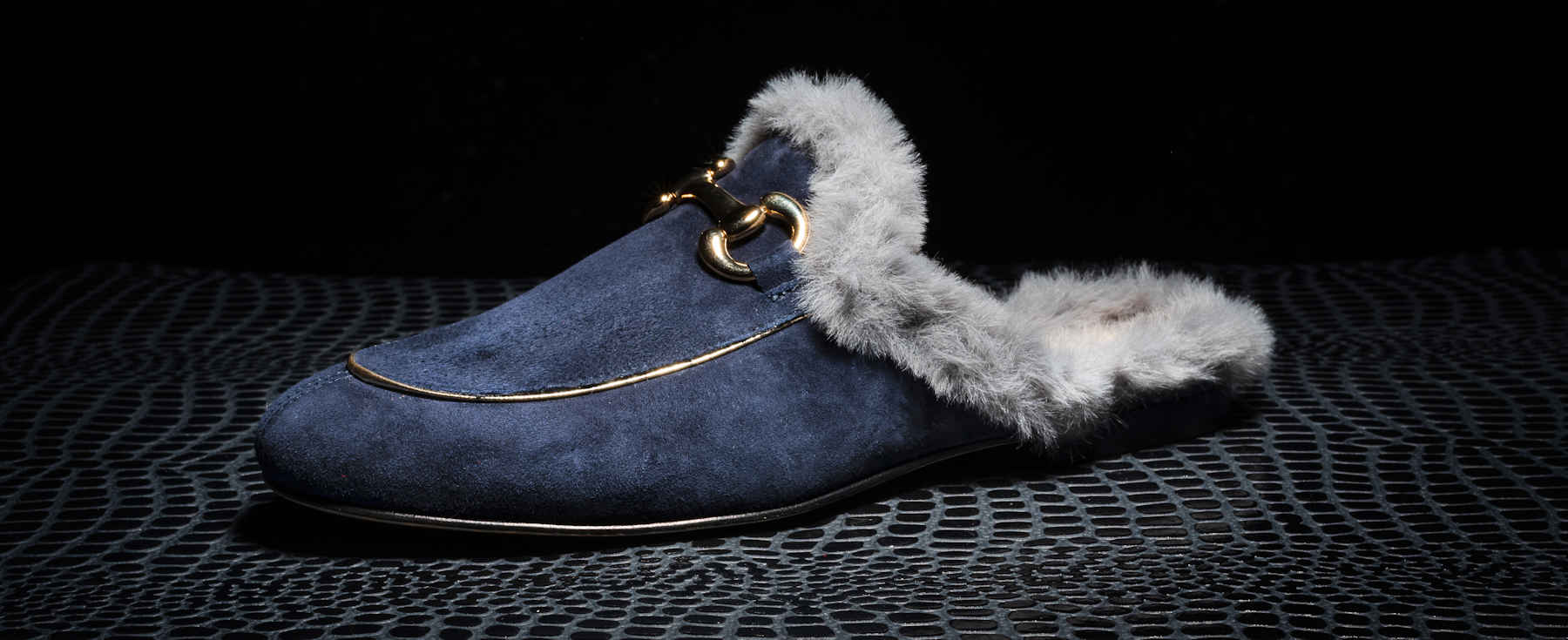 Additional description
Invite some elegance into your wardrobe with this stunning navy blue backless loafer with beautiful detail. Made exclusively for Arthur Knight, this gorgeous and unique ladies flat shoe is perfect for indoor and outdoor wear and is certain to add some style and class to your outfit.
Loafers are a timeless shoe, popularised in the 1950s and 60s by the likes of Audrey Hepburn and Grace Kelly. Their simple shape and classic style mean you can wear a loafer with almost any outfit, from chinos to knee length skirts. Their versatility allow you maximum diversity and are certain to never go out of style.
The Arthur Knight Italian backless loafer in navy is made from blue velvet suede leather which has been lovingly crafted by hand in Italy. It features gorgeous gold trim and imitation grey fur around the topline. There is also a gold overlap apron, completing this shoe in the finest possible way.
Often, cheaper loafers on the market can fall apart after a year of wear. But what makes this ladies loafer different is its ability to last for many years to come thanks to its sturdy leather sole and rubber heel. There's also strong but supple interior leather lining with a cushioned insole for optimal comfort.
Due to the luxury and stylish design of this ladies loafer we think it deserves all the attention it can get. Therefore, we think it looks best with cropped chinos in a pale colour so that the ankle is completely exposed. Alternatively you can pair with a knee length crepe a-line skirt, elbow-length sheer blouse and smart cropped jacket. You may wish to incorporate splashes of navy blue and gold into your ensemble as well, completing the overall look. Wear to both smart casual and formal occasions. Available in three other colours.