Panama Jack
New Panama Jack Black Felina B3 Igloo Buckle Boot
Felina Igloo Travelling B3 Boot by Panama Jack Shoes
Elegant and chic, this gorgeous black Felina igloo boot by Panama Jack combines high class and practicality so that you can look good and feel great during the cooler seasons.
Made from full grain black leather, this ladies ankle boot features twin gold buckles, a rounded toe with gold stitching and interior fur lining to keep your foot snug and warm.
For ease of wear, there's also an inside zip. This is a limited edition boot from the Panama Jack 'Travelling' collection.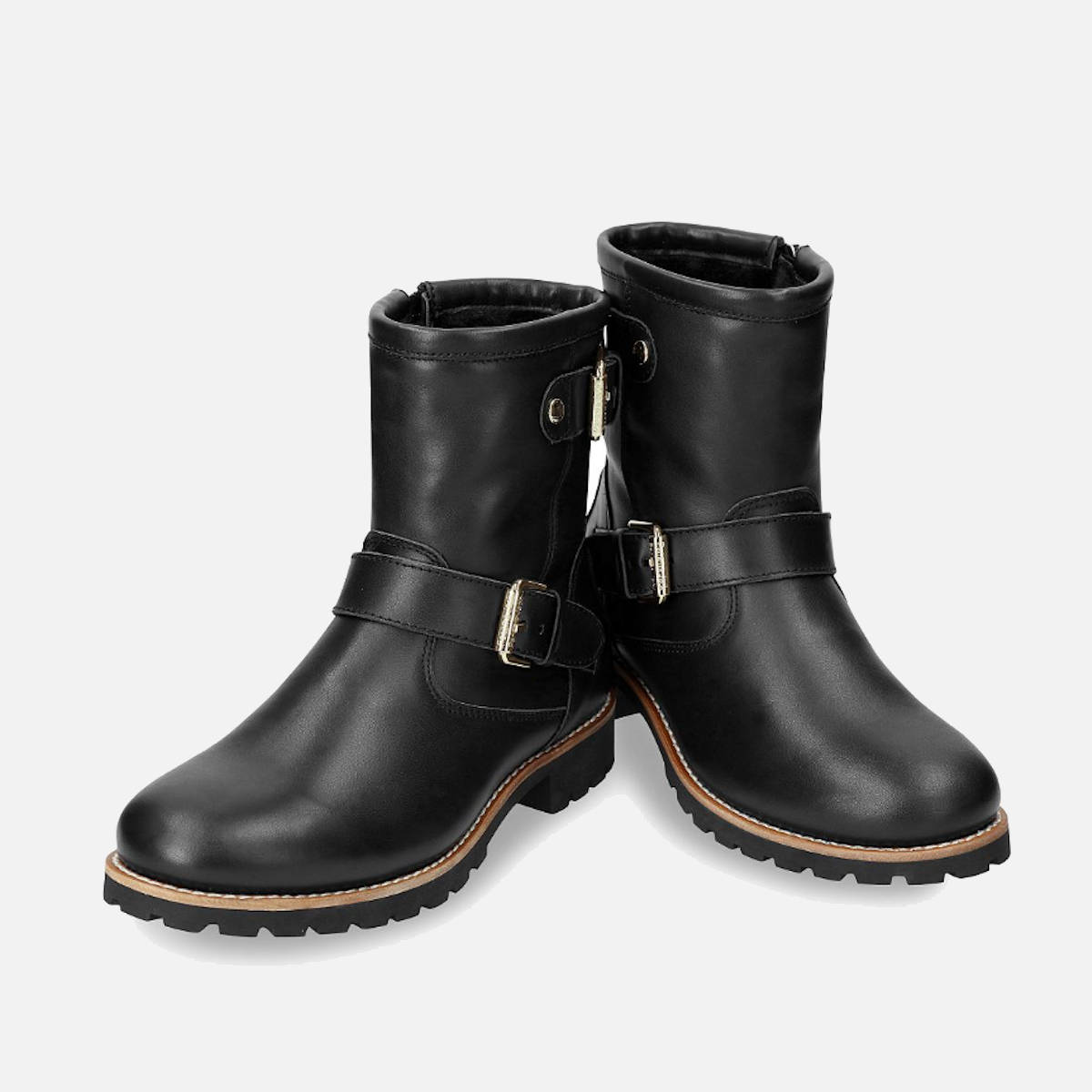 Additional description
Brought to you by renowned shoemaker Panama Jack, this ladies black ankle boot is practical, smart and incredibly stylish. Made from the best quality full grain black leather, you can be assured of the highest quality craftsmanship, giving you a comfortable ladies boot that will last you for years to come.
Panama Jack is a brand that caters to outgoing personalities. Panama Jack shoes and boots are designed to enhance your life, rather than limit it. So, whatever adventure you find yourself on, a Panama Jack boot will not let you down. In fact, the right boot can help you get to where you need to go – and look fantastic at the same time!
The Felina B3 Igloo boot features beautiful gold twin buckles for a sophisticated look. There's also a size zip for an easy pull off motion after a long day outdoors. To keep your foot warm and snug, this boot has natural fur lining throughout the entirety of the boot. Don't worry though, Panama Jack have factored the fur lining into the sizing, so you can select your regular size with confidence.
Not only does this black ladies ankle boot look smart, but it's durable and practical too thanks to its non slip black cleated sole. As part of the 'travelling' collection, Panama Jack have designed this ladies boot to be sturdy, supportive and highly resilient. And with a small heel, you'll retain a feminine look without compromising on comfort.
So what should you wear with such a stunning black outdoor boot? We recommend dark blue skinny jeans or jeggings, a woollen cream fine knit jumper, black overcoat and chunky gold bracelet for a complete winter look. You can also pair it with knee length skirts, chinos, leggings or a winter wrap dress and poncho. Thanks to is colour, you can be sure to match it with a huge variety of colours and patterns.