Tamaris
Nut Brown Tamaris Ankle Zip Boots for Ladies
Smarten up your work attire with this gorgeously rich nut brown leather ladies ankle boot by Tamaris Shoes. Featuring a simple rounded toe, a slightly Cuban 35mm heel, stylish ankle strap and plain front, this stunning and chic boot works well with a huge range of outfits while keeping your foot warm and supported throughout the day.
Pair with a smart brown leather office skirt and a white blouse and tights for a classy appearance.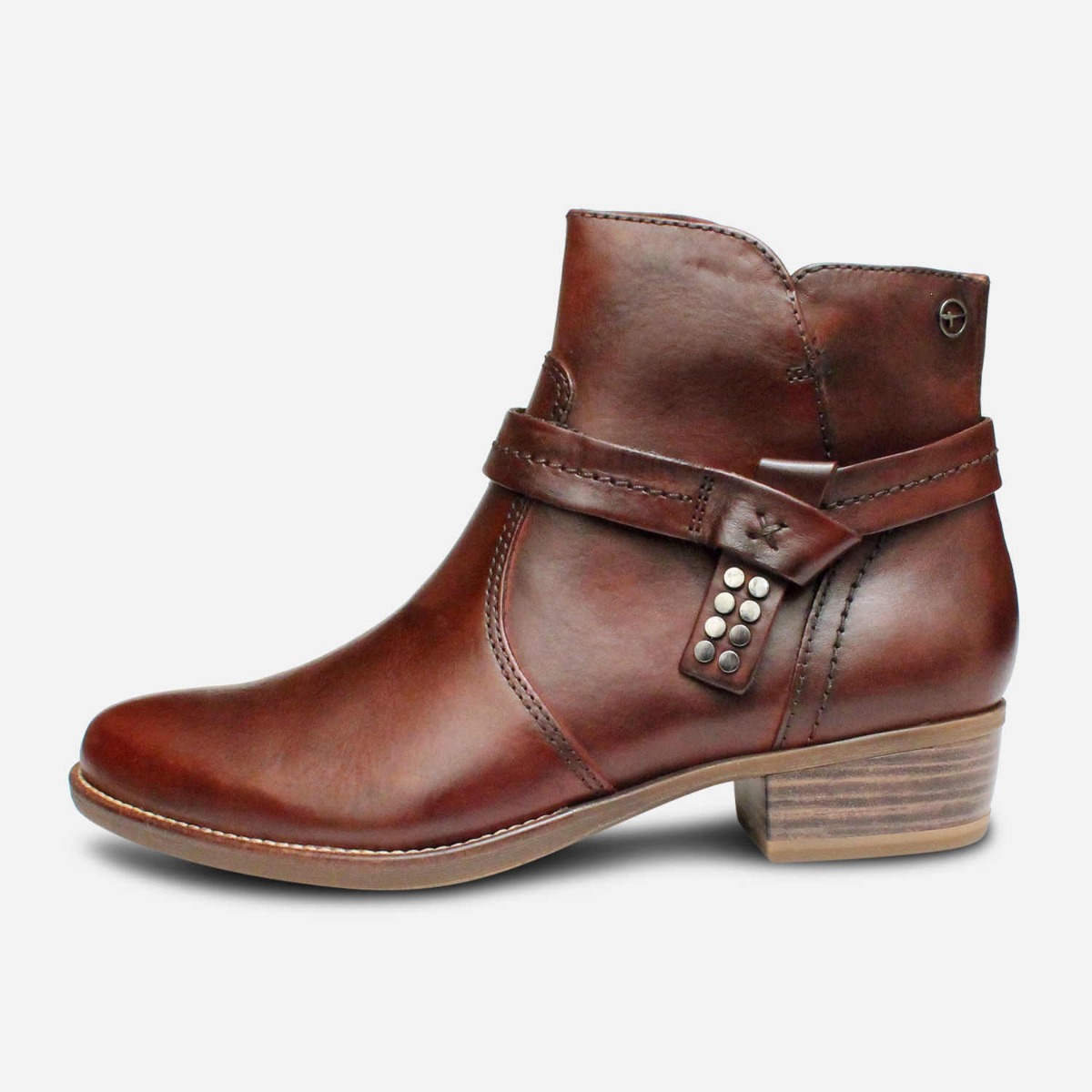 Additional description
During the cooler seasons, it's important to have the right ankle boot to keep your foot warm and secure while also giving your overall look a hint of sophistication. That's why we are so pleased to bring you this gorgeous, deeply coloured nut brown boot by Tamaris Shoes.
This stunning ankle boot compliments any wardrobe. Whether you're headed out to post-work drinks with a client or spending the weekend shopping with the girls, this comfortable and stylish ladies ankle boot will serve you well.
Made from the highest quality, supple brown hand burnished leather, the Tamaris ankle boot features a simple round toe design with a plain front. This plain design means it's highly versatile and can be matched with both plain and patterned outfits in a variety of colours.
The boot also offers some subtle detail such as the slightly Cuban heel and lovely ankle strap, making it stand out from other plain brown ankle boots on the market.
To boost your confidence as you walk, the boot has a non slip caramel sole. So, come rain or shine, you won't have to worry about your footwear letting you down.
As you would expect from any Tamaris shoe, this ladies ankle boot also has interior leather lining and a padded insole for extra support.
Pair this ladies brown boot with any number of smart casual outfits. For an Autumnal look, wear it with black or mauve leggings, a printed leather skirt, thin long sleeved v neck jumper and smart nut brown jacket. You can also wear this beautiful ladies boot with blue jeans, a cream jumper and brown leather gloves on cooler days. Suitable for both the workplace and casual social events like birthday parties or functions.