Oliver Sweeney
Oliver Sweeney Bruce in Waxy Brown Butts Leather
Sturdy and stylish, the eye catching wax brown Bruce boot by Oliver Sweeney is a characterful men's boot with a difference. Made from robust 'waxy butts' bomber jacket style material, this rounded toe boot features a 7 eyelet lacing system, double stitched wingcap, full leather lining and a storm welted sole. 

Pair with slim fit denim blue jeans, a button up checked shirt and padded brown jacket for the perfect look during the cooler months.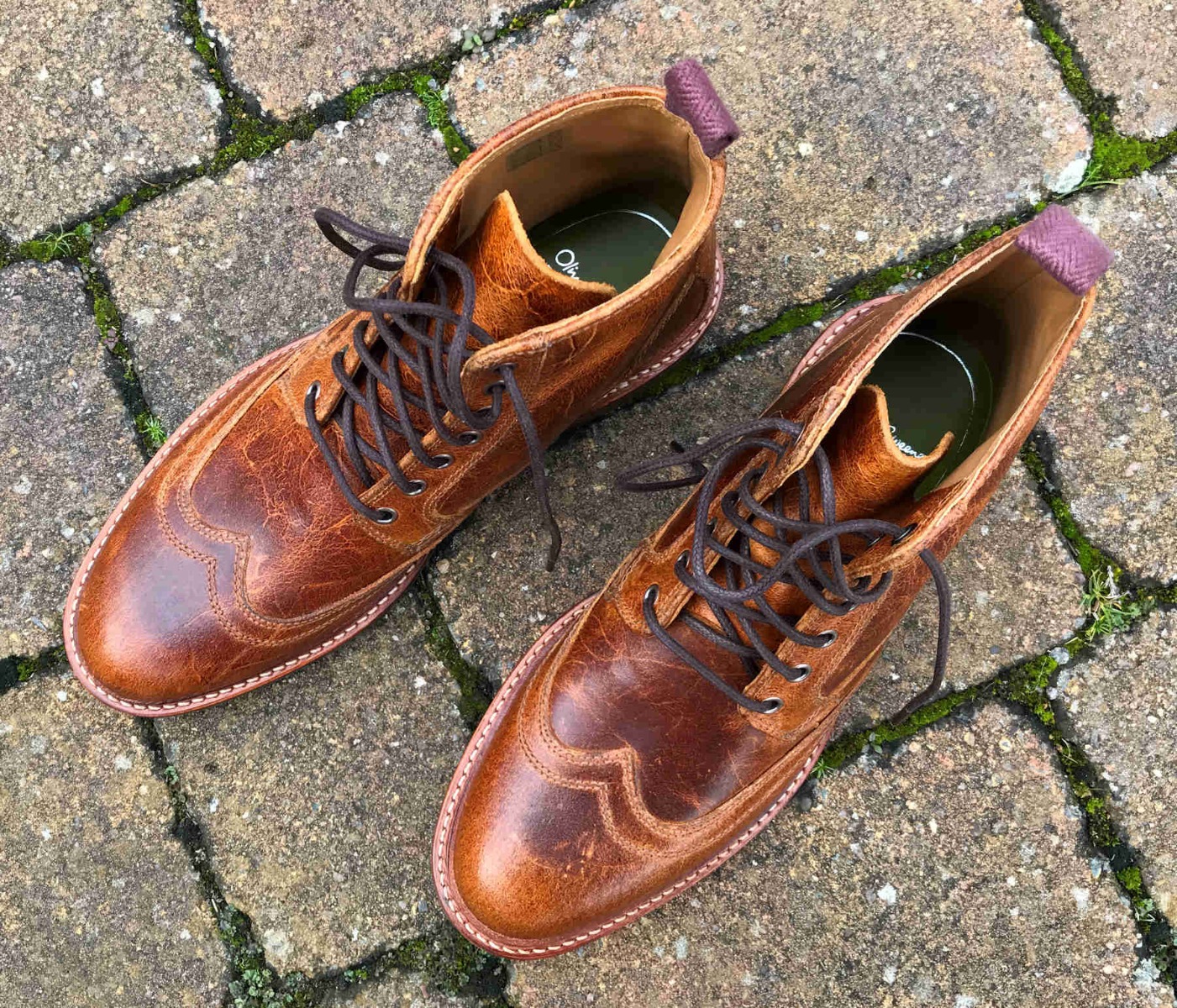 Additional description
When the weather begins to cool, it's important you're prepared with a robust, seasonal boot that'll guarantee your foot stays snug and supported without compromising your look. The Bruce waxy brown men's boot by Oliver Sweeney does just that.
Thanks to its incredibly well crafted design using 'waxy butts' bomber jacket style material, this trendy lace up boot is on-trend and loaded with personality – and furthermore, will not let you down. What makes it stand out from other men's brown boots on the market is its natural creasing and defects found in the thick hide used to create the boot. These details are one of a kind and give the boot an incredibly interesting design. It's handy to note that this type of construction is rarely offered at the price point you see here, meaning you'll be getting yourself a very good deal.
For optimal comfort, the Bruce boot has interior leather lining and a breathable padded insole. The boot's lacing system means you can adjust the fit to your preference. For guaranteed longevity, the Bruce boot also features a double stitched wingcap and storm welted sole. You may also notice that there's a rear pull tab on the boot. This is so that when you remove the boot, you can do so with ease and without getting your hands muddy.
It's not difficult to match this men's brown leather boot with an outfit. For a smart casual look, team it up with a pair of slim fit dark blue denim jeans, a striped or checked shirt and padded jacket. You may also want to accessorise with a brown leather belt to highlight the boots even more. This has become one of the best selling Oliver Sweeney designs for this season, so stock is extremely limited.