Oliver Sweeney
Oliver Sweeney Wingcap Oxford Brogues in Tan
The Oliver Sweeney Men's Oxford Brogue in tan is a shoe that's bound to get you noticed. Not only does it feature a classic Oxford closed lacing system, Goodyear welted leather sole and padded leather insole, but also has striking perforations across the vamp and toe for a truly unique look.

Oliver Sweeney ensure they tend to every detail of the shoes they make, so you can be sure to stand out by wearing something unique and individual to you.

To see more of this model on YouTube, click here: Wingcap Brogues by Oliver Sweeney in Tan
Special Price
$202.89
Regular Price
$245.94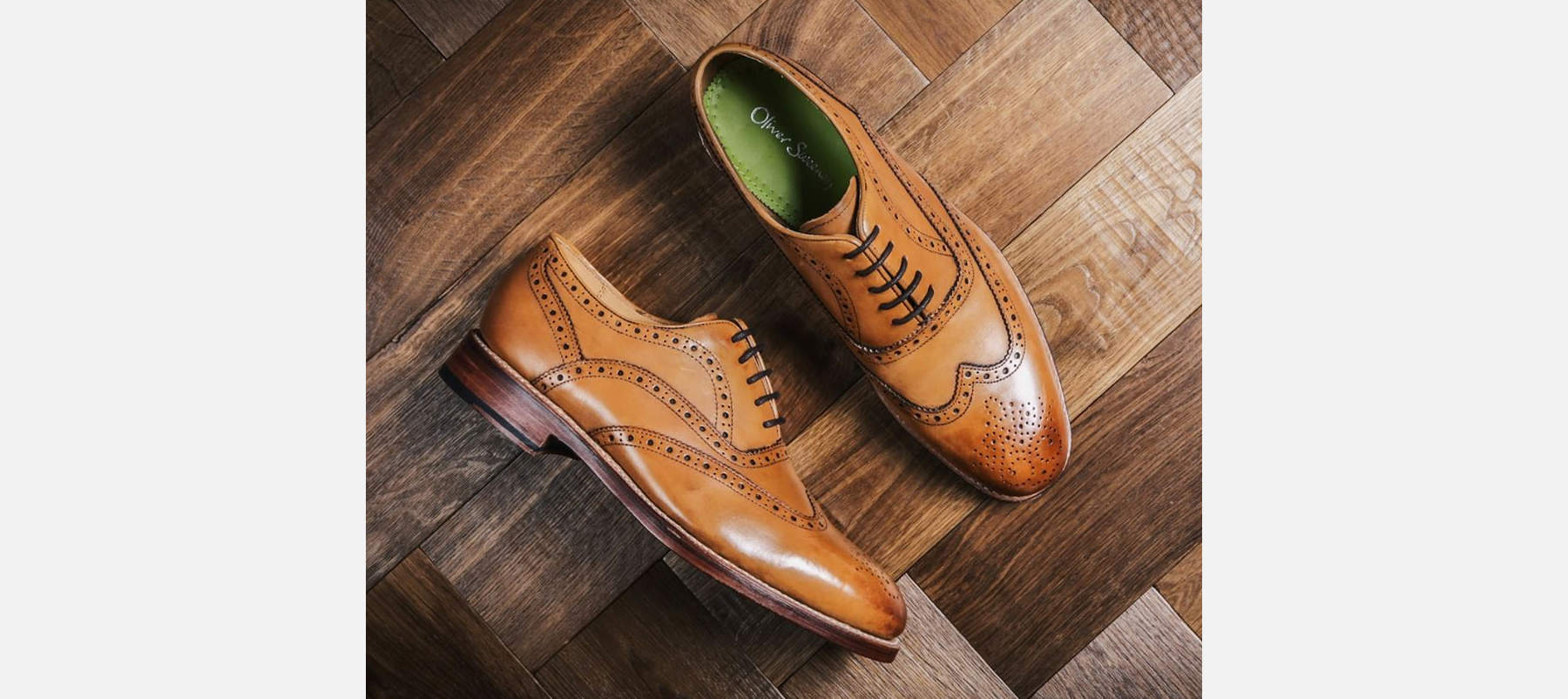 Additional description
Dress to impress with this striking leather wingcap Oxford Brogue by Oliver Sweeney in tan.
Oliver Sweeney have been making high quality men's shoes for the past 20 years in the same family run factory. Their ethos means that they pay attention to every last detail on the shoe, making it stand out from anything you'd buy as a result of mass production. This gorgeous Oxford Brogue features a double weight Goodyear welter leather sole with quarter rubber tip making it highly durable and long lasting. The leather lining with a lime green padded leather insole will ensure optimal comfort, so you can wear this Oxford Brogue all day long and feel great.
Oxfords first originated at Oxford University in the 1800s and are characterised by their smart closed lacing system. What makes this particular men's shoe unique is its perforations (broguing) across the vamp and toe, which really draw the eye to the shoe. Broguing is a classic shoe style that was first developed by Celtic farmers many centuries ago. They used the tiny holes to help drain water from their shoes in boggy conditions. Of course, the style has evolved since and broguing is now considered highly sophisticated.
The other great thing about this Oxford Brogue is its 'OS' stitching at the rear with green stained gentleman's corner on the heel. Its attention to the smallest detail such as this that sets Oliver Sweeney shoes apart from the masses. The tan exterior is hand burnished and consists of a rich, vibrant color. What's great about tan is that it matches many different outfits and can be worn in a variety of formal or smart casual settings.
We recommend pairing this striking men's Oxford Brogue with a pair of navy suit trousers for the office with a button up shirt and tie. Alternatively, you could pair this shoe with a pair of charcoal chinos and a button up shirt with a tan belt.