Panama Jack
Panama Jack Urban Trekker Keilor C2 Boots in Light Brown
There are many different types of boots out there in the marketplace, but the classic urban trekking boot, like the Panama Jack Keilor, is rarely seen these days. Which is a huge shame, because we believe such an item is a 'must have' for every man.
Men's boots come in many shapes and colours, their main purpose being to keep your feet warm when you explore the great outdoors. Panama Jack Keilor lace up boots not only keep you warm and dry, but they're lightweight and also add a stylish touch to your casual outfit too.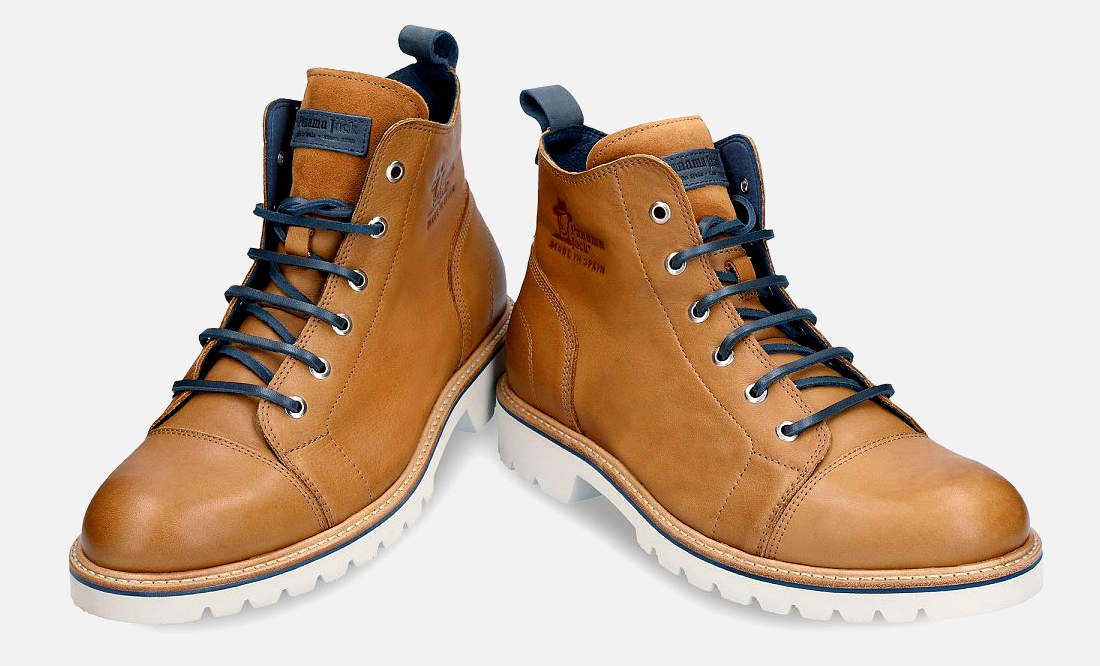 Additional description
Panama Jack has been producing high quality boots since 1989, when the first pair of trekking boots carrying their logo was sold. All their shoes are made in Spain, from high quality materials, which ensure a durable and comfortable boot. The company's motto is "created to travel" and the boots they made are perfect for hiking, walking or strolling. Being a Spanish brand, the name Panama is also meant to express the essence of these shoes, which are made for people who are not afraid to embark on their own daily adventures.
Panama Jack Urban Trekker Keilor Boots embody the essence of the company's products. Made from high quality materials, they are perfect for a walk on the beach, a day in the urban jungle or a trekking session in the middle of the woods. These ankle high boots feature a lace up design and navy blue laces. Panama Jack Urban Trekker Keilor Boots are made from camel brown leather, which is water resistant. Their outsole is made from lightweight and durable rubber, which ensures a good grip on every type of terrain. The padded insole is removable, ensuring all the comfort you need while walking on rough soil. Urban Trekker Keilor boots carry a Panama Jack branding on the side, as well as the brand logo on the outsole.
Ankle boots are easy to match with a casual, casual smart or sport outfit. The sturdy yet classical look of the Urban Trekker Keilor boots makes them perfect for a night out with the boys. Pair them with jeans, a shirt and a leather jacket for a relaxed look. A more interesting outfit can be created by wearing a beige shirt with a brown suit jacket, jeans and your boots. Thanks to millennials, this look is accepted at the office too noawadays. Despite the boots work best with jeans, you can also wear them with pants in a dark shade. Add a shirt and a coat for a stylish outfit.
Boots are versatile and sturdy, which makes them a must have for any man. You can wear your Urban Trekker Keilor in the city, when you explore the depths of the urban jungle, or in the great outdoors, during a trekking session. Either way, you benefit from the comfort these boots offer, on every type of terrain. When you buy a pair of Urban Trekker Keilor boots you also get a guarantee of a durable and versatile product that will carry you for many years to come.