Jeffery West Shoes
Pointed Dealer Boots by Jeffery West in Brown Polished
Let loose your inner rock star with this charismatic pointed dealer boot by Jeffery West. Made from the highest quality shiny camel brown leather, this polished slip on boot features elasticated sides, a brogued topline and red and black leather sole with Jeffery West branding.

There's also a convenient pull tab at the back of the boot for easy wear. Perfect for gentlemen who are tired of the status quo and want to be noticed.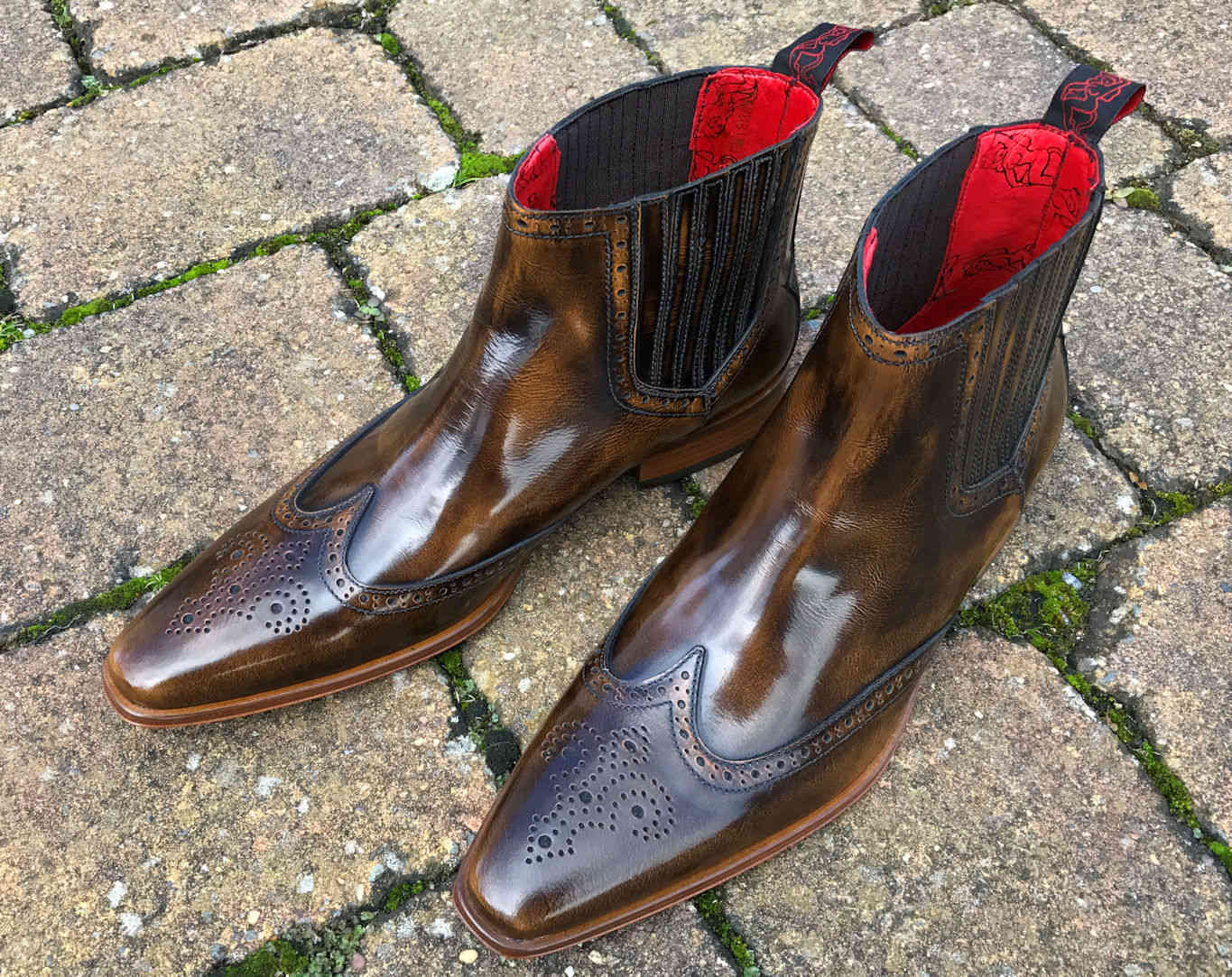 Additional description
The pointed dealer boot by Jeffery West is as flattering as it is flamboyant. Made from the best camel brown leather, this punchy men's slip on boot will draw compliments and add sparkle to any outfit you wear it with. It's not often you come across such a distinctive men's boot, which is why we recommend you wear it if you particularly enjoy turning heads.
Jeffery West are committed to creating unique, high quality footwear. Having established in 1987 in Northampton, the hub of British shoe making, Jeffery West quickly gained a reputation as industry leaders thanks to their fantastic craftsmanship and dedication to excellence. The brand was founded by best friends Mark Jeffery and Guy West, who began their careers customising end-of-line shoes and selling them on in the London street markets. After noticing a need for more colour and imagination in men's footwear, the pair decided to create a brand that combined traditional shoemaking with suave, characterful designs.
The pointed Jeffery West slip on dealer boot features all the markings of an excellently made boot. Not only is it robust and hard wearing, but thanks to the welted leather sole and supremely comfortable inner leather lining, it is also incredibly comfortable.
There's some fantastic detail on this boot. On the side, you'll notice leather covered elasticated gussets. There's also a sophisticated brogued topline and shaped broguing across the toe. The sole of the boot also features the words "Without Music, Life Would Be A Mistake", an iconic quote by Friedrich Nietzsche.
We recommend pairing this eye catching slip on boot with slim fit navy blue jeans that tuck neatly around the top of the boot. It also looks marvellous when teamed up with a sharp leather jacket. Due to the detail and colouring, you'd be better off selecting plain coloured clothing or darker colours so that the eye is naturally drawn down towards the boot.