Bass Weejuns
Red Leather Ladies Bass Quail Hunter Lace Boots
Spruce up your smart casual wardrobe with this fun and trendy hunter boot in burgundy. Made with durability in mind, this stylish boot features an apron stitched upper, full leather lining, a hardwearing but light weight rubber heel and is finished in high quality burnished deep red calf leather. 

It also has a charming moccasin style top and a six-eyelet lacing system with gorgeous golden toned laces for an extra splash of detail. Also available in rustic tan.
Special Price
$157.20
Regular Price
$209.60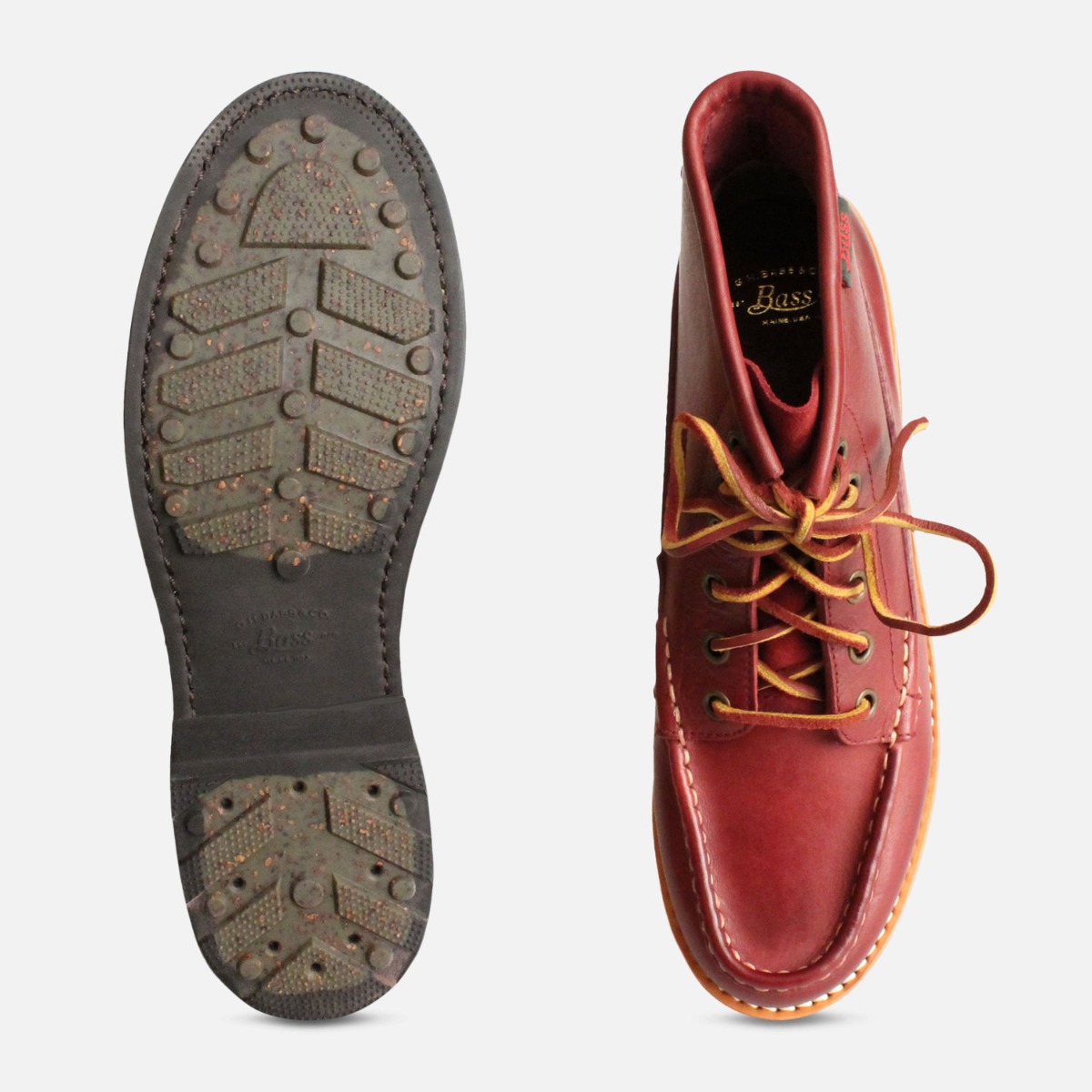 Additional description
If you're looking for a reliable ladies boot that is both on-trend and long lasting, then the Ladies Bass Quail Hunter Lace Boot is for you.
Made by reputable shoe manufacturer G. H. Bass & Co, this stylish ladies boot features an apron stitched upper with a six eyelet lacing system that holds golden contrast laces. This gives the boot an interesting and unique finish, while subtly complimenting the bold burgundy calf leather. This boot also has a nice 'moccasin' feel to it across the vamp, lending a fun and charismatic appearance that certainly makes it stand out from normal high street ladies boots.
You'll enjoy taking long walks in this ladies hunter boot and won't experience any pinching or discomfort that's often associated with a countryside hike. The leather interior lining and padded leather insole holds your foot comfortably, while the hardwearing, textured rubber sole is built robustly enough to tackle many different terrains. And if hiking isn't your thing, not to worry. You can still stomp about the city streets in this smart casual boot and look your absolute best without worrying about those uneven pavements or deceptively deep puddles.
This hunter boot has been bench crafted using the finest materials by a company that really cares about the look and quality of each shoe it makes. If you look inside the boot, you'll also see the G.H. Bass & Co logo branding on the insole; something you can be proud to own.
We recommend wearing this attractive burgundy hunter boot with your favourite pair of ripped slim fit blue or black jeans, a burgundy flannel shirt and a casual black parka jacket. Slim fit jeans are advisable over flared jeans given that they'll tuck nicely into the boot and really show it off. This hunter boot is also available in tan.