Jeffery West Shoes
Jeffery West Red Suede & Crocodile Leather Loafers
The Jeffrey West Red Suede & Crocodile Leather Loafer is a slip-on moccasin loafer made of leather with a unique crocodile imitation printed at the heel and saddle.  Its red suede colour is noticeably striking while a black leather top line brings in an interesting contrast.
With a tanned seam side stitching and leather sole, this loafer is as strong as they come. You will especially love the 'without music, life would be a mistake' branding that has an 8mm rubber heel pinned on it.
Special Price
$188.79
Regular Price
$234.36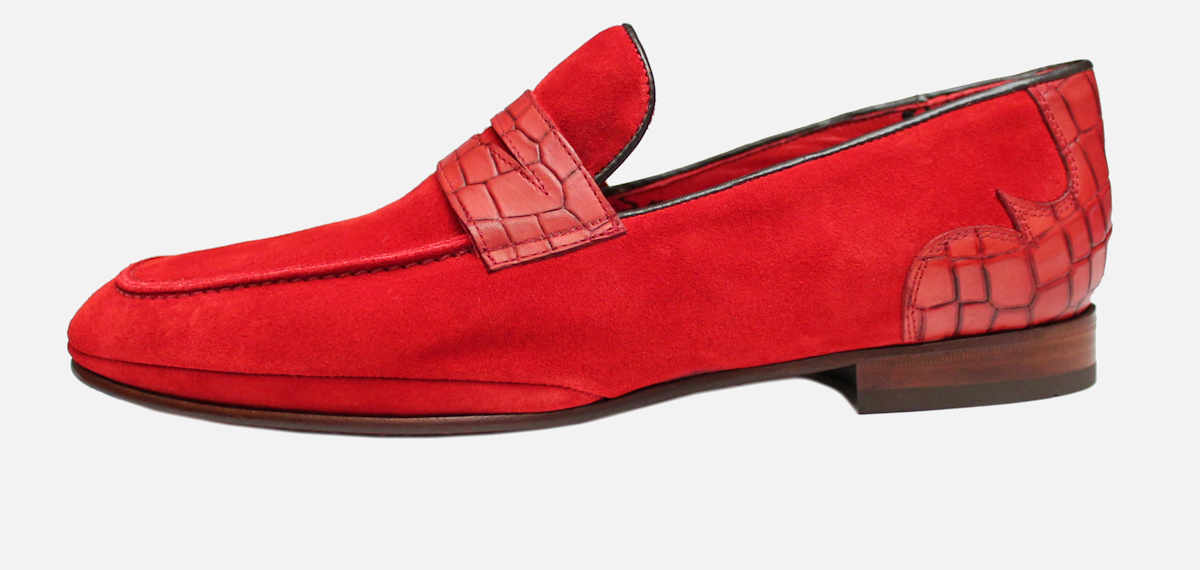 Additional description
Every man has a unique personality… It's therefore important that he has a shoe that reflects this!
Jeffery West is a renowned footwear brand and the brainchild of two bosom buddies from Northampton. The two friends, Guy West and Mark Jeffrey, started out selling shoes at the age of 16 as Mark's father owned a shoe factory. The two friends would buy rejects from factories, including Mark's father's and customise them before selling them. They later began designing their own, and with the help of a friend, acquired leather that they would cut and stitch to make shoes. The company still stands out because its products are premium quality, owing to the great craftsmanship employed.
Red has been a popular color amongst wearers of Jeffery West footwear as it, according to the manufacturer, 'evokes pomp and circumstance but equally revolution, decadence, darker ritual and ceremony.' This particular loafer is a limited edition that comes under the brand's 'MUSE' collection. The contrasting red color with black top lining make it a perfect wear for any gentleman. The 8 mm heel offers your heel enough support and the stitching makes the shoe sturdy. Add this to the comfort it offers with the insole and you have a top-notch loafer.
This shoe will work well if you prefer dark suits with white shirts finished with a tie. The central point is its distinctive color that flashes at the sides plus the heel and saddle. However, you will kill it with an ultra-fitting 'don't-touch-my-shoe' suit or velvet-trimmed tuxedo. If you are not a suit guy, then a brown pair of leather trousers will do just fine complete with a designer top.
The loafer is available for this season only. Hurry and get your pair now!