Jeffery West Shoes
Slash Jeffery West Brogue Chukka Boots in Tan
Take your smart casual look to the next level with this punched toe chukka boot in tan by Jeffery West. It features striking side slash detail, eye catching perforations and an elegant closed lacing system across three eyelets.

As part of the Muse collection, the red and black leather sole displays the iconic words "Without Music, Life Would Be A Mistake", a motto any loyal Jeffery West wearer is bound to live by!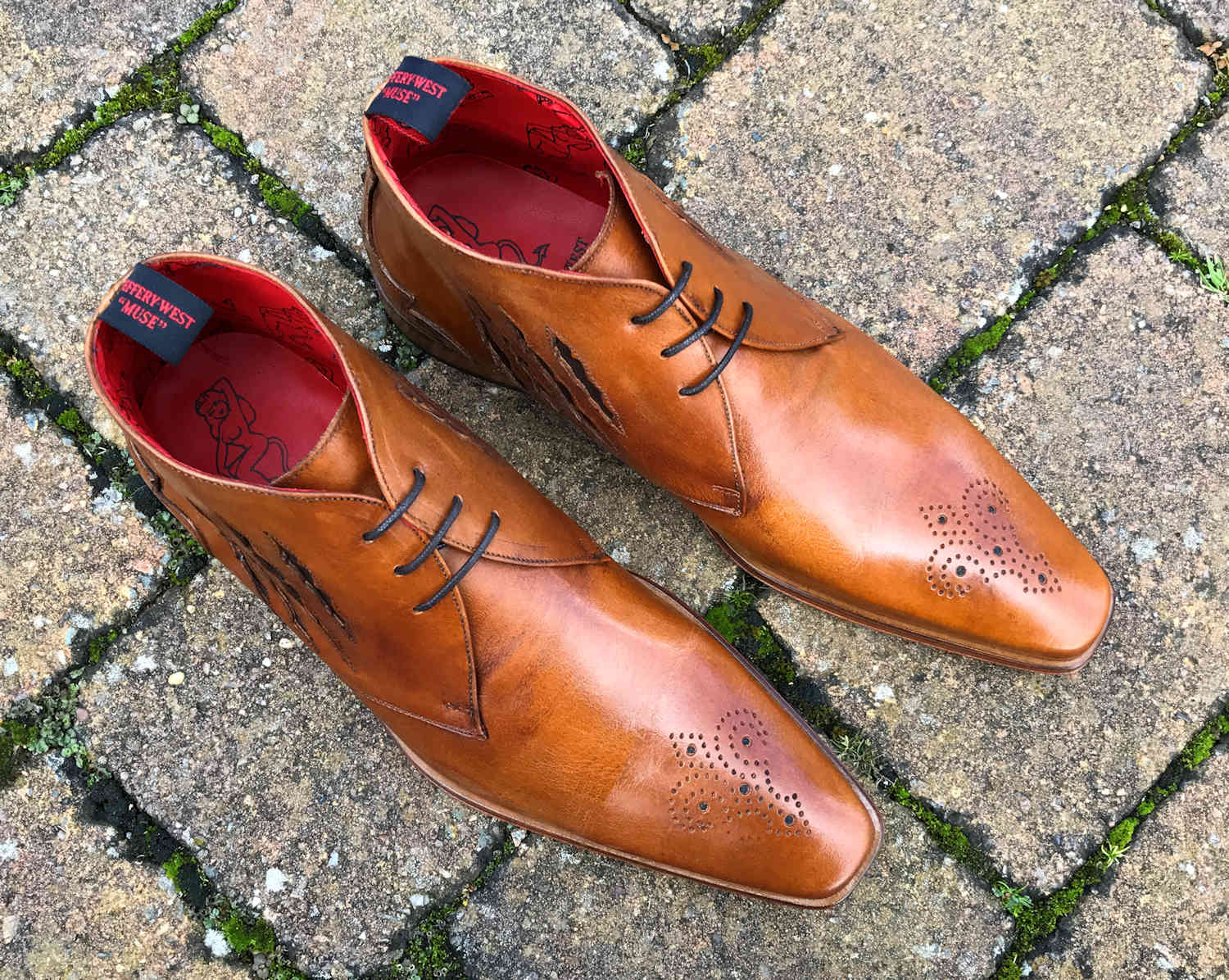 Additional description
The brogue chukka by Jeffery West is a smart, characterful boot that's bound to get you noticed. Featuring a hand burnished, shiny tan leather exterior and a suave pointed toe, this boot is suitable for any gentleman that wants to look prominent and unique no matter what the day ahead has in store.
Jeffery West are a brand that care about the individual wearer. No two men are the same, so why should their footwear be identical? Drawing inspiration from some of the most well known extroverts in history, including Richard Burton, Laurence Olivier and Prince, Jeffery West design boots that reflect inner creativity, flamboyancy and charisma.
That's why we are pleased to offer you this exquisite brogue chukka in tan. Unlike plain chukkas, this men's boot features dynamic details that exude personality. The side of the boot has a dark brown slashed panel while the toe has delicately shaped perforations. The back of the boot features diamond studded decoration as well as a branded red pull tab which gives you an improved ability to remove it from your foot. There's also signature red inner leather lining that provides supreme comfort as well as an interesting colour contrast.
Featuring the words, "Without Music, Life Would Be A Mistake", the red and black sole is a real show stopper. It also has a pinned rubber top-piece and diamond rubber heel part for added durability.
We recommend pairing this chukka boot with a slim fit pair of denim jeans, a tan leather belt and flamboyant button up floral shirt. For a more formal and understated look you could pair with dark brown suit trousers and a matching blazer. Whatever you choose to wear with this stunning chukka, make sure you give it the attention it deserves by avoiding clothes that hang over the interesting details.