Tamaris
Black Leather Tamaris Ankle Chelsea Boots for Women
This high quality women's black leather Chelsea boot is available exclusively for Arthur Knight Shoes by Tamaris. It is an elegant high ankle boot in slip-on style with a twin elastic gusset and rear pull tab.
A subtle Tamaris logo is branded on the heel, and it has a full rubber sole and heel for durability and grip. It features a classic round toe design with breathable fabric lining throughout for comfort during wear.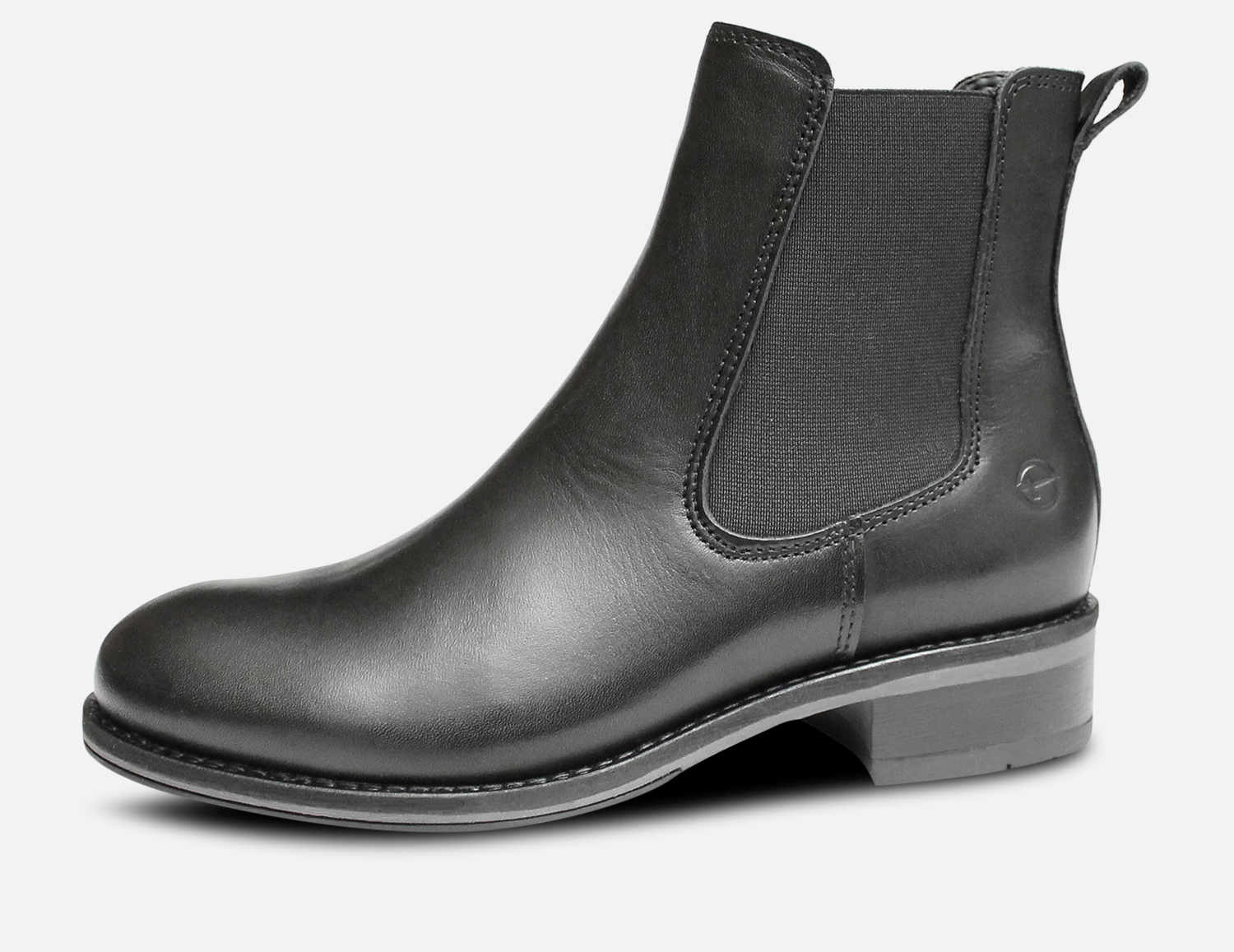 Additional description
This Chelsea boot made exclusively for Arthur Knight Shoes oozes elegance. In pure black leather, it features a twin elastic gusset and subtle Tamaris branding to the heel. The classic round toe design and perfectly proportioned heel make this the essential choice for your wardrobe this season.
The Chelsea boot design is credited to Queen Victoria's shoemaker, J. Sparks-Hall. He claimed that Queen Victoria walked in the boot every day and claimed that this showed how valuable the Queen felt the boots were. The boot became popular for both walking and horse-riding and shows similarities with the jodhpur boot worn by horse riders today. In the 1950s and 60s, the boots became popular once more when they were worn by The Beatles and the Rolling Stones.
The Tamaris Chelsea boot features a rear pull tab to make putting on, and removing, the boot easier. The classic twin elastic gussets also allow for an easy slip-on style. The full rubber sole of the boot ensures durability making this a boot that will last you for years. The sole is also designed for grip, making it the perfect choice regardless of the weather conditions or surfaces under foot. It is lined with breathable fabric throughout to guarantee comfort during wear.
Styling with this high ankle boot is simple. Its pure black colour means it will complement denim jeans, but also looks exquisite with a dress or skirt and tights. The boot can easily be dressed up for dinner in your favourite restaurant or worn for more casual occasions including shopping trips or walks in the park on chilly days. Its versatility will have you reaching for it again and again, and its classic design means its sure to be a boot you'll love for years to come.