Thomas Partridge
Tan Wingtip Two Tone Brogues by Thomas Partridge
This splendid wingtip two tone brogue by Thomas Partridge is a classic Derby shoe that was inspired by the footwear needs of the military. This fantastic brogued lace up shoe has a longwing pattern and is made from chocolate brown and chestnut tan leather.
It is a versatile and comfortable shoe that is both trendy and easy to wear. The heel has a white and blue signature label with a subtle rear red. The sole is durable while the insole is padded for a nicer fit.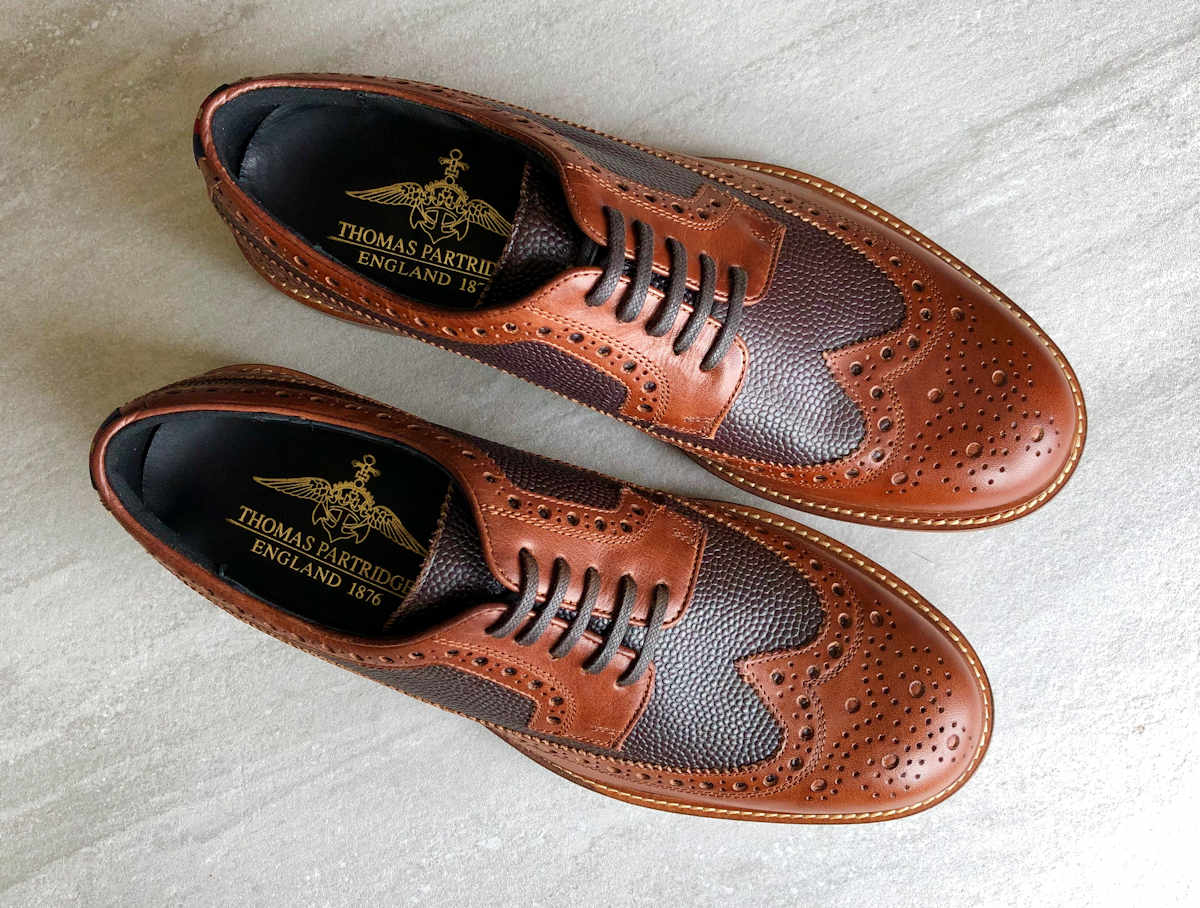 Additional description
If you're looking for a smart, sophisticated men's shoe that gives you a look of distinction and class, you can do no better than the tan wingtip two tone brogue by Thomas Partridge.
Thomas Partridge Shoes was founded in 1876 in Northampton, first supplying army boots to the armed forces at the time. The company was and is still popular for its production of quality footwear, both for the army and general public.
The Tan Wingtip Two Tone Brogue comes in three colour options, making it suitable for all occasions. Unlike many other wing tip brogues, this one has a pointed toecap with extensions/wings that run up both sides of the toe such that when viewed from above the toecap has a W shape. It also is sometimes called the Pemprey Brogue, named after World War II British Royal air base RAF Pemprey in Carmarthenshire.
This shoe has well-decorated perforations and serrated edges. The tongue and collar have extra soft padding and the footbed is very comfortable. According to the manufacturer, this shoe is inspired by heritage but engineered for comfort. So, whether you're a busy man about town or simply require a shoe for the occasional special event, this wingtip will serve you well.
Due to brogues' heritage, it's important to find the right outfit to match its iconic style. Try a tailored suit or a fine pair of slim fit jeans to really bring out the shoe's character. Due to the versatility of the shoe's colouring and style, it works well with other shades of brown and tan splashed throughout an outfit.
For any man, a brogue is a great acquisition and in fact, it is a basic need for your wardrobe. It is available in multiple sizes and is guaranteed to last you a long time thanks to its unique and sturdy craftsmanship.