Tommy Hilfiger
Tommy Hilfiger Designer Aqua Haze Chunky Trainer
The latest chunky trainer in white & aqua turquoise by Tommy Hilfiger.
Unique lace up trainer with turquoise / baby blue / purple colour scheme and Tommy branded pull tabs.
Made on the best selling chunky rubber sole offering superb grip & support.
Padded breathable insole featuring Tommy's latest comfort technology. BEST SELLER.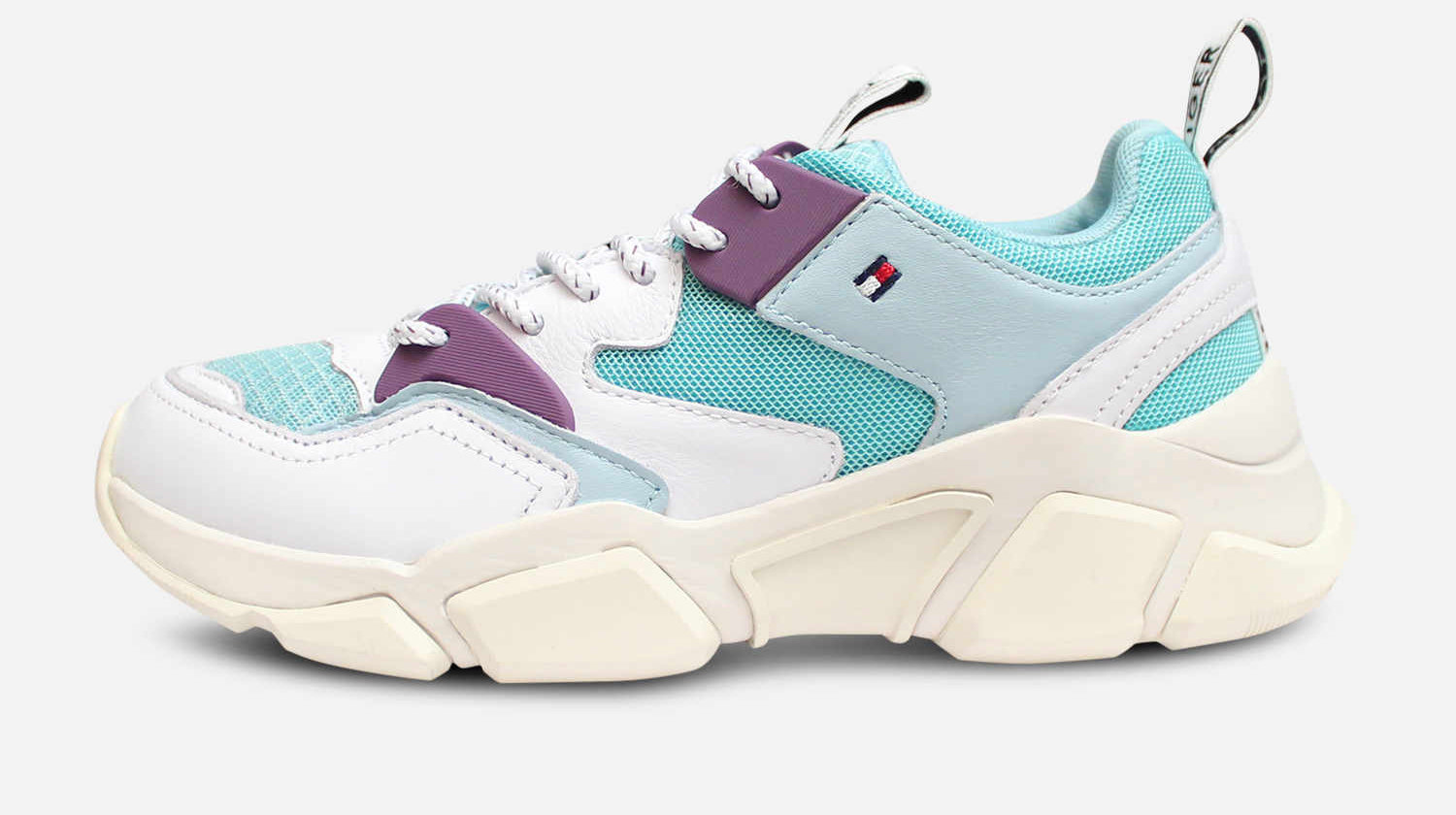 Additional description
Chunky trainers are the latest trend when it comes to footwear. If they were once dedicated to sports and going to the gym, trainers are now showing up on the runway. Millennial CEOs are also bringing them to the office, dressing up a casual smart suit. At the same time, celebrities can be seen wearing comfy designer sneakers on the red carpet. All in one, the chunky trainer is now highly popular and one of the must have's shoes of the season. 
The traditional trainer had a slim design, but now it's all about big size. The chunkier, the better seems to be the motto of designers who embraced this sports shoe and turned it into a trademark of a new generation of casual-smart outfits: the suit paired (or dress) with trainers. Tommy Hilfiger's take on the chunky trainer has a fresh look that embodies all the core values of the company. The classical, American cool style of the "preppies" can be seen in the latest Aqua Haze Chunky Trainer from Tommy Hilfiger. 
The unique color scheme made from purple, baby blue and turquoise is going to add a youthful spirit to your outfit and make you stand out from the crowd. The trainers feature a lace up model and branded pull tabs for easy put on and take off. The breathable padded insole is made with the latest footwear technology, which ensures a comfortable wear. The outsole is made from durable rubber that ensures a perfect grip on any type of terrain. Tommy Hilfiger Aqua Haze Chunky Trainer offers both a fashionable and comfortable walk, no matter if you wear them on a day out in the park or a busy day at the office. 
There are plenty of ways to wear chunky trainers, some more common than others. If pairing trainers with a sweatsuit is pretty common, wearing chunky trainers with a dress might seem like a strange idea.  This mix completely changes the look of the dress, turning it into an edgy, street worthy outfit. The same edgy look you get from wearing your trainers with a top and a long or midi skirt.
On a cold day you can wear your Aqua Haze Chunky Trainer with jeans, a shirt and a trench coat. The jeans-shirt-trainers provide a casual look, which is dressed up by adding the trench. Chunky designer trainers are versatile because they can easily be used to dress down an outfit, but they can also be dressed up with the right accessorizes.
Wearing your chunky trainers with a suit makes you look smart and chic. For this outfit you need confidence and it sends a strong message to those around you, being one of the reasons we see more and more suit and trainers outfits at high profile business meetings. Apart from sending a bold message, you are also comfortable when you need to run errands or walk around the town, from one place to another.
Fashion is all about feeling good about yourself and  Tommy Hilfiger's Aqua Haze Chunky Trainer is the most comfortable footwear you can wear this season.