Tommy Hilfiger
Exclusive Tommy Hilfiger City Sneakers in White Jacquard
If you're an active woman, you need a reliable sneaker that can keep up with your busy lifestyle.
That's why we are proud to present you with the latest exclusive Tommy Hilfiger City Sneaker in white jacquard.
Suitable for any woman on the go, this interesting looking sneaker features the iconic red, white and navy Tommy Hilfiger branding, as well as a mesh upper for ultimate breathability and a transparent rubber guard for protection.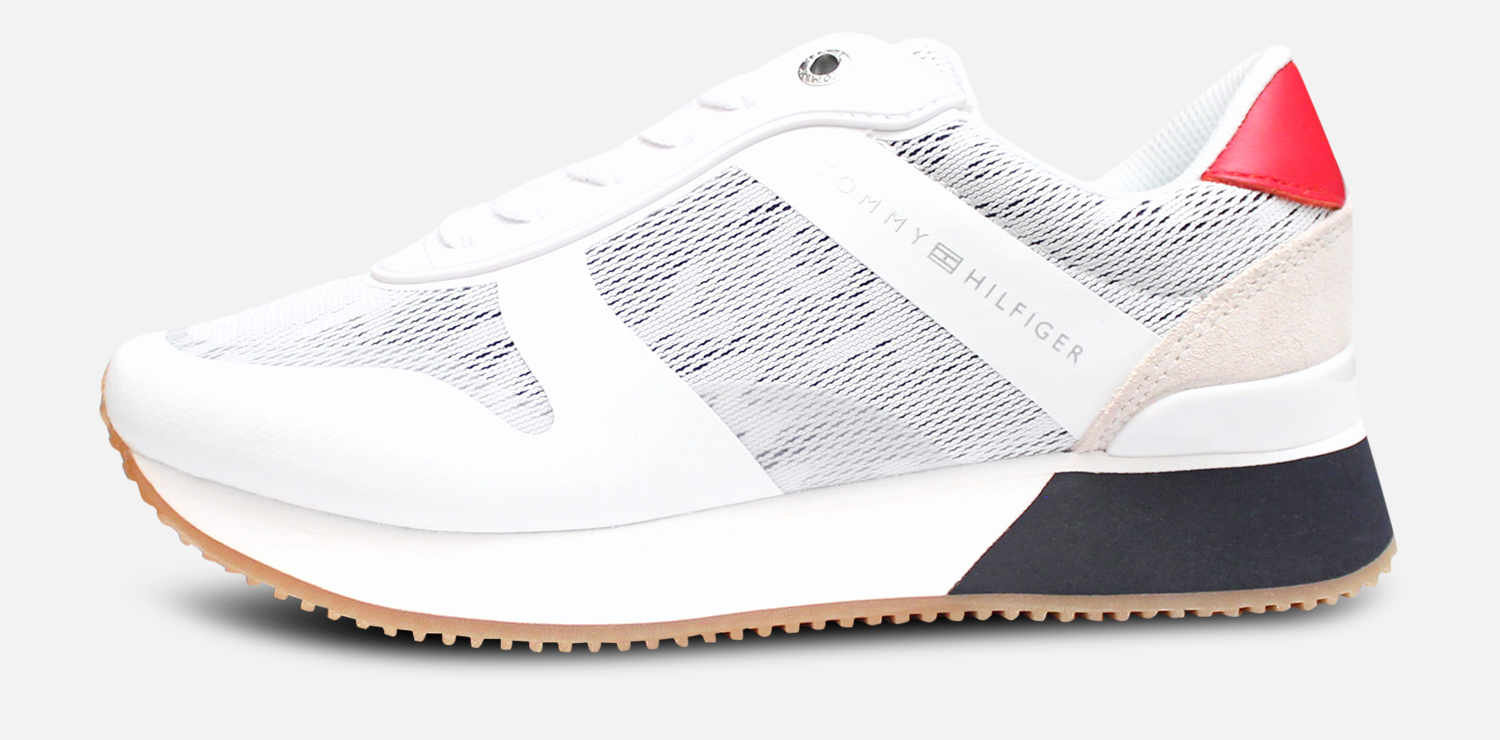 Additional description
Whether you're a keen amateur runner or simply find yourself rushing through the city in between meetings, you need a sneaker that can help you go where you need to be. Comfort is essential when choosing a sneaker, but you also need versatility, support and, of course, style! There is no reason to compromise your sense of self for a well fitting pair of trainers. That's why we are so pleased to present you with this stylish and incredibly cool sneaker for women.
The Tommy Hilfiger City Sneakers in White features a lightweight and comfortable jacquard mesh upper for breathability. There's also a protective rubber guard and high quality mesh lining. Inside the ladies sneaker you'll find a padded insole for optimal support no matter what you're doing. For durability, there's a non slip caramel coloured rubber sole.
The iconic red white and blue branding can be spotted towards the back of the sneaker, as well as the Tommy Hilfiger name across the front.
Wear this impressive sneaker for a variety of tasks and activities. If you are a city worker, you could commute with ease in this ladies sneaker by Tommy Hilfiger. They're even lightweight enough to pop into your handbag and swap for formal shoes once you arrive at your next meeting. If you are sporty, this sneaker can be worn in the gym, on the tennis court or in the jogging lane. Whatever activity strikes your fancy, this sneaker will not let you down.
Due to the white, simplistic appearance of this ladies Tommy Hilfiger sneaker, we recommend pairing it with contrast jogging pants and a matching white t shirt or tank top. If you're wearing this sneaker day-to-day, it can easily be paired with casual jeans and a t shirt. Act fast though, we anticipate that these will sell quickly!