Tommy Hilfiger
Tommy Hilfiger Designer Flatform Sandals in Red White & Blue
Iconic Tommy Hilfiger flatform sandals with cross over strap design and rear adjustable buckle for the perfect fit.
Red, white & blue colour combination with matching side wall ribbon & gold Tommy branding as photographed.
Made on a durable and non-slip caramel coloured rubber sole with hessian rope band. New season design at Arthur Knight Shoes.
Tommy Hilfiger is known for breaking conventions and producing high quality, unique clothes, which represent a fusion between American heritage and modern style. Tommy Hilfiger platform sandals capture the brand's iconic preppy style with a twist, being the sandals you need for this new season. Comfortable, unique and stylish, they are perfect for a walk along the beach or every day wear about town.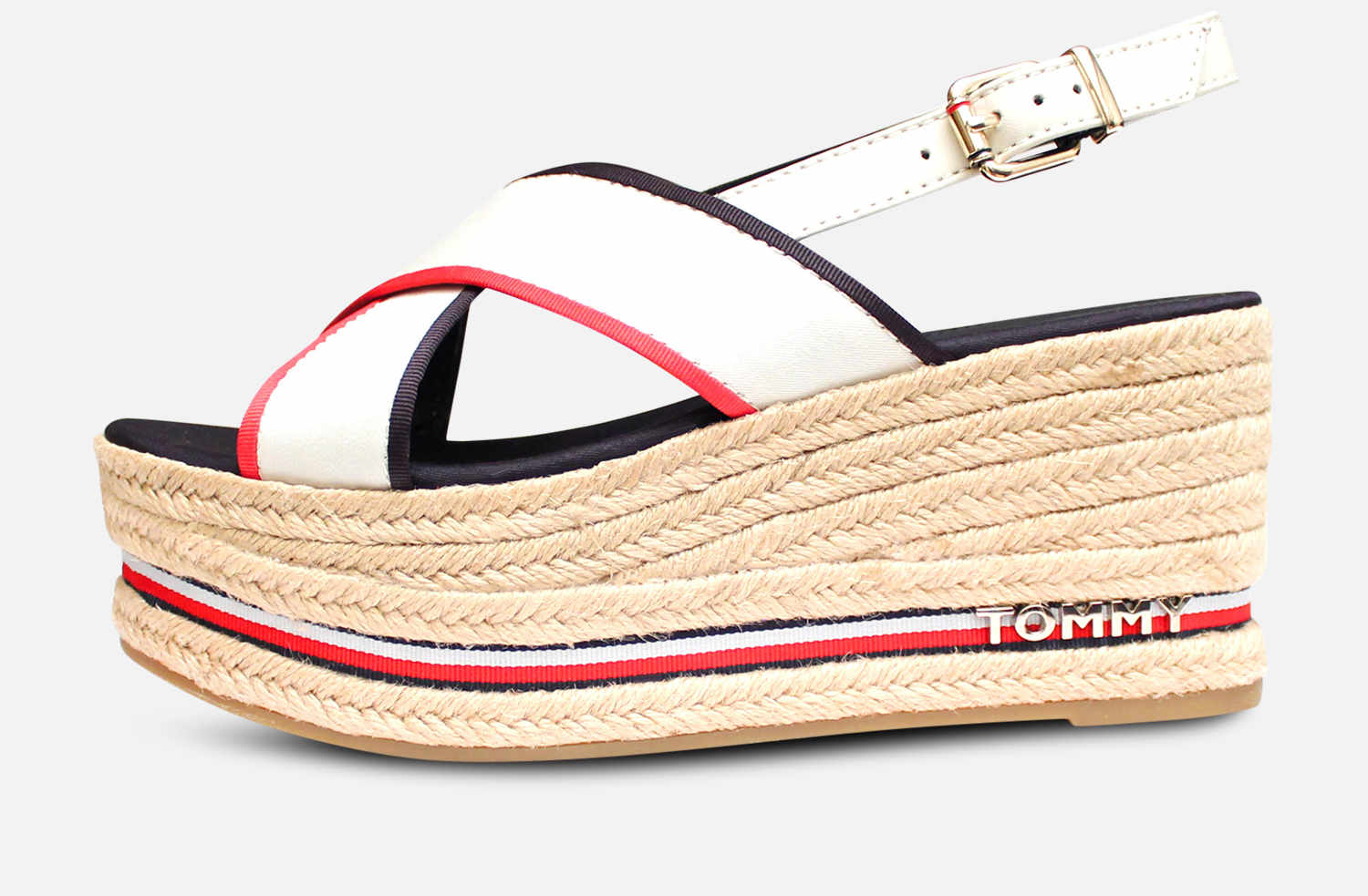 Additional description
The Tommy Hilfiger brand was established in 1985 and gained notoriety thanks to their high quality products. The brand was quickly adopted by American students who learned in expensive private schools, known as "preppies". These young people were conservative in both their behavior and clothes, but this doesn't mean they didn't knew how to have fun. Tommy Hilfiger became synonym with the preppy style with a modern twist, as the brand created smart casual outfits that represented the core of the American culture. Their collections included youthful shirts, chinos and pants in light colors that have a sporty look. Tommy Hilfiger brand is easily recognised by the red, white and blue logo, as well as the fact these three colors are skillfully included in all their clothes design.
Tommy Hilfiger platform sandals feature a cross over strap and rear strap, which can be adjustable, thanks to the small buckle. This offers a perfect fit for your sandals, which are perfect for a hot summer's day, as they allow your feet to breathe. The cross over straps are made from textile and have a leather lining, while the back strap is made from leather. The lining comes in dark blue, while the cross over straps come in the iconic white, blue and red mix. The flatform is made from a durable caramel rubber, covered in hessian rope band, featuring a red, white and blue ribbon with the Tommy logo on the side. The sole of the sandals has a non-slip pattern, which ensures you are not going to fall from your espadrille-looking Tommy Hilfiger platform sandals. The insole is made from dark blue fabric, for an elegant look.
Thanks to the platform, these sandals allow you to gain extra inches, without having to compromise on comfort. The platform design offers a pain-free wear at all times, while the thin back strap is going to make your ankles look thinner.
Your stylish Tommy Hilfiger platform sandals are not only comfortable but also versatile. They can complete a dress outfit or a pants and shirt outfit, just as successful as they go with a pair of jeans. For a relaxed casual look you can wear the sandals with white shorts and a crop top or an oversized top. A pair of jeans, a simple top and a jacket also make a great outfit with the Tommy Hilfiger platform sandals. When you want to attend a more formal event you can pair these sandals with a dress. For a 70's inspired look wear a short skirt with your platform sandals.
Tommy Hilfiger platform sandals are the perfect option for this season, as they are both comfortable and stylish. You can't go wrong with these easy to wear sandals that come with the Tommy Hilfiger guarantee of a high quality product.