Tommy Hilfiger
Tommy Hilfiger Sporty Outdoor Lace Up Bootie in Light Brown
This stylish, practical lace up bootie by Tommy Hilfiger shoes is available in chipmunk light brown. It is made on a chunky caramel coloured Tommy Star sole with stitched rubber guard, padded collar, and Tommy branding on the tongue.
It features a ski-hook and eyelet combination lace up system and contrast red laces. Its cushioned insole and breathable fabric lining ensure comfort. This is an attractive short bootie, beautifully made and ideal for cooler months.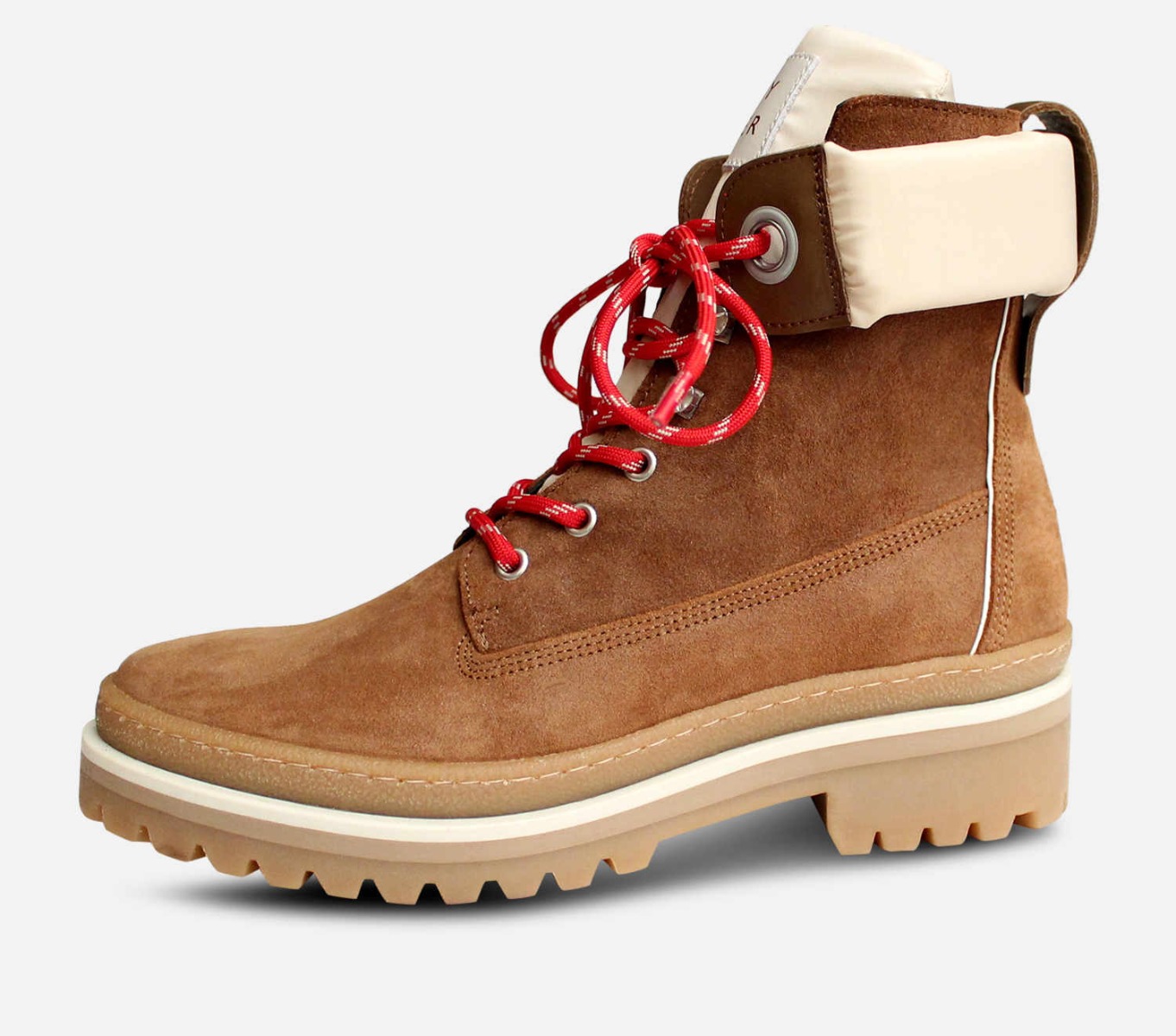 Additional description
This short bootie by Tommy Hilfiger is ideal for the cooler winter months. In chipmunk light brown textile, it is a statement in style. Contrast red laces feature in the ski-hook and eyelet combination lace up system, meaning you'll stand out from the crowd for all the right reasons. The boot is made on a chunky caramel coloured Tommy Star sole and has a stitched rubber guard. It is a sturdy boot that can take you on adventures through most terrains. 
The walking boot was traditionally a functional item of footwear that served a purpose but was not generally thought of as being attractive. The modern, sporty outdoor boots combine function with fashion, and this Tommy Hilfiger bootie is no exception. Ideal for weekends in the Peak District or Exmoor National Park, the boot is just as at home in a London art gallery. Tommy Hilfiger is renowned for manufacturing luxury clothing and footwear and Hilfiger himself remains the company's principal designer. 
Both the tongue and the collar of the boot are exquisitely padded to provide maximum comfort. The cream colour of the collar matches perfectly with the cream of the tongue, and the Tommy Hilfiger branding is proudly displayed at the top of the tongue. The boot also features a breathable fabric lining and cushioned insole, making it an ideal choice for long days on your feet or walks in the countryside. 
In beautiful chipmunk brown, this bootie requires no effort on your part for fashionable styling. Pair with pale blue or white skinny jeans to allow the brown and red contrasting colours of the boot stand out. As this is a sporty walking boot, add a rugged flannel shirt or chunky cable knit jumper or poncho to add to the rustic look.