Tommy Hilfiger
Tommy Hilfiger Wedge Beach Sandal in Navy Blue
The Tommy Hilfiger beach sandal for women is a designer wedge beach sandal with a difference. The wedge sandal is lightweight with the front platform measuring just 2.5cm and the rear only 6cm high, making it perfect for a stroll on the beach in optimal comfort.
Available in a navy blue colour, the sole is a striking contrast red giving it extra flare. The outer sides of the sandal also feature the Tommy Hilfiger branding.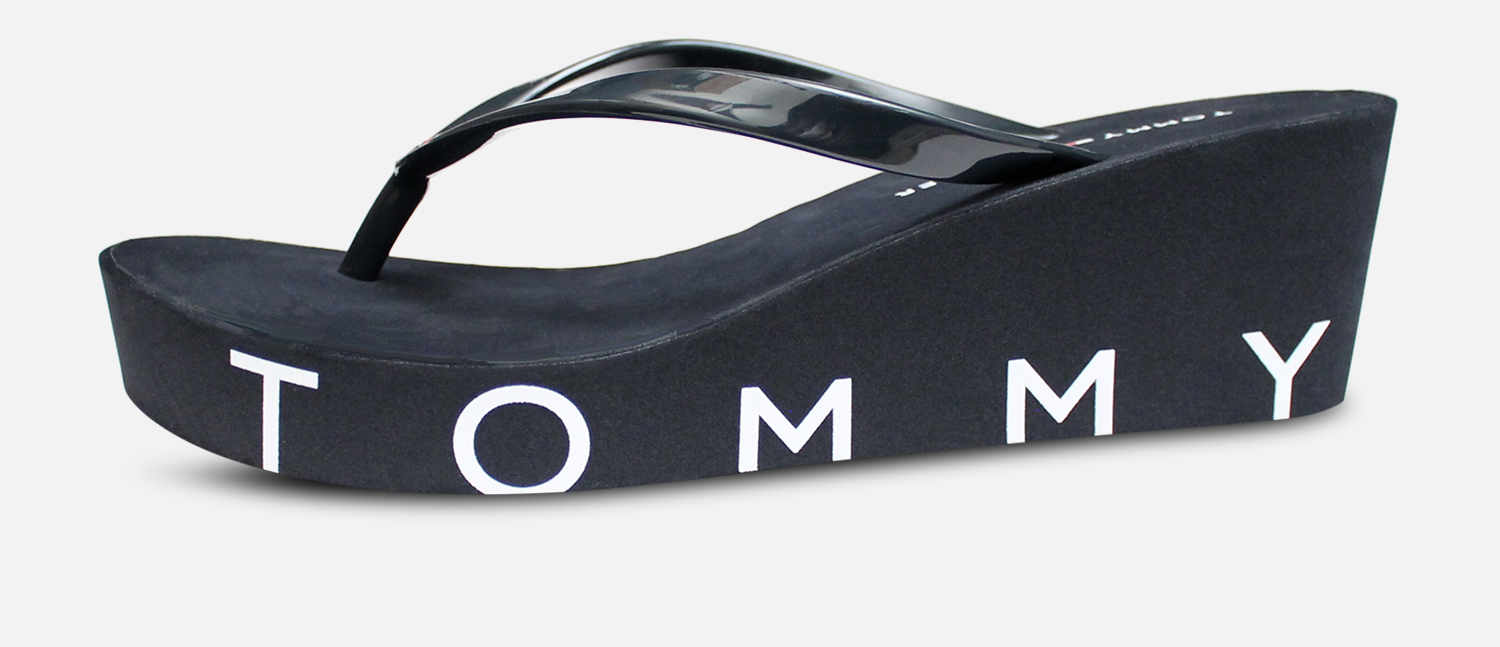 Additional description
Tommy Hilfiger was founded in 1985 by Tommy Hilfiger, before being acquired by PVH in 2010. It is worldly recognised for its various brands and collections in fashion, which range from footwear, eyewear, clothes, fragrances, watches, home furnishings and many other lifestyle products.
This flip flop features a polished strap design giving it a truly seasonal feel. The upper is made of PVC plastic while the insole and outsole are made of rubber. It is an easy slip-on flip flop with a wedge heel to offer more comfort to your leg. The outsole is well treaded so that you don't slip as you walk.
This is a great women's sandal to wear to the beach. It will give your feet freedom, comfort, and protection, all while making you stand out. Besides, the navy blue colour gives you the freedom to choose from a great range of wardrobe combinations. This is especially handy if you have limited wardrobe (or suitcase) space because you can pair this ladies sandal with some many different outfits.
The wedge screams class and style, and can be worn on casual occasions. If you choose this wedge beach sandal, then we recommend you pair it with a dark coloured skirt or long trouser. You may find the proportions don't quite work if you opt for a skinny trouser. If you are a Tommy Hilfiger enthusiast, then you know the stretch slim fit polo and the wedge are a great combo. A dark blue or red jumpsuit is also a great choice for when you're are in the mood for a chic look.
For this summer season, you absolutely need this wedge beach sandal as it is of limited edition.  Add this Tommy Hilfiger wedge beach sandal to your shoe collection and rock on.