Tommy Hilfiger
Tommy Hilfiger Flatform Detail Sneakers in Pink Canvas
Look marvellous with this charming pair of sneakers from the internationally well known brand Tommy Hilfiger. This pink canvas shoe features a white shoelace and is perfect for casual wear. Not only does it look gorgeous but it also has an extremely comfortable sole.
Its 33mm padded rubber sole is the same colour as the vamp with diagonal "Tommy Hilfiger" branding. It is a season limited product so be quick and grab your pair before the stock runs out!
Special Price
$64.80
Regular Price
$82.80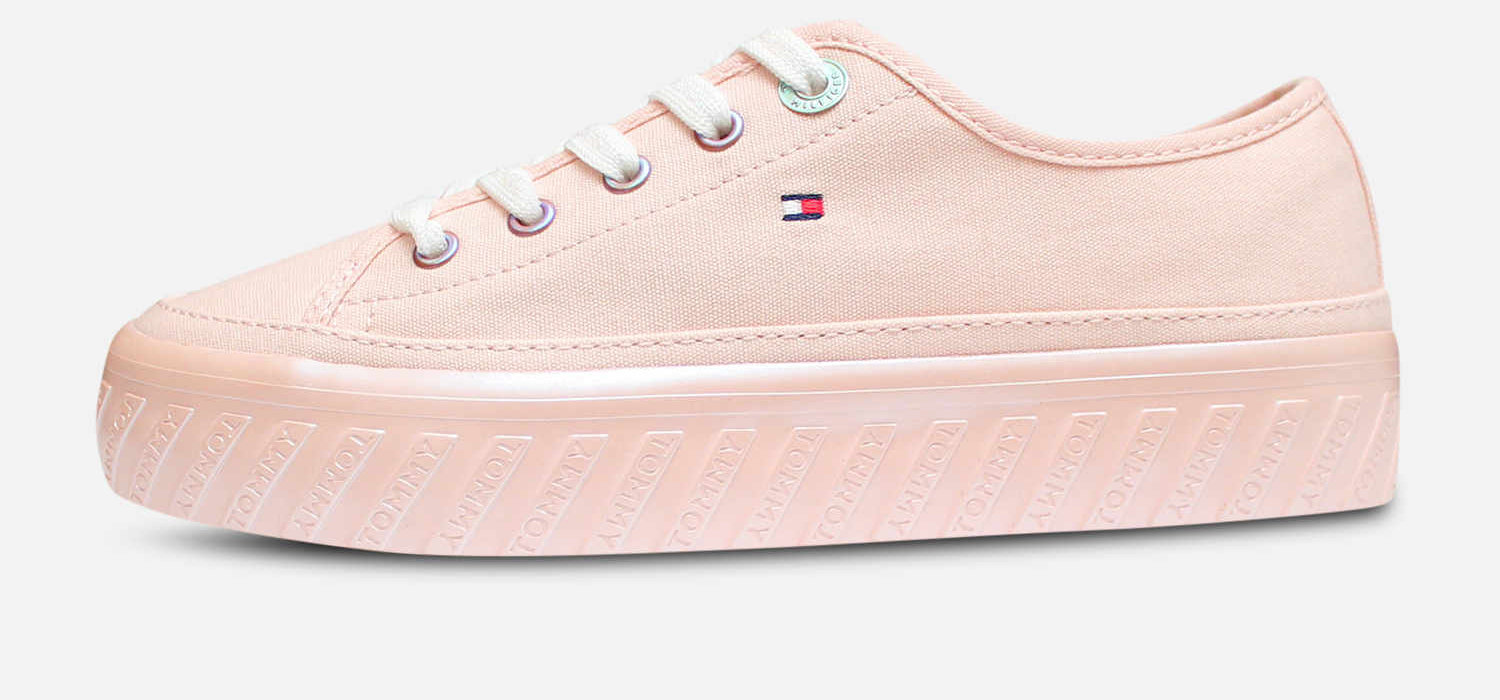 Additional description
Tommy Hilfiger is a legendary brand and continues to influence the market with its elegant and outstanding designs not only in the shoe industry but also in clothing for both men and women. Founded by Thomas Jacob Hilfiger who is the company's Principal Designer and leads all of its design teams, Tommy Hilfiger has made a name for itself worldwide thanks to its immense creativity and passion.
That's why we are so pleased to introduce you to the Tommy Hilfiger pink flatform shoe for women. Elegant, stylish and totally unique, this wonderful casual shoe features a pink 33mm rubber sole with pink canvas upper and white iridescent metallic fleck laces. There's a strong and sturdy five eyelet lacing system holding thick white laces for interesting detail and optimal comfort. For support and shock absorption there is also interior technology to enhance wear and keep your feet and legs happy throughout the day.
What's also to love about this pink flatform is that it gives you height without you needing to wear a heel. While heels can be uncomfortable, especially if you need to move at pace, flatforms give you some added length without compromising your comfort. So, if you need to run for a bus, a flatform will keep you safe and supported, unlike a thin heel which might cause an injury.
Due to the lovely colour of this ladies flatform, we recommend that you show them off with a contrast pair of jeans (preferably skinny or slim fit jeans that stop just above the ankle). This is the ideal shoe if you are on the shorter side and want to bump up your height. It's also great for pairing with shorts in the summer or a casual pair of cropped jeans and a pink t shirt.