Tommy Hilfiger
Tommy Hilfiger Womens Flatform White Rainbow Sneakers
Designer shoes are all the rage this season and the best news is you can now wear them at the office too, thanks to the new style rules. Speaking of style, these Tommy Hilfiger flatform sneakers are a must have.
Featuring a traditional lace up canvas and a completely non-traditional rainbow rubber sole, these flatforms are the definition of comfort. Fit for both a city escape and a relaxed day at work, these versatile shoes can be dressed up or down. No wonder they are the best sellers of this season!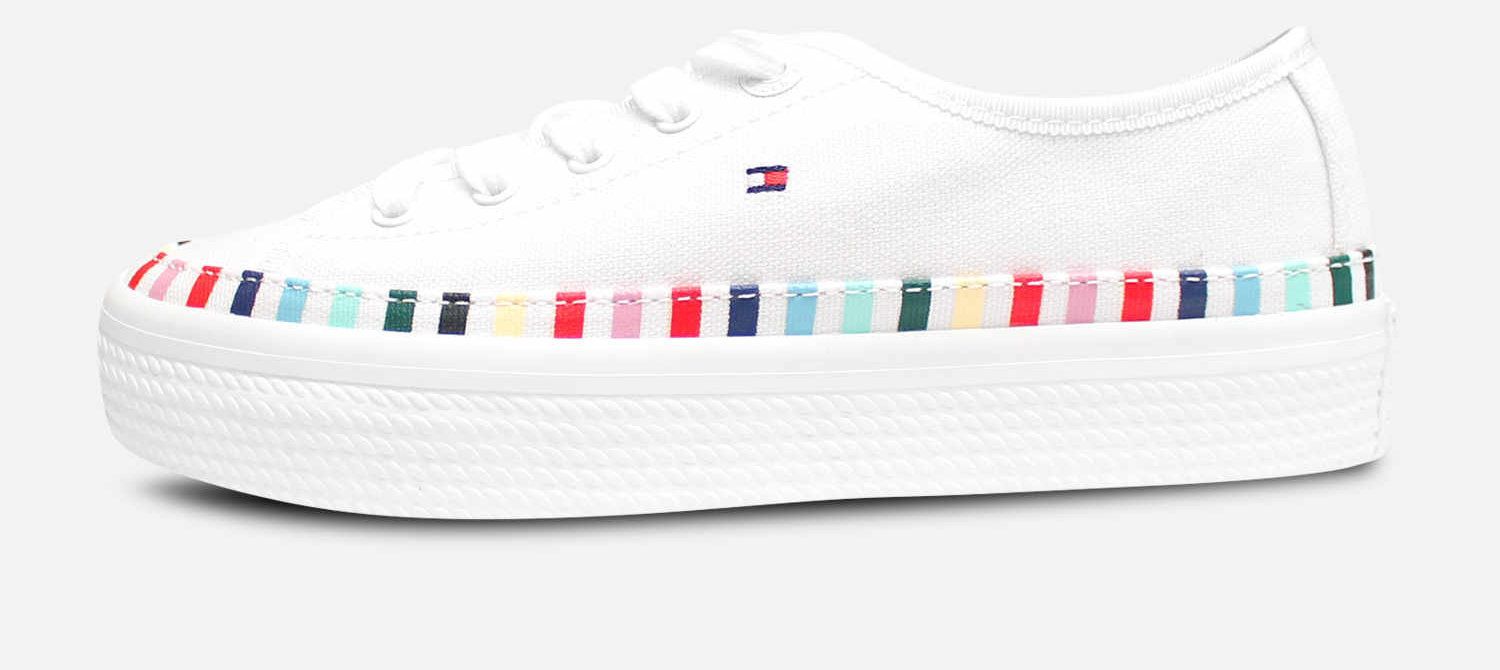 Additional description
Tommy Hilfiger is already a big name in the world of high quality clothes, which is a guarantee that your new flatform sneakers are going to carry you everywhere for a long time. The discreet blue logo is a symbol of the lifestyle created by this brand. Tommy Hilfiger aims to add a modern twist to traditional clothes, delivering high quality products which embody the essence of the American lifestyle. Since opening the company in 1985, Tommy Hilfiger's collections included youthful shirts, chinos and preppy style apparel, which attracted both sport addicts and fashion addicts, bringing the two worlds together.
The white sneaker invites you to enjoy the comfort of a high quality shoe, as you have fun. The 1.5inch rubber sole in pink, yellow, navy and turquoise matches the rainbow stitches on the canvas. However, this will be your secret, as the fun side of the sole is not visible on the side of the sneaker. The colorful tread ensures a good grip, even on a muddy terrain. Made from cotton, the white canvas allows your feet to breathe properly, which is essential for a summer shoe.
The model preserves the traditional style coined by Tommy Hilfiger with a white lace-up system which makes the sneakers easy to put on. A discreet Tommy Hilfiger branding complements the sporty, yet elegant look of these low cut shoes. Thanks to the flat sole you can wear them all day long, without suffering from back pain.
Designer sneakers are a must have because they are so versatile. Match these Tommy Hilfiger flatforms with a casual shirt, a blazer and white pants for a preppy look when you want to go to the office, school or just run errands. Switch the white pants with jeans and you are ready to do some shopping or spend the day with your friends.
You can also dress up the sneakers with a black or navy suit for a more formal look. Girls who love to wear skirts can be creative and match a loose top with a long, full skirt while wearing the Tommy Hilfiger sneakers.
The designer sneaker is a must have for an Instagram-able summer street style. Tommy Hilfiger's flatform sneakers are a versatile pair that helps you show off your unique style. Make a fashion statement by wearing them with a colorful outfit or keep a low profile with a black and white ensemble. Either way, you can count on these shoes for comfort and individuality!