Tommy Hilfiger
Tommy Hilfiger Retro All White Leather Mens Training Shoes
This original retro Tommy Hilfiger cupsole trainer is available in all white leather with the classic red, white and blue side flash.
It features the squared toe shape that was popular in the 1990s, with perforated holes and prominent Hilfiger branding to the side and tongue.
It is lined with breathable, padded fabric, and features a non-slip white rubber sole.
This is a limited edition style for Arthur Knight Shoes.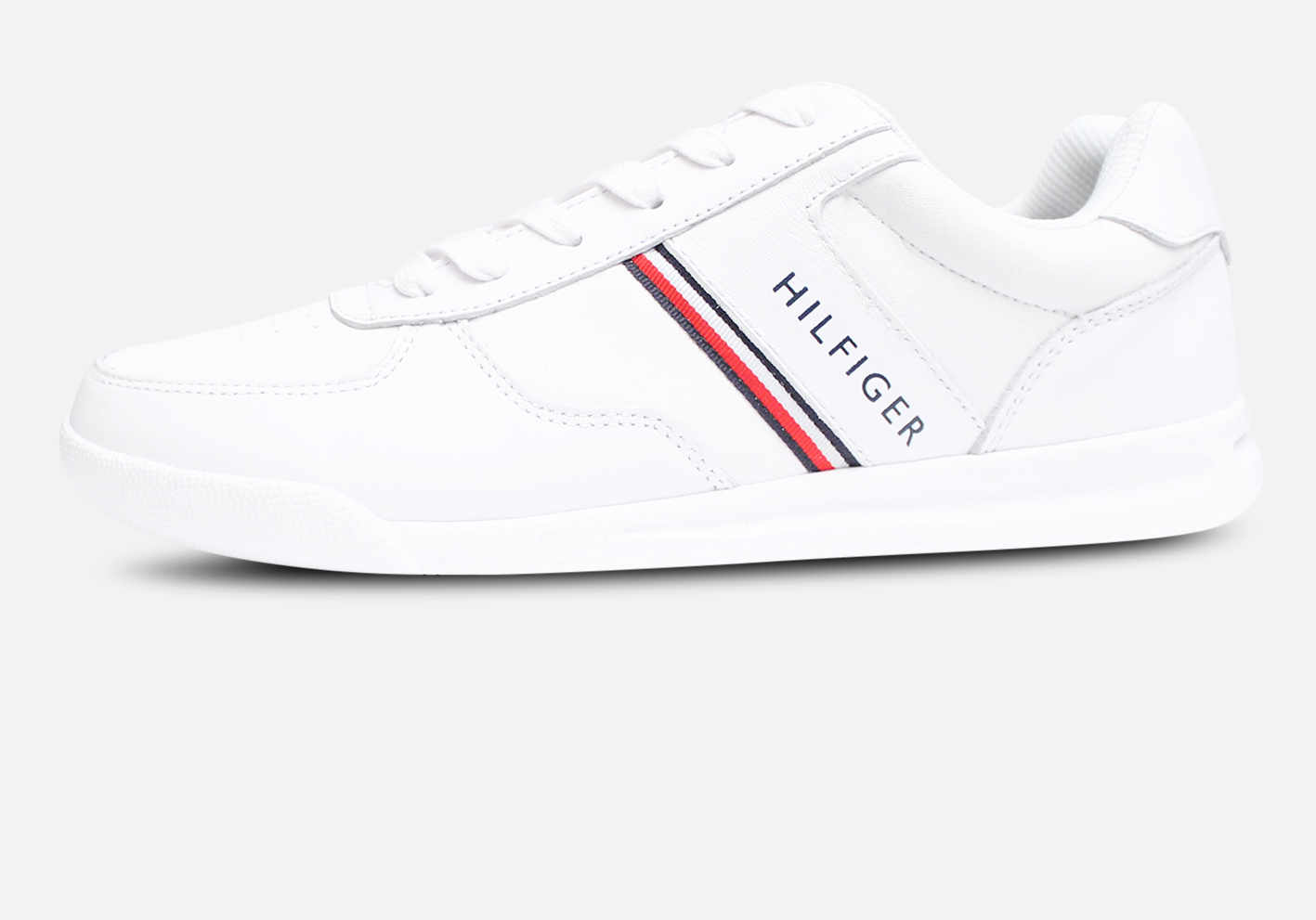 Additional description
With retro trainers becoming a must-have item of footwear, this all leather cupsole training shoe for men by Tommy Hilfiger is one of the best. Reminiscent of the 1990s, it features a squared toe shape with perforated holes. Its all white leather is perfectly intersected by the red, white and blue flash, and the Hilfiger branding to the side and tongue marks this shoe as a designer item. Branding can also be seen to the rear and sole of the trainer.
The trainer is an essential item in wardrobes up and down the country. Originally designed for sports and exercise only, the trainer is now an everyday item of footwear that we cannot live without. From high performance sports training shoes to fashion trainers, the trainer is as at home on the high street as it is on the track. The sneaker has also had a role to play in music; from hip hop to rock 'n' roll fashion.
This Hilfiger trainer is lined with a breathable, padded fabric, making it a comfortable choice for everyday wear. Whether you plan to walk miles whilst sightseeing in a new city or relax with friends in your local bar, you won't need to worry about sore feet. The white rubber sole matches the pure white colour of this trainer and is also non-slip making this shoe ideal for all weathers and surfaces underfoot.
The beauty of an all white sneaker is that it makes a statement with all outfit choices. Perfect worn with black or blue denim jeans, you can choose to style to your own personal taste with a plain t shirt, sweatshirt, or knitted jumper. In summer, choose to wear with shorts and a hidden trainer sock or long tube sock for the ultimate nod to the 1990s.