Calvin Klein
Calvin Klein Zolah Chunky Trainer in Black Canvas
Calvin Klein Zolah chunky trainers feature a modern, updated look.

The lace up design with a 4cm white sole and prominent CK logo on the sides offers a perfect mix between comfort and style.

Zolah canvas chunky trainers have padded insoles and branded leather tongue.

The trainers are available in jet black, dusk pink and white.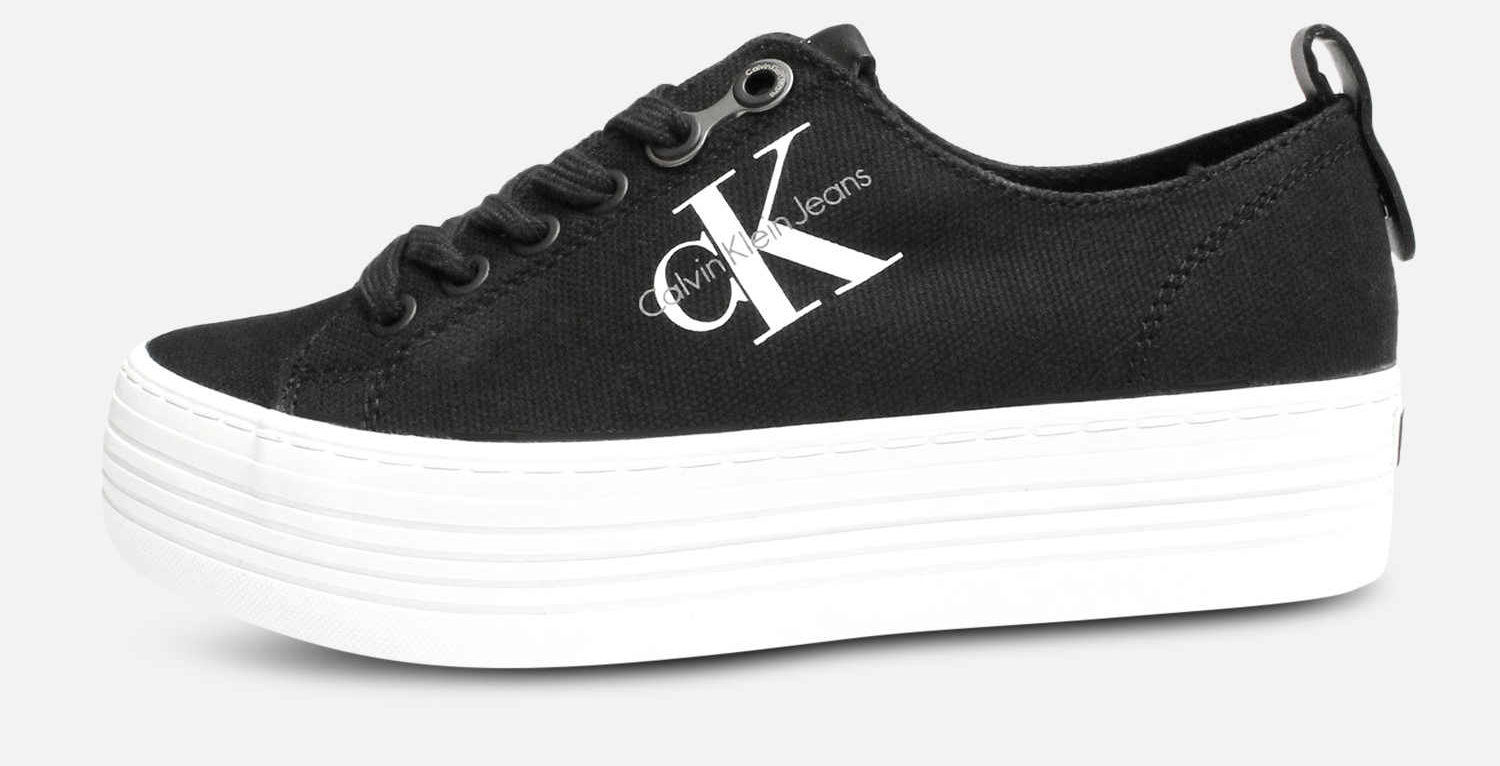 Additional description
90s trends are making a full comeback and one of the most popular revived trend of this decade is the chunky trainer. Also called dad shoes, the chunky trainers look just like the huge sneakers your dad had in his old wardrobe. But now they are not only comfortable - they are the symbol of high end fashion, a staple of modern street style. Calvin Klein Zolah chunky trainers feature this street fashion look keeping an elegant line. This means you can wear your favorite trainers at the office, at a party and when you run errands in the city. It also means you have endless possibilities when it comes to accessorising your CK's.
Calvin Klein was established in 1968 as an American luxury fashion house and is now a famous name in fashion, perfume and watches. CK products have a modern, sophisticated style, which had become the signature of the brand, making it highly popular among millennials who want to show off their unique lifestyle. In the 80s Calvin Klein took the humble jeans and turned it into a must have fashion accessory. Now they are embracing the chunky trainer, putting their own mark on them and bringing us Zolah chunky trainers.
The classic mix between the white rubber sole and the black canvas makes these chunky trainers easy to accessorise with casual, sports and smart casual outfits.
When you are heading to the office forget about your high heels and embrace your versatile chunky trainers. Dress them up with a blazer and a pencil skirt and you are ready for your daily commute to work. Most offices now accept this edgy, modern look, so you can play with this look and experiment by wearing your chunky trainers with your office clothes.
You can also follow the lead of Bella Hadid and wear your trainers with an evening gown or a LBD for a night in the club. These versatile shoes are going to make you look like you've just got off the catwalk and you will be able to dance the night off, painless, no regrets.
When you want to sport a more traditional look just wear Calvin Klein Zolah chunky trainers with your favorite pair of jeans. Like all trainers, they also complement a sports look, so don't be afraid to create a modern outfit with loose pants and a top or go for a run in your trainers and leggings.
Versatile and trendy, Calvin Klein Zolah chunky trainers are the shoes your wardrobe needs this season. Pair them with your favorite dress, skirt or jeans and get ready to rock every room you enter.