Ladies Driving Shoes
Blue Suede Ladies Italian Driving Shoe Moccasins
The Arthur Knight Ladies Italian Driving Shoe in blue suede is comfortable, stylish and eye-catching thanks to its bold and sophisticated colouring. It's made in Italy from luxury blue suede leather and is able to be slipped on and off with ease.

On the strong sole of this ladies shoe are multiple nodules designed to provide excellent grip, especially when driving. This shoe is ideal for the warmer seasons as it is worn without socks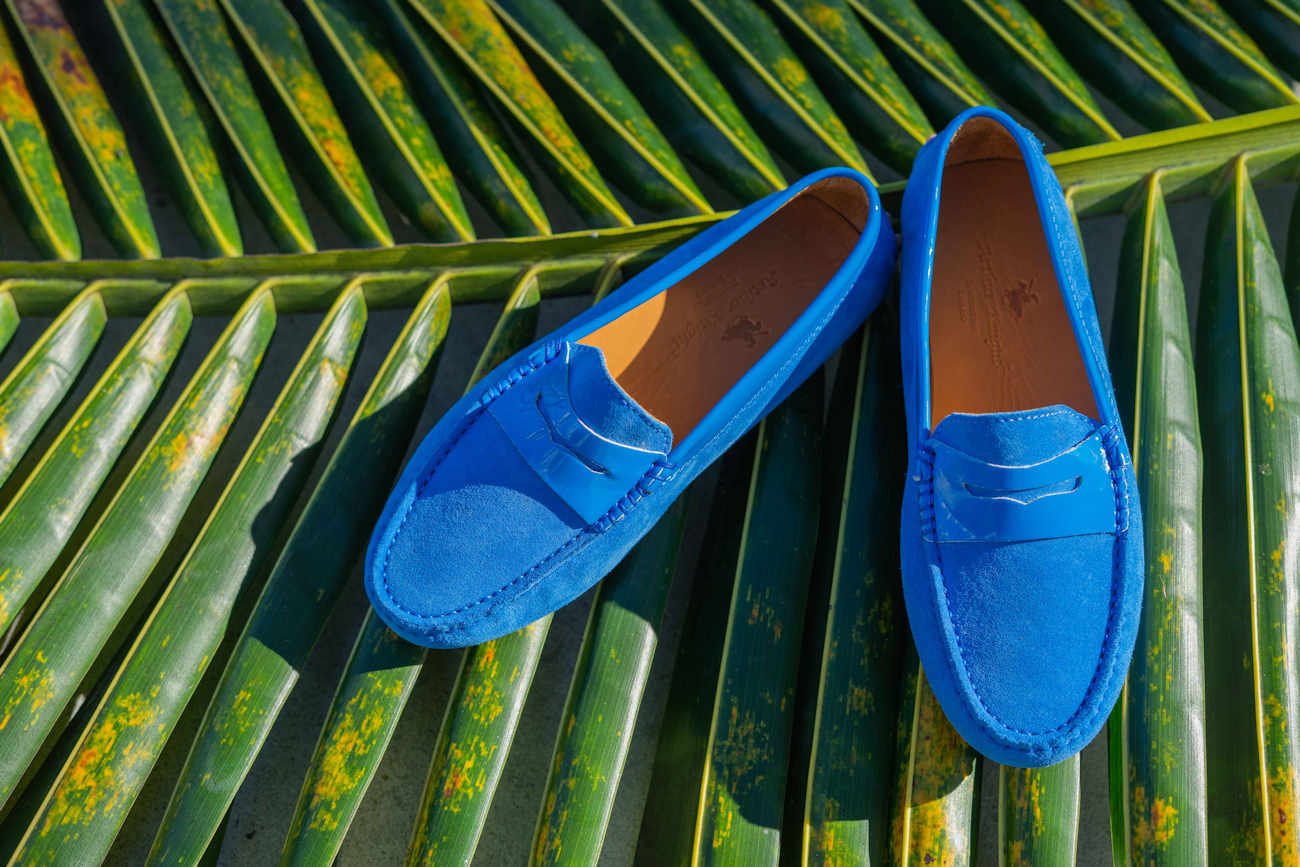 Additional description
When the weather is toasty, the sun is shining and summer fashion is in full swing, you might want to select a ladies summer shoe that is bright, vibrant and eye catching. That's why we recommend The Ladies Italian Moccasin Driving Shoe in blue suede. It is not only extremely comfortable and lightweight, but features bold colouring that punctuates your summer outfit and turns heads as you walk.  
You might be interested to learn that Moccasins originate with Native Americans. They designed the first version of the moccasin which permitted them to feel the ground beneath their feet but protect them sufficiently from bumps in the terrain. It wasn't until centuries later that the driving moccasin became popular. This design included nodules on the sole of the shoe to allow for a firm grip when driving.  
The Arthur Knight ladies moccasin in blue suede is constructed by hand in the stunning region of Marche, Italy. It's a slip-on shoe, so there are no complicated fastenings to worry about. It also features a blue patent saddle and topline, lending a subtle new dynamic to the shoe. As you would expect, the sole is highly robust but soft enough to mould to your foot comfortably. The nodules permit excellent grip and have anti-slip properties.
We believe that this blue ladies driving moccasin should be centre stage. Therefore, we recommend pairing it with white capris pants to give viewers a full view of the shoe. You can wear a blue summer off-the-shoulder top to match the shoes and bring some continuity to your outfit, or select blue statement jewellery. If you're wearing longer trousers, you can roll these up to just above the ankle to give you a smarter look. It is advised that you wear this shoe without socks. Multiple styles and colours available.