Ladies Driving Shoes
Navy Blue Suede Arthur Knight Ladies Italian Driving Shoes
The Arthur Knight Ladies Italian Moccasin Driving Shoe is a sophisticated, upmarket slip-on shoe with deep navy blue colouring. Made from luxury full grain suede with crinkle patent navy blue saddle, this comfortable driving shoe is perfect for spring, summer & autumn. 

It looks fantastic with a pair of capris and a tunic or blouse, and will be sure to reign in the compliments. This gorgeous shoe also comes in over a dozen other colours, giving you a wide range of options.
Special Price
$100.80
Regular Price
$144.00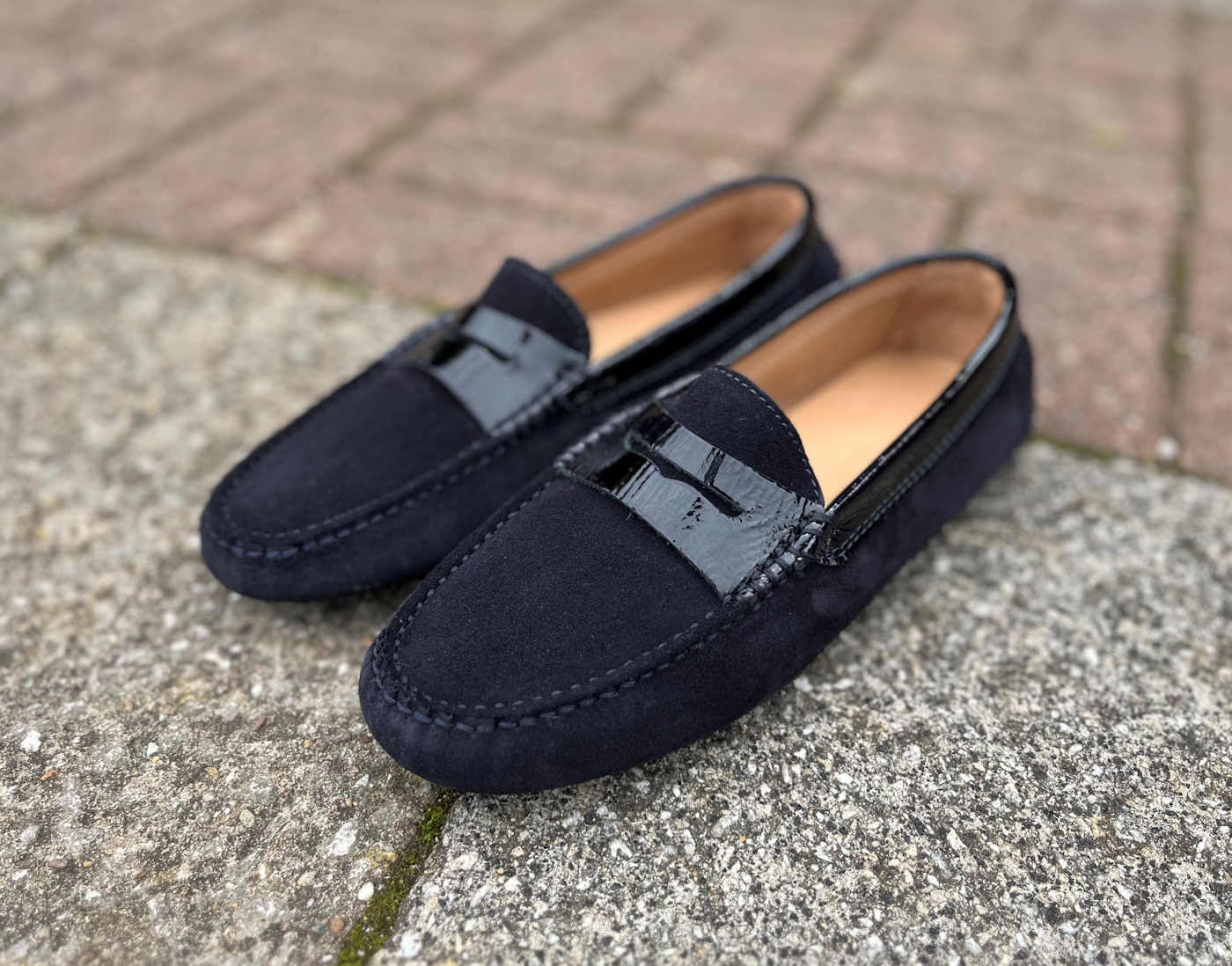 Additional description
If you're looking for a smart casual slip-on shoe that is both stylish in the summer and comfortable to wear, then look no further. The Ladies Italian Moccasin Driving Shoe in deep blue is ideal for social events, parties and leisurely summer drives through the countryside.
Moccasins have roots in Native American culture, due to their soft sole and wearability in a variety of terrains. As the leather molds to the shape of your foot, it actually becomes more comfortable! The Driving moccasin is an evolved version of a traditional moccasin. Where as it retains much of the original shape and structure, the sole is embedded with small knobs, ensuring that you can retain a good grip while driving through the city streets in your little speedster.
The shoe itself is made in the beautiful Italian region of Marche. The slip-on function of this driving shoe is highly convenient for busy ladies. There are no laces that you have to fiddle with, and you can achieve a snug fit without needing to tighten the shoe with buckles or zips. At the end of a long day, simply slip the shoes off and jump straight into your slippers.
We recommend pairing a moccasin driving shoe with a summery outfit. A pair of women's chinos pulled up to the ankle with a cream blouse and navy light weight scarf would look fantastic for casual events. It also teams up nicely with capris pants, as demonstrated so stylishly by celebrities such as the Kardashian sisters as they do their L.A shopping.
We have fourteen other colours you can choose from, meaning you can select a pair that go nicely with your favourite outfits and looks.