Mens Driving Shoes
Mens Driving Shoes Tobacco Suede Moccasins
Kit out your wardrobe with a stylish pair of suede Moccasin driving shoes. Hand made in Italy, this high quality men's moccasin is made from the very best tobacco snuff suede material and features a hand stitched apron upper with a laced topline as well as nodules on the sole for optimal grip. 

This eye catching shoe is exclusive to Arthur Knight Shoes and available in a large variety of colours to suit your individual taste.
Special Price
$100.80
Regular Price
$144.00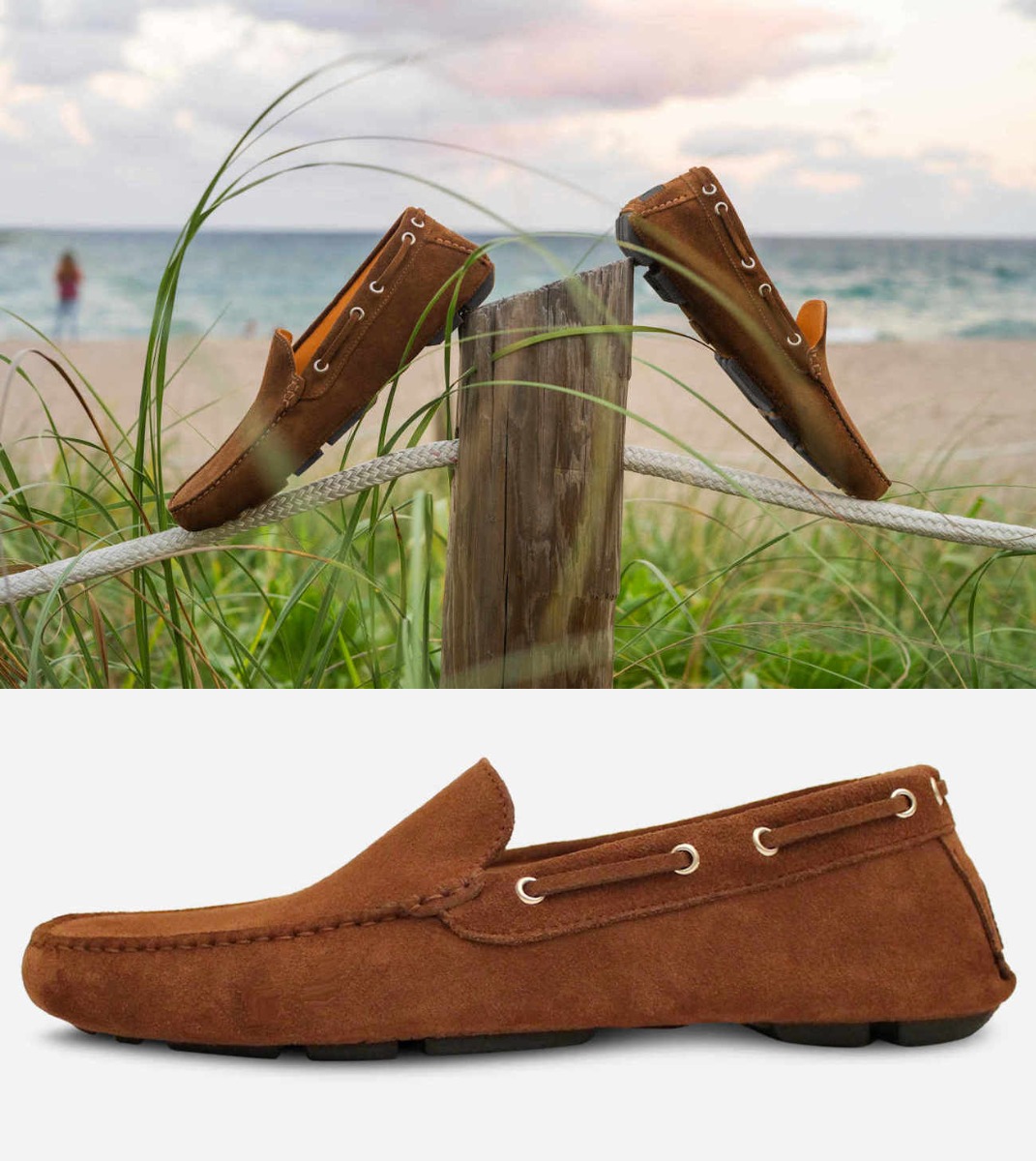 Additional description
This tobacco suede driving moccasin is a stylish and lightweight slip-on men's shoe that's ideal for smart casual weekends away in the country. Hand made in Italy from high quality tobacco snuff suede, this men's driving moccasin features a hand stitched apron upper with laced topline for a clean and minimalist presentation.
Moccasin shoes have their roots America. The country's natives wore moccasins due to the shoe's durability and high degree of comfort. Thanks to the soft soles, it was easier for the native Americans to move across different terrain types and climb rocky land with more stability.
This men's tobacco suede moccasin is a little different because it has been adapted to provide a good grip via the nodules on the bottom of the sole. This makes the shoes easy to drive in yet retains much of their original shape. The rubber sole and leather lining give you a guarantee that this men's moccasin will be long lasting, but stay clear of walking long distances in them - they're designed to be shown off at special occasions rather than be used as a day shoe.
If you'd like to aim for the John Mayer look, we recommend pairing this stunning brown men's shoe with a trouser style that really shows them off. This could include turned up chinos or slim fit jeans with a button up smart casual shirt and driving cap.
The old age debate about whether to wear socks with driving shoes is one that we don't want to pass comment on - after all, you're a unique individual and can make your own choices about this issue! However, if you do opt for socks, we would advise you to choose contrasting colours (e.g. light blue) to really emphasise the shoe's striking colour and avoid trainer socks. Available in a wide range of colours.