Mens Driving Shoes
Navy Blue Suede Italian Driving Shoe Moccasins
Dress up a pair of casual chinos with this striking blue suede Moccasin driving shoe.
Crafted in Italy using high quality suede, this deep blue men's moccasin features a hand stitched apron upper with a laced topline. It's easy to slip on, and has a minimalist appearance while retaining character and charm. This shoe, exclusive to Arthur Knight Shoes, is available in a wide variety of colours to suit your individual wardrobe.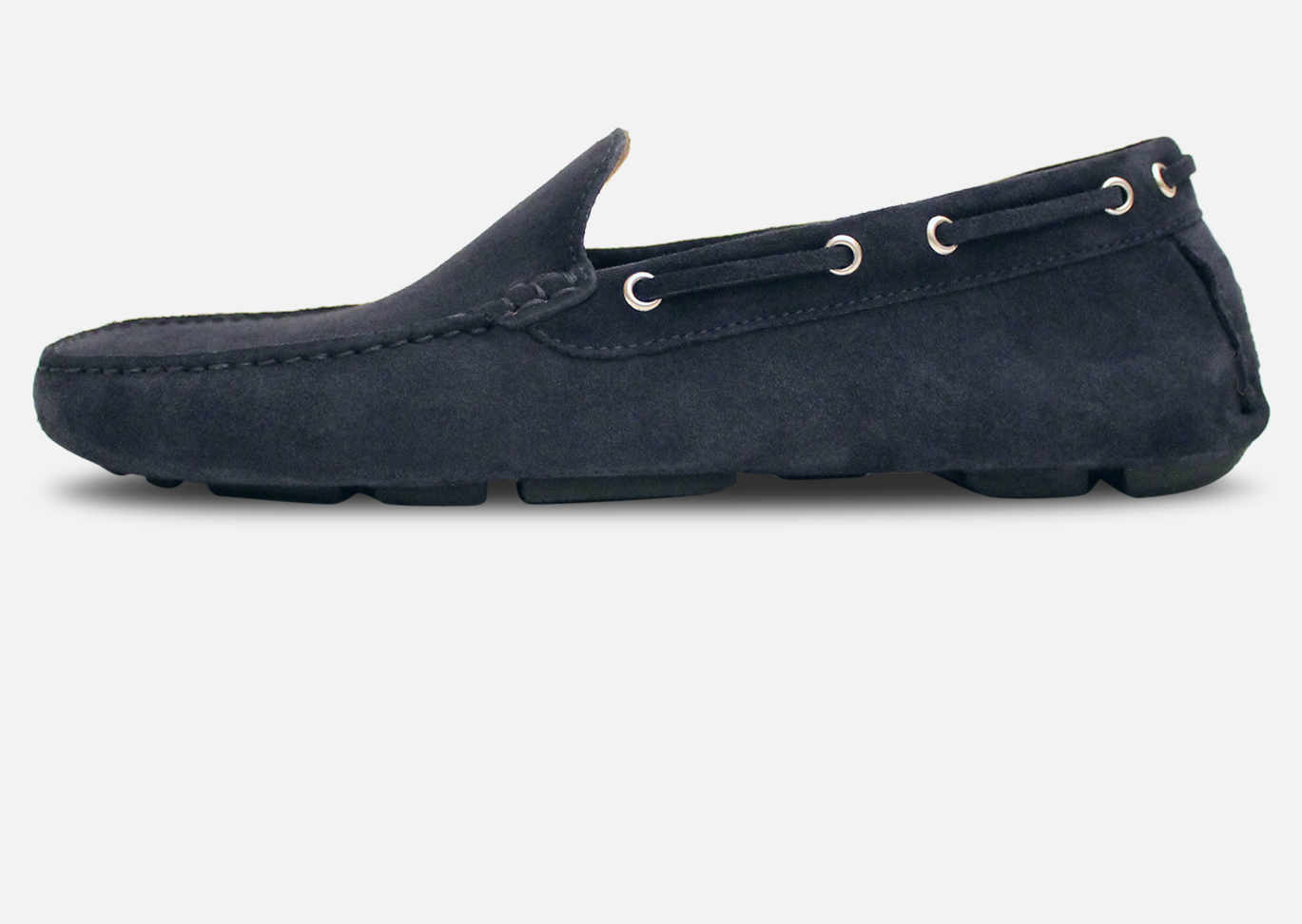 Additional description
The navy blue suede driving moccasin is the perfect slip-on men's shoe for smart casual weekends and evenings. Crafted in Italy from top quality, richly coloured suede, this men's driving moccasin has a clean appearance with interesting detail.
Moccasins have a fascinating history that can be traced back to the native Americans. Due to the shoe's versatility and durability, the Plains Indians were able to move comfortably across different types of terrains in this shoe. A driving moccasin is a contemporary version of a traditional moccasin, and features additional rubber tabs on the sole, making them slightly more hardwearing. The purpose of the updated sole is to provide gentleman with the extra grip needed to smoothly drive the latest Italian motor. However, it is not intended to be a day-to-day shoe, so it's best not to walk around the city or to work in them.
This men's moccasin is stylishly designed. It has a hand stitched apron upper with a laced top line, which lends extra detail to the shoes presentation. The rubber sole and leather lining ensure that these moccasins are long lasting, but still soft enough that you can detect the ground beneath your feet. They're very popular amongst many Hollywood crowds, including Kanye West and John Mayer, so if it's swagger and attitude you're after, the driving moccasin is for you.
We recommend wearing blue suede moccasins with a summer outfit. Due to their rich colour, it's important to find a trouser style that really shows them off. Therefore, a pair of cream or brown chinos rolled up to the ankle with a short sleeved smart shirt should give the shoes the attention they deserve. You can also wear a pair of well-fitting chino shorts with moccasins, with or without socks. If you do wear socks, ensure they contrast nicely.